When it comes to serving the community, local youths are holding their own.
Twenty of these students were feted at the seventh annual Post-Star Teen Excellence award breakfast on Wednesday at The Queensbury Hotel.
Rick Emanuel, publisher of The Post-Star, introduced his co-judges for the event, which included Francis Cocozza, principal of Lake George Junior/Senior High School, and Courtney Shaler Smith, executive director of Habitat for Humanity of Northern Saratoga, Warren and Washington Counties.
Emanuel told the honorees they were chosen for being the most well-rounded in areas of academics, community service and extracurricular activities. Although each judge approached the submissions from a different perspective, Emanuel said he personally evaluates students on their accomplishments in the school and at-large communities.
"I think it's so impressive when you read at such a young age all that you've done," he said. "There's so many different focuses with these kids … and that is what truly makes a better community."
Emanuel was describing someone like Rachel Molloy, a senior at Queensbury High School. The 17-year-old was described as an "energetic go-getter" by her guidance counselor, Kevin Sullivan. In addition to being a top 10 student and past class president, Molloy is involved in several school clubs and volunteers at her church and for various causes. Fittingly, she was the keynote speaker for a "Let's Get Involved" assembly to inspire others to volunteer for various activities.
Her favorite undertaking has been her three years with the Big Brothers/Big Sisters program.
You have free articles remaining.
"I've realized how important our role is to the children and I know a lot of them aren't in the best family situations or they're having a hard time at school. Just to be there for them, even as a friend, I've seen how it's really made an impact," Molloy said.
Corinth High School senior Blake Basmajian, too, has a lengthy list of achievements and is currently ranked first in his class. However, one of his most meaningful contributions to his school came unexpectedly out of adversity. He was injured during a job last summer at Adirondack Tubing Adventures, falling 13 feet off the top of a bus and hitting his head while trying to secure equipment. He suffered a traumatic brain injury and was in the intensive care unit for three days.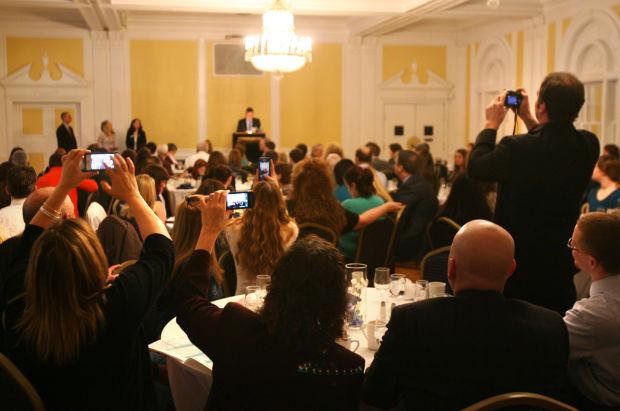 The accident would be a setback for anyone but especially for Basmajian, who was scheduled to be the starting quarterback on the varsity football team in the fall. He said he went through an emotional "slump" but realized he could either feel sorry for himself or still try to help his team.
Basmajian approached the head coach about being an assistant and got approval from the school board to run drills with the players and work specifically with the new sophomore quarterback. He said Corinth ended with its most successful football season ever, and although he couldn't be on the field leading his team to victory, he was there for his teammates in a way that mattered — and learned more about himself in the process.
"There really hasn't been a time I haven't been able to do something and I think it was a good learning experience," Basmajian said.
"Things are going to happen and you can't control them and you have to make the most out of what you have."
Emanuel ended the program by telling the students that the true measure of success in life is in knowing they reach out to others.
"It's not about how big your house is, it's not how fancy your car is, it's not about anything other than how you can give back to your family, give back to your community and feel like you did the right thing. I think today if you are such great kids, just think of the adults that you'll be," he said.