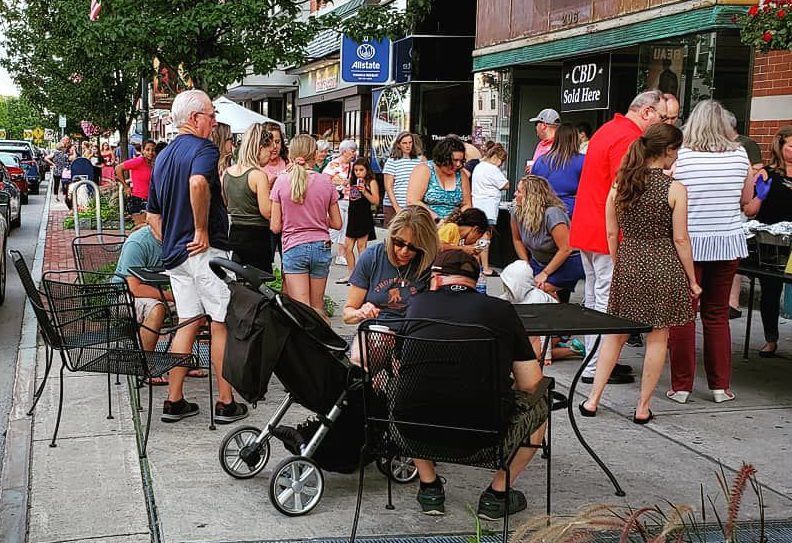 GLENS FALLS — This year's Take a Bite festival will not be taking place after the event was deemed non-essential by county officials, forcing the city to withdraw its support for the yearly food festival.
Organizers, earlier this month, approached the city's Common Council seeking permission to close portions of Glen, Maple and Ridge streets in order to setup picnic tables so diners could maintain social distance in compliance with state guidelines.
Council members didn't reject the idea at first, but said a safety plan would need to be drafted and approved by Warren County officials before they would grant any such closures.
But county officials said the yearly food festival was a non-essential activity and could not take place because of the state's ban on large gatherings, said Robin Barkenhagen, president of the Glens Falls Collaborative, the organization that sponsors the event.
Council members pulled their support for this year's festival during Tuesday night's Common Council meeting, but said they hope to implement the Collaborative's plan at a later date.
"We really like the plan, and hopefully we can put it in place at a later date," Mayor Dan Hall said.
A formal plan has yet to be drafted, but it would likely involve closing a number of streets to allow for social distancing. 
State guidelines prohibit gatherings of over 50 people. Take a Bite typically draws hundreds to the downtown area every Wednesday during the summer months.
Barkenhagen said he hoped the festival would be deemed essential which would have allowed it to bypass the state's 50-person limit. Restaurants, under state guidelines, are considered an essential service.
"Our plan is a really good plan for social distancing, but if it comes down to the 50 people then it's sunk," he said.
Around a dozen or so restaurants typically participate in the festival each year.
The event's cancellation is just the latest blow to the city's restaurant industry brought on by the pandemic.
Restaurants were limited to just carryout and delivery orders for nearly three months beginning in March as the state sought ways to stop the spread of the virus. In-person dining has resumed, but only at half capacity due to state restrictions.
Barkenhagen said the event's cancellation is disappointing — particularly for restaurant owners — but understandable given the circumstances.
"I think everyone realized this was a possibility," he said.
Still, the yearly festival gives people a taste of what Glens Falls has to offer which helps attract new customers and gives restaurants an opportunity to promote their menus.
"It's good for the restaurants," Barkenhagen said.
Chad Arnold is a reporter for The Post-Star covering the city of Glens Falls and the town and village of Lake George. Follow him on Twitter @ChadGArnold.
Get local news delivered to your inbox!
Subscribe to our Daily Headlines newsletter.