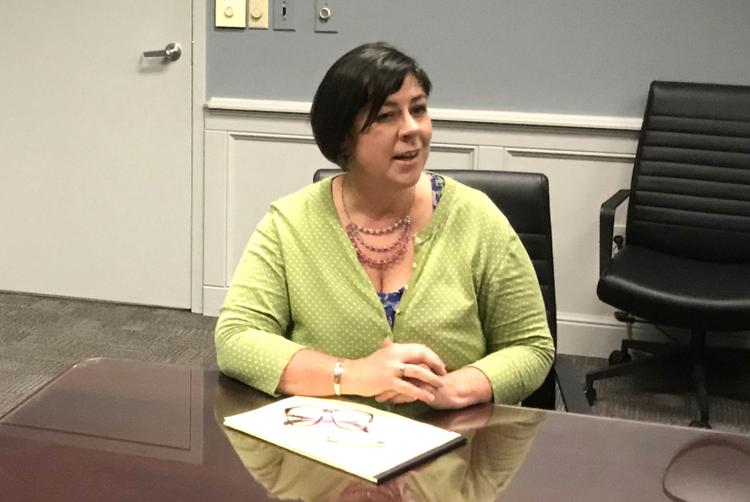 QUEENSBURY — Jennifer Switzer wants to address climate change and plan for the town's financial future if she is re-elected to the Town Board.
Switzer, a Democrat running for her second term this fall, is in a primary against resident Travis Whitehead for the Independence Party line.
She spoke to The Post-Star editorial board, which plans to make an endorsement in the primary race. The primary will be held on June 25, a departure from previous years, due to the state's election law reform. All primaries will now be held on the same date as the federal primary.
When Switzer campaigned for office in 2017, she said she would create a capital plan to help prioritize town spending. She is still working on it, she told the editorial board Thursday.
It would include every project the department heads want to do in the next three to five years. Then the board can prioritize and plan ahead.
"When we get a request, we can make better fiscal decisions," she said. "All of this money we have, all these reserves we have, is it adequate for us to maintain what we have?"
This year, she created a scoring matrix to help the Town Board judge each request for occupancy tax revenue, and led the board to reconsider giving money to for-profit businesses. The board also spent $35,000 on park improvements, and she said she wants the board to think about doing more of that.
"Visitors use our infrastructure. Maybe we should use some of this money to support our infrastructure," she said. "Bike trails, recreation assets, it's getting a lot of use by visitors to our community."
She added that she thinks nonprofits like the Hyde Collection and the Adirondack Balloon Festival should be supported by occupancy tax revenue, and that she was willing to support major new ventures from for-profit companies like the Great Escape.
The town has regularly supported the amusement park's Oktoberfest, however, and Switzer questioned whether continued support was necessary.
"I looked at their numbers. Their attendance is increasing. I could understand when that was new it was something to support," she said.
This year, the board agreed to give Great Escape $15,000, down from the $25,000 the park requested.
You have free articles remaining.
Switzer is well aware that her opponent in the primary has argued for a significant reduction or the elimination of the town tax. She did not endorse either scenario.
"There might be an opportunity to lower taxes," she said.
But she isn't in favor of eliminating it.
"Once you give it back, it's much harder to start increasing taxes," she said.
She doesn't want "huge swings" in taxes, saying it is easier for property owners to have a regular bill than to go without one for a year and then get it again.
She's also worried about the future.
"We may have what people think is a lot of money," she said. "But we are so reliant on sales tax. What would happen one day if sales tax does start to decrease or level off?"
Switzer is ready to spend money to help reduce climate change, even if the costs don't translate to immediate savings. The town has already plucked the long-hanging fruit: solar panels, LED lights. Other items, including a benchmark study to see how much carbon dioxide the town is emitting now, so that future efforts can be tracked, will cost money with no immediate financial return.
"It may be better for the community as a whole, for our children," Switzer said of those efforts. "There may be upfront costs. It could be the voters don't think that's a good use of funds. That's when they go to the ballot box."
She believes the Town Board must address climate change.
"It's a responsibility of government," she said. "I think the majority of people get it."
The town is seeing more of the rare, so-called "50 year" storms, leading to flooding in places that used to stay dry. Now the town has hired a consultant to map all flood control devices in one area, to see if GPS mapping helps workers fix the problem faster.
"We're at a point where we have to mitigate some of this," she said.