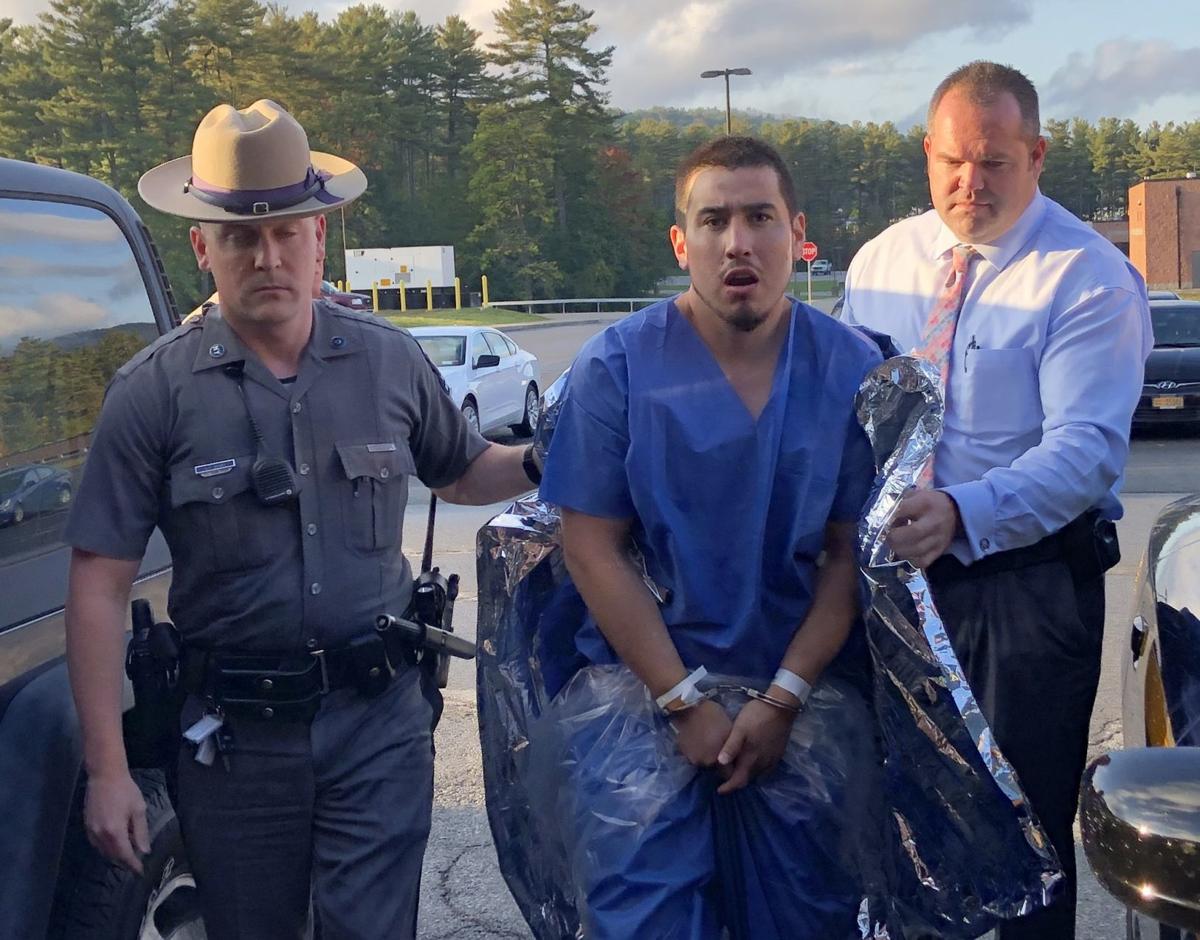 QUEENSBURY — The driver who was blamed for a fatal crash that killed a Horicon man last week was indicted Tuesday on 12 charges, including counts of manslaughter, felony assault and leaving the scene of a fatal accident.
The indictment filed against Skyler B. Crouse was handed up in Warren County Court on Tuesday afternoon, with arraignment scheduled at 11 a.m. Wednesday before Warren County Judge John Hall.
Crouse, 30, of Akwesasne, a territory in the Mohawk Nation on the state boundary with Canada, faces 10 charges in connection with the Sept. 26 chase that ended with a crash at Exit 25 of the Northway that killed Joseph D. Turcotte. Two other counts were added for bizarre actions after he was arrested.
Skyler B. Crouse, 30, of Akwesasne, was charged with manslaughter Thursday after a high-speed chase that led to a crash and the death of another driver.
State Police said Joseph D. Turcotte, 38, of Brant Lake, died at the crash scene after his pickup was slammed from behind by Crouse, who was fleeing police on the Northway.
Police said he drove at 100 mph-plus between exits 19 and 25, speeding off the highway at Exit 25 and slamming into Turcotte's pickup from behind. Turcotte, a boat builder who sat on the Horicon Planning Board, died at the crash scene.
Crouse tried to flee the heavily damaged pickup he drove, but was caught as he ran into woods off the highway.
He was initially charged with second-degree manslaughter, reckless endangerment, unlawful fleeing of a police officer and resisting arrest after the chase and crash. But the grand jury added new charges, including a charge of first-degree assault that is a violent felony and weightier than manslaughter, and a charge of second-degree assault.
That is notable because come Jan. 1, when the state's bail laws change, the assault charges are counts for which bail can be set.
First-degree assault is punishable by up to 25 years in state prison, while second-degree manslaughter can bring a 5- to 15-year sentence.
You have free articles remaining.
The grand jury also filed charges of leaving the scene of a fatal accident, two counts of unlawful fleeing of a police officer, reckless endangerment, reckless driving, aggravated unlicensed operation of a motor vehicle and resisting arrest.
Warren County District Attorney Jason Carusone said he had no comment on the indictment as of Tuesday.
Two additional charges were filed for alleged wrongdoing after the crash, including a misdemeanor public lewdness count for allegedly exposing himself to someone when he was taken to Glens Falls Hospital after the crash, and a harassment charge for spitting on a news photographer at his arraignment.
A clerk at Chester Town Court said Crouse's scheduled appearance there for a scheduled preliminary hearing was adjourned Tuesday, as the court was notified of grand jury action.
He was represented by Warren County Public Defender Marcy Flores, who said her office had a conflict of interest that resulted in attorney Martin McGuinness being assigned to the case. She said she could not disclose the conflict.
McGuinness said Tuesday he had no comment on the case other than his client would plead not guilty.
Crouse is being held in Warren County Jail without bail pending arraignment.
He was not cooperative with police after he was caught, but he had pending arrest warrants and no driver's license when he was clocked doing 90 mph in a construction zone on the Northway near Exit 19 around 8:10 a.m. Thursday. Police pursued him north, using a tire-puncturing device to take out a tire on his truck between exits 24 and 25, before he sped off the highway and down the Exit 25 ramp.
Turcotte was returning from picking up a load of lumber when he was blindsided by the full-size Chevrolet pickup police said Crouse drove.
Turcotte was a Cornell University graduate who was a master craftsman for his family business, Gar Wood Custom Boats. Calling hours are scheduled from 4 to 8 p.m. Wednesday at Barton-McDermott Funeral Home in Chestertown, with funeral services set for 11 a.m. Thursday at St. Isaac Jogues Catholic Church in Chestertown.
Don Lehman covers police and court matters and Warren County government. He can be reached at 518-742-3224 or dlehman@poststar.com