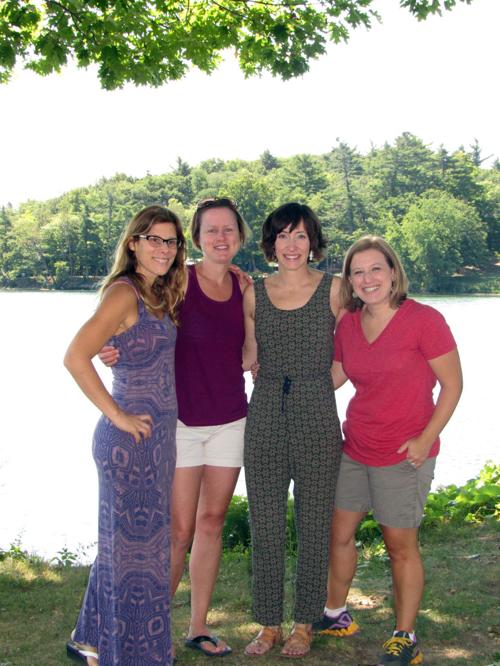 Laughter flows easily between the four ladies, as they sit around a table late one early October evening. Easy side conversations, and casual interjections between them exude the warm familiarity only a deep friendship can.
"I call them my survivor sisters," said Hartford resident Angelia Abbott. "We are part of a club we don't ever want anyone to have to join, but I don't know what I'd have done without them."
Abbott, along with friends Carrie Arquette from Whitehall, Danielle Volks from Queensbury, and Jennifer Bremser from Queensbury are all survivors of breast cancer. As one sits and talks with these young, smiling and vibrant women, it's hard to believe each has beat cancer on her own terms – and well before the age of 40. Their bond is one born of shared experience.
"I really felt alone in it at first," said Bremser, of her battle with breast cancer. "I went to the support groups but felt like I couldn't relate. I was younger, with young kids. These women here gave me that support. I knew they understood. We were all at about the same age and stage in our lives," she said.
"Things like mom guilt during treatment," chimed in Arquette. "You would want to get up and be there for your kids the whole time, but just be wiped. I could share that here in this group. No one would tell me not to feel that way or I was wrong; they'd just listen and understand."
Several of the women nod in agreement.
"There were things you didn't even want to share with your husband. Girl things – or because you knew he was already worried enough. We provided that for each other, and still do," Abbott said.
The Survivor Sisters Begin
The Survivor Sisters genesis began when a newly diagnosed Abbott decided to write a blog for The Post-Star in 2011, describing the intimate details of her battle with cancer.
"I read the blog and it was like reliving my battle. I had cancer the year before Angelia, so I reached out to her through her contact information at The Post-Star. I wanted to offer her support," Arquette said.
Arquette's own battle began in 2010 when she noticed a lump in her breast while she was in the shower.
"I was 31 at the time, with a one year old and a four year old. I thought it couldn't be possible," she said.
She had a mammogram, then an ultrasound, and a biopsy. She was diagnosed with Stage I Invasive Ductal Carcinoma.
"It all went so fast. Before I knew it I had a lumpectomy, and was undergoing chemotherapy and radiation," she said.
Arquette completed her treatment in December, and reached out to Abbott that spring.
Abbott's blog also connected her with Volks, who reached out for the same purpose, to offer support, several years after her own battle with cancer.
"I was diagnosed in 2008. I was 28 at the time," Volks said.
Volks found a lump in her breast while doing a self-exam. Shortly after, she discovered an enlarged lymph node in her armpit.
"I knew something was wrong right away. My dad had just had cancer so it was at the forefront of my mind," she said.
A mammogram and biopsy confirmed her suspicions; she had cancer.
"It was difficult because my husband and I were at the point where we wanted to start a family. It all had to be put on hold. We couldn't be sure it would ever get to happen, though I always knew in my heart it would," she said.
Volks underwent a lumpectomy and auxiliary lymph node dissection, where 16 lymph nodes were removed. She also endured chemotherapy and radiation.
"The whole time I just kept thinking about my son. I wanted a son. It had to be a boy so he would never have to go through what I was going through. The thought of him kept me going," she said.
Volks finished treatment, and is now 11 years cancer free. Her son, William, is seven years old. Volks said when she read about Abbott's battle she had to reach out.
"She wrote in her blog about having to put her life on hold, and wanting more children down the road, and I could so relate to that. I wanted to tell her there was hope," Volks said.
Abbott, who was diagnosed with breast cancer in 2011, had an infant at the time but always knew she wanted more children.
"A large family was always in my plan. Getting cancer was never part of that plan," Abbott said.
"Angelia loves to plan," added Arquette, laughing.
Angelia was diagnosed with Triple Negative Invasive Ductal Carcinoma, the same rare, aggressive cancer as Volks, just four months after her son was born.
"I thought it was a clogged milk duct at first. After a couple of weeks it was still there. I got an ultrasound and then decided to get a biopsy," she said.
In March 2011, she was diagnosed with cancer.
"It felt like I was out of my body at first. It was surreal," she said.
She began her treatments, and her blog, which brought the first members of the Survivor Sisters together.
"I think it was around May (2012) that Carrie, Danielle, and I began to meet regularly. We'd do dinners once a month, and bounce doctor's advice off of each other. They were at the end of their battles, and I was in the middle of it," Abbott said.
"It's one of those things you don't understand unless you've been through it. You don't even know the right questions to ask at first," Bremser added. "Having people to help you navigate that is so important."
Abbott's chemotherapy ended in July, and radiation treatments in September. All were successful. Her daughter, Hope, entered the scene not long after.
It was during a routine follow-up at The Breast Center in Glens Falls Hospital in 2014 that Abbott met Bremser. Bremser had noticed a lump in her breast, and after getting an ultrasound, went to the center for a mammogram.
"They told me I could wait and just keep an eye on the cyst, but I pushed for a mammogram. I didn't want to wait," Bremser said.
It was in the waiting room that she met Abbott.
"I'm extraverted so I just made a joke about it being awkward to be there waiting with her. She laughed, and wished me luck and we parted ways. It wasn't until about 10 months later that we met again and became friends," she said.
Bremser said she went back and got a biopsy the same day as her mammogram. The diagnosis was Invasive Ductal Carcinoma. She opted for a treatment at Dana Farber as part of an experimental study called the ATTEMP trial.
"The trial was for a Tdm1 drug. The drug was targeted, so it opened channels that went right to the cancer instead of through my whole body. It's a randomized trial, and I was lucky enough to be selected," she said.
During her treatment, Bremser decided to go to a retreat offered by the C.R. Wood Cancer Center for breast cancer patients, survivors and their families. It was there she met Abbott again.
"I remembered her right away," Abbott said. "And then I was like, I'm so sorry your tests didn't go well. It sucks you're here," Abbott said.
"Jen quickly fit right in with rest of us. She was the next member in the club," she said.
All four women went with their families to the Silver Bay retreat for several years running, until it was closed to repeat guests. The women continued to meet regularly to talk, laugh, compare notes, and just be with other women who understood.
"They became my support group," Bremser said. "I could compare treatments, get advice on how to manage radiation. It made all the things I was going through feel more normal," she said.
Still surviving
Today, the women share a combined 33 years of being cancer free, and even more years of combined friendship. Each still see a doctor every six months, either for a mammogram or an MRI. Many even see the same doctor.
"I call it scan-xiety," Abbott said about the regular screenings. "I get anxious every time."
"They only want to see you every six months, unless they see something suspicious — but they always see something suspicious," added Bremser.
Several of the women laugh and nod in agreement. They know what it's like.
"I still have an 18% chance (cancer) might come back. It'll always be there, but you can't let it run your life…There was never a moment where I thought I wasn't going to beat it. I still feel that way," Arquette said.
The women are each success stories in their own right. Abbott owns her own marketing business, and is mother to two children. Arquette is a teacher in Granville, serves on the Whitehall Board of Education, and is also mother to two children. Volks has her son, her miracle baby, and is presently teaching preschool and serving on two boards at Glens Falls Hospital. Bremser is a professor for SUNY Plattsburgh, and mother of two as well.
Each hopes women going through what they did will find comfort and support through their survival stories. They want everyone to know it can be beat.
"It's doable. Fighting cancer is tough and it's hard, but it's doable," said Volks.
"And it's going to be okay," Bremser added.
Get local news delivered to your inbox!
Subscribe to our Daily Headlines newsletter.