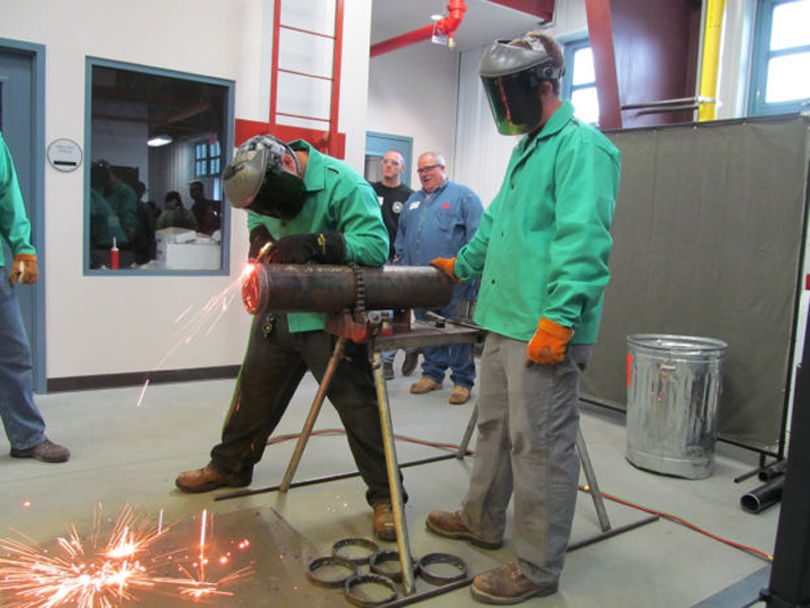 QUEENSBURY — SUNY Adirondack is proposing a new program that would allow local apprentices in the plumbing and pipefitting trade to earn an associate degree that could help them advance in their careers.
The community college's board of trustees on Nov. 21 voted to approve the proposal for a journeyman-technical trades management associate of occupational studies degree.
The program grew out of discussions with the United Association of Plumbers and Pipefitters Local 773.
John Jablonski, vice president for academic affairs, said the union had a partnership with Washtenaw Community College out of Michigan, and SUNY Adirondack wanted to see if it could provide a local option.
The goal of the program would allow the apprentices to earn an associate degree with an additional year of coursework in topics such as college writing, principles of management, accounting, business law, public speaking and human resource management, according to the application.
Jablonski said the program is not trying to teach students the skills they would learn the apprenticeship, but to go beyond them.
"This would be a nice complement to the learning that is already taking place in the apprenticeship and really give these people a chance to become business owners in their own right and managers in a larger organization," he said.
Jablonski said this program could also be useful for trades such as electrical, mechanical or mechatronic, which is a combination of electrical and mechanical engineering.
College officials believe there is a pool of several hundred journeymen who could take advantage of this program, according to Jablonski.
The apprenticeship program has been around for years, so there may be a lot of people in the area who would want to go back to college.
"We recognize that people especially today in the 21st century acquire learning in a lot of ways," he said. "There used to be only one pathway to higher education, but now we live in an age where people can take different pathways and really go through some meaningful learning experiences, even before they get to SUNY Adirondack, and this is a way we can recognize that learning."
Now the program heads to the state for its approval. College officials hope to start enrolling students for the fall of 2020.
This would be the college's second AOS degree program. Its first one was in baking and culinary arts.
"It opens the door for the students themselves and for the college," said the board's chairman, Robert Judge.
Board member Harry Booth said he has some grandchildren who are gravitating to more hands-on work, such as operating machinery. He believes they would benefit from this type of program.
"They're happy, but at some point they're going to want to decide to get back into education and find there's someplace they can go beyond what they're doing at this point. I think it's a great program."
President Kristine Duffy said she recently saw Scott Martel, business manager for the union, and he is excited about the program.
"He feels even more excited about the fact that his alma mater is moving forward in this direction," she said.
Get local news delivered to your inbox!
Subscribe to our Daily Headlines newsletter.