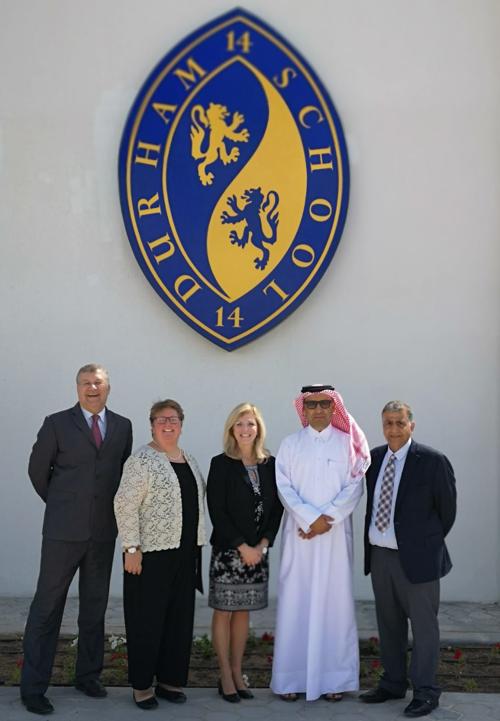 QUEENSBURY — Looking ahead as the high school student population declines, the leadership of SUNY Adirondack has cast its gaze to a tiny peninsula that sticks like a thumb into the Persian Gulf — the oil-rich nation of Qatar.
Starting as soon as this fall, the local community college will be offering interactive live video classes to adult students in Qatar who, like students here, are pursuing college degrees.
Then, perhaps next fall, the college will also offer courses to older students at Durham School for Girls, a private English school that educates girls from toddlers through teens and is located in Doha, Qatar's capital.
Doha is also Qatar's largest city, with a population of about 350,000. Qatar's population, now more than 2.5 million, has exploded over the past 20 years, but a large percentage comprises expatriate workers from other Mideast and Asian countries. Qatari citizens account for only about 15% of the population.
The college's leadership team has been seeking ways to offset losses because of demographic declines in the young adult population that attends community college.
"What are the possibilities? It's a big world out there," said SUNY Adirondack President Kristine Duffy.
The SUNY system has an excellent reputation in the world of international education, she said. English is widely spoken in Qatar — the first language is Arabic — and the Durham School is conducted entirely in English.
Qatar is a moderate Muslim country run by a family monarchy — the House of Thani. It has one of the highest per-capita incomes in the world but its leaders want to diversify its economy.
"The goal is to redesign the country's economic dependence on fossil fuel," Duffy said.
Interactive video technology, paid for by the college's Qatari partners, will be installed in a SUNY Adirondack classroom, and Qatari students will pay the out-of-state tuition rate, which is 50 percent higher than the rate paid by New York students.
SUNY Adirondack will contribute the space, the faculty, "support systems we feel are important" and will pay for a classroom assistant in Qatar, Duffy said.
She characterized the college's investment as "pretty minimal" for a substantial return, not only in tuition paid by the foreign students but in an international connection of great educational value.
"It brings another part of the world to our faculty and, eventually, to our students," she said. "We will learn about a whole different culture."
If the program develops as conceived, SUNY Adirondack faculty will have opportunities to go to Qatar to visit their students in person, and at some point, an exchange program for students could be worked out.
"We'll start with the basics, but the opportunities are endless," Duffy said.
Doha is a stunning, modern city, she said.
"There's an amazing amount of building taking place. I had never been to anywhere in the Middle East. It's very progressive, very beautiful."
Visiting foreign places broadens your perspective on human culture, a critical part of educating yourself, Duffy said: "It's so important for people to travel."
Meeting and talking with people in other parts of the world "reminds us we all want the same thing for our families — we want to live in peace, we share a common desire to make the world better," she said.
The program will start small, perhaps with 20 students taking classes via a video link, although like everything else, the schedule could be affected by the COVID-19 pandemic.
Will Doolittle is projects editor at The Post-Star. He may be reached at will@poststar.com and followed on his blog, I think not, and on Twitter at
@trafficstatic.
Get local news delivered to your inbox!
Subscribe to our Daily Headlines newsletter.