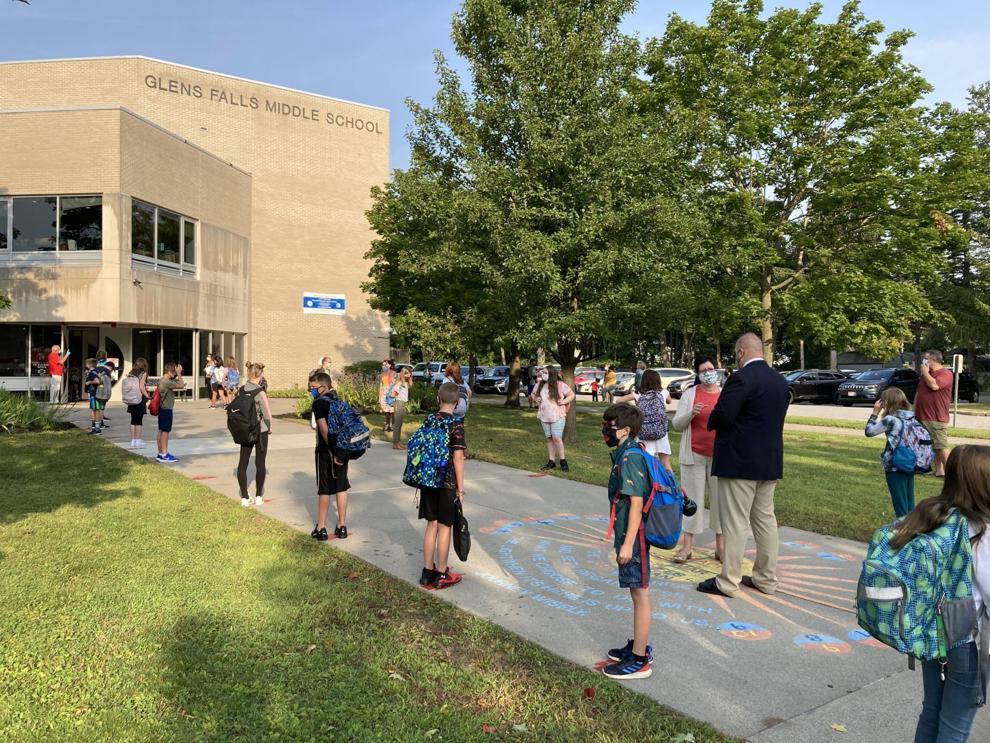 GLENS FALLS — Students posed in front of Glens Fall Middle School on Tuesday as parents snapped photos to commemorate the first day of in-person classes since schools were forced to abruptly close their doors in March due to the coronavirus pandemic.
But smiles were hidden behind masks, and group photos with friends were off-limits due to social distancing protocols.
Instead, students lined up at various entrances of the building, standing on spray-painted markings carefully spaced 6 feet apart as they waited to have their temperatures checked before being allowed to enter.
"It feels like we're in the military," one student said to his friend as they waited in line.
Parents looked on from a distance, reminding children where to go once inside, and shouting "I love you" before shuffling off.
Some looked visibly nervous. Others were thrilled their children would soon be interacting with friends after months of isolation.
"I'm excited for them," said Scott Endieveri after waving goodbye to his fifth grade son.
Endieveri, who represents the Fourth Ward on the city's Common Council, said he believes the district did a "great job" formulating a reopening plan, which calls for daily health screenings and a mixture of in-person and virtual learning models.
"I think it's important that the kids are together somewhat, and I think they're doing a great job of keeping them safe," he said.
Classroom capacity will be limited to between 12 and 16 students, depending on the size of the room, and all desks will be spaced 6 feet apart to ensure students are socially distanced. Masks are mandatory throughout the day.
Students will be following a new block schedule. They will attend four one-hour teaching blocks a day, with a one-hour break in the middle, according to Kristy Moore, the middle school principal.
"Whether students are in-person, hybrid or virtual, they will follow that same schedule," Moore said.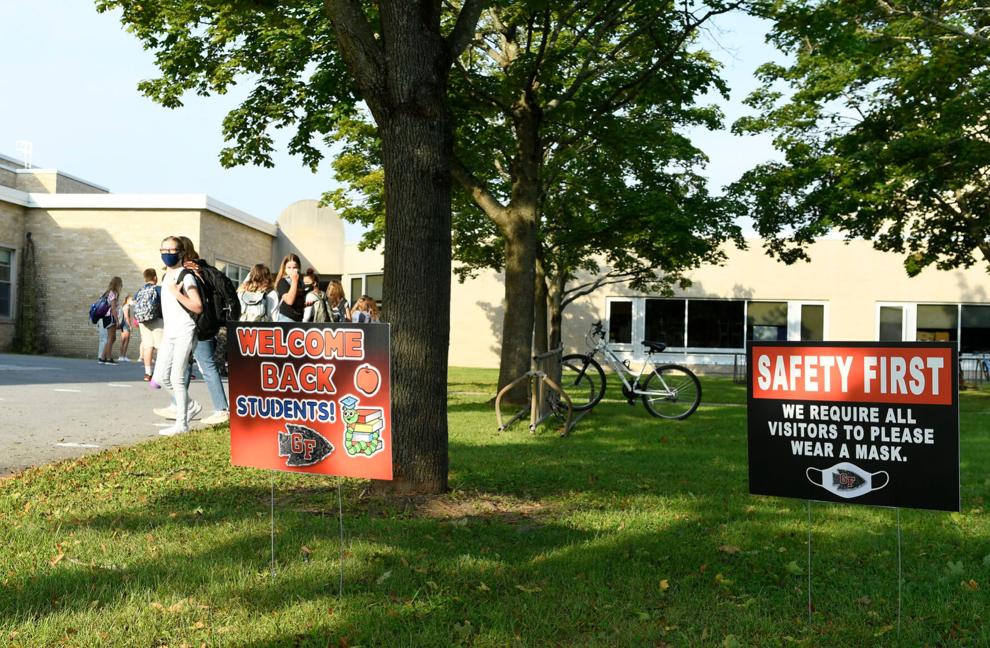 Moore said the district has learned the importance of consistency since schools were forced to adapt an all-virtual model back in March.
The district will be using Google Classroom, which will allow students to follow lectures as if they were in the room. The district also increased its broadband service to accommodate the virtual learning, and students have been given Chromebooks in order to complete their work.
Moore said students will be given time to slowly adjust to the new learning schedule over the first few weeks of school.
"We told our teachers that building relationships with students needs to come prior to approaching the curriculum," she said.
But some parents said they were still nervous despite all the planning.
"I think I'm more nervous than they are," said Jill Grant as she watched her fifth grade daughter and sixth grade son stand in line.
Grant, who works in the health-care industry, said she has concerns about all the protocols students are required to follow.
"I've gone through school and never had to deal with anything like this," she said.
Grant also added she's nervous about a potential outbreak caused by asymptomatic spread. Health screenings, she said, don't account for those who don't have a fever.
"I'm hoping this works, but I wouldn't be surprised if in a couple of weeks we're home regardless," she said.
Grant added she plans to make a final decision on whether to enroll her two children in an all-virtual model in the weeks ahead.
Still, some students appeared visibly excited for the start of classes.
Several even arrived early, riding up on bikes, as they debated whether to gulp down the energy drinks they brought with them.
"I'm nervous and excited at the same time," said seventh grader Wyatt Gonyea as he was waiting to have his temperature checked.
The feeling, he added, is typical for the first day of school.
"One time I didn't sleep until 1 in the morning," Gonyea said.
Elsewhere, Mark Goodwin said he was "doing OK" as he watched his seventh grader take her spot in line. He opted to try the hybrid model because he felt it was important his daughter be around others after not seeing friends for months.
But a final decision on whether to enroll her in an all-virtual model has yet to be made, he said.
"We're back-and-forth on whether we do the virtual or whether we do the homeschooling," Goodwin said. "At 5 o'clock last night we were still deciding what to do."
But Skye Heritage, a spokeswoman for the district, said she's confident in the district's plans.
"The staff and the faculty and administrators have worked so hard, literally day and night, to get to this point so we can open safely for the kids," she said.
"We're just really excited to be back."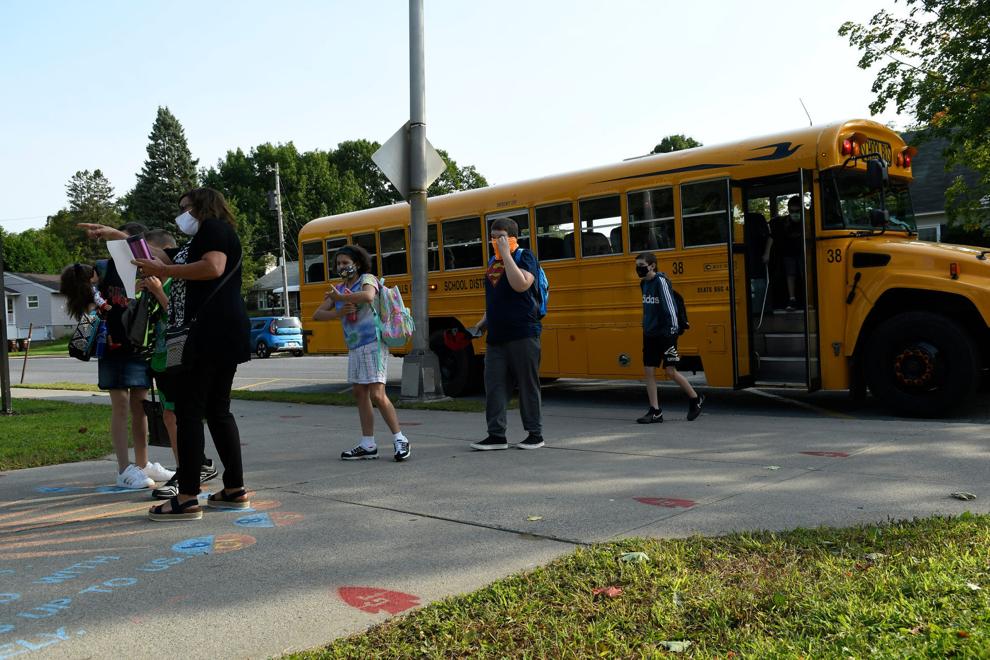 Other districts
Elsewhere, at Abraham Wing School in Glens Falls, Superintendent Brian George said he is extremely pleased with how the first day went. The district has changed its arrival and drop-off procedures. They are using all of the entrances as students enter the building in order to maintain social distancing.
"Once we get everybody in the right spot, I thought it went really well and was very well received," he said.
The school had split its sections, so there are only nine to 11 students in a class, according to George. One half of the class is receiving the lesson from their grade-level teacher and the other half are in a separate room watching the livestream and being supervised by another staff member.
Warrensburg Superintendent of Schools John Goralski said opening went well.
"Our arrival this morning went very well, although the excitement that usually accompanies the first day of school was a little muted this year. The parents and students were very cooperative. Everyone wore a mask and maintained social distance whenever possible," he said in an email.
At Whitehall Central School, Superintendent Patrick Dee said it is not the start of the school year that anyone would have hoped for, but faculty and staff did an "amazing" job getting ready for the students.
All of the students in grades seven through 12 will be beginning the school year completely online after the junior-senior high school building was devastated by flooding.
Dee said he looked in on different online classes and saw that students were engaged.
"The teachers did a really nice job with the presentation of the information. They seem to have all of the processes down for the use of the webcam and being able to have two-way communication with our students," he said.
As for repair of the building, Dee said school officials met on Tuesday with representatives from its insurance company. He was hopeful that the damage will be fully covered and said the insurance representatives would make their determination in the next 24 to 48 hours.
Hartford Central School Superintendent Andrew Cook said there were a few logistical issues with transportation, such as parents were dropping off their children to free up space on the buses.
"Parent cars were backed up through our bus circle onto Route 149," he said.
Hartford is on a hybrid schedule with the elementary, middle and high school grades alternating between in-person classes and online.
"We don't have the space available to ensure the social distancing of all the students at one time," he said.
Cook said he was happy to have students back in the building for the first time since mid-March.
Other districts that started Tuesday were Queensbury and South Glens Falls.
Chad Arnold is a reporter for The Post-Star covering the city of Glens Falls and the town and village of Lake George. Follow him on Twitter @ChadGArnold.