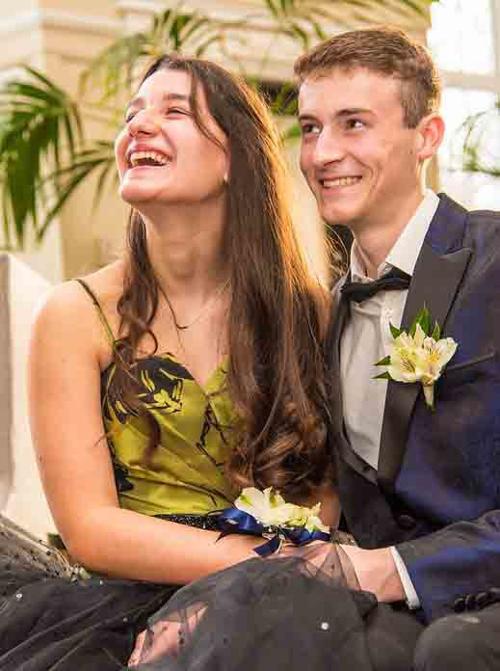 GLENS FALLS — Clarisse Courtoy dreamed about going to an American prom.
She said it was one of her main reasons for deciding to leave her home in France to become an exchange student in Queensbury during this school year, other than learning English.
However, that dream almost did not happen because of the COVID-19 pandemic. Queensbury's prom was originally scheduled for April 4 and she was going to take her American boyfriend Oliver Caron. However, the prom was postponed until May 23.
Courtoy was scheduled to return home to Nice on May 10 so she could take her college entrance exams. Her departure date was moved up with the rapidly changing world and would have to miss the prom.
"I was feeling really bad, that was awful. (At) the same time, my mom was telling me that I will maybe have to leave really soon," she said in an email on Friday back in France after returning home the previous day.
Liz Mulshine, who just a week prior took Courtoy as an exchange student after she had to change families, saw how upset she was.
"It was one of the things she was really looking forward to," Mulshine said.
Oliver's mother, Val Burlett, wanted to throw together an event.
"We'll put something on in the backyard — have food, dancing," she said.
The plans for a house party changed after the Mulshines happened to be having dinner on March 14 at Farmacy in downtown Glens Falls. (This was before the state order that prohibitied dining at resaturants effective on March 17 at 9 a.m.)
The Mulshines had reached out to the owners of Farmacy, Christina and A.J. Richards and asked them if they could host a group of eight youths for dinner the following day.
The owners did them one better and offered the students their two unused upstairs rooms for dinner and dancing. They even came up with a fixed price menu. A local disc jockey provided lighting and a local baker supplied cupcakes. The Queensbury Hotel let them take prom pictures in their lobby.
All they had to do was clean out the rooms and decorate the space. Mulshine, her daughter Nora, Courtoy and Burlett worked hard and by 3 p.m., the rooms were ready.
Caron said he had a really good time.
"I feel like it was perfect and I'd take that over the actual prom in Queensbury because the people there were super nice. You had great food. There was a local DJ that brought over lights and we had a room to ourselves," he said.
Courtoy said having the prom at the restaurant worked out even better than trying to transform one of their houses into a dance room. She said it was an "American romantic story" that touched her deeply.
Courtoy said she arrived back in France to see closed restaurants and public places.
"When I came home this Thursday, that was really weird. Paris airport was empty! That's not normal and it's surprising," she said.
She had wanted to travel and see the world but it was a really hard decision to leave her home.
"But I'm really happy that I took it because I met a lot of awesome people, like people who decided to organize a prom in less than 24 hours," she said.
Get local news delivered to your inbox!
Subscribe to our Daily Headlines newsletter.