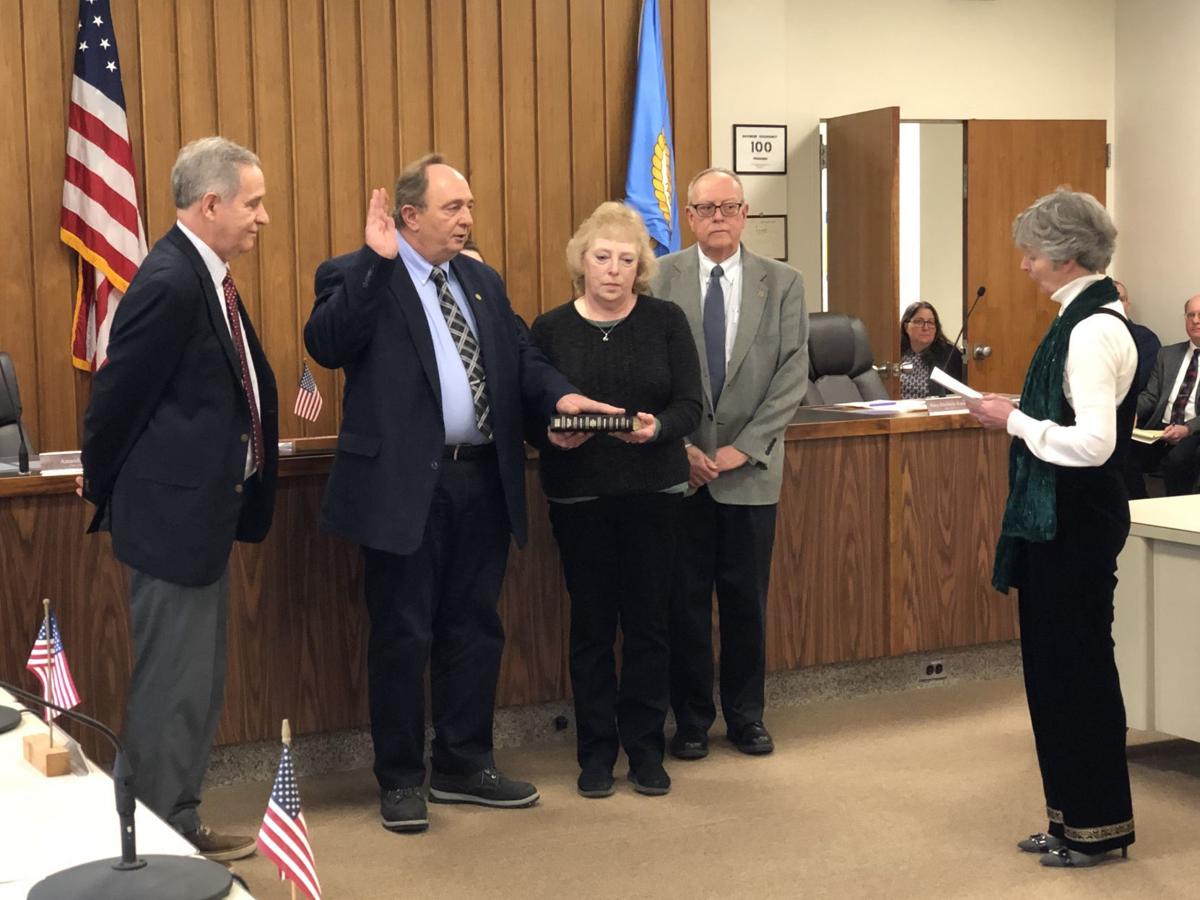 QUEENSBURY — Longtime Stony Creek Supervisor Frank Thomas was chosen Friday to serve as chairman of the Warren County Board of Supervisors, and he outlined a broad agenda for 2020 that includes making the county friendlier to employers and finding a solution to emergency medical services manpower shortages.
Thomas, a Republican, was chosen by the board's Republican majority to serve as their candidate. He was opposed Friday by Glens Falls 5th Ward Supervisor Bennet "Ben" Driscoll, who was nominated by the board's Democratic minority to seek the chairmanship.
Thomas got the support of 14 of the 19 supervisors in attendance, with Glens Falls 1st Ward Supervisor Jack Diamond, a Democrat, the only supervisor to cross party lines.
Independent Craig Leggett, the Chester supervisor, voted for Thomas as well. One supervisor, Doug Beaty from Queensbury, was absent because of illness.
Thomas said he wants the county to do what it can to make the county friendly to employers and employees.
"It's not enough to say we need more jobs," he said. "We need more quality jobs that make people want to live here and move here."
Thomas succeeds Bolton Supervisor Ron Conover, who spent three years as board chairman but chose not to seek the position this year. Warrensburg Supervisor Kevin Geraghty, who was chairman before Conover, nominated Thomas on Friday.
"He's done an excellent job as budget officer the past seven years," Geraghty said.
Johnsburg Supervisor Andrea Hogan, a Democrat, voted for Driscoll. She wasn't voting for the Democratic Party, but for Driscoll, because he outlined his plans for 2020 to his colleagues before the vote, while Thomas did not, she said.
Thomas listed priorities for the new year that include the following:
Improving the county-owned adult home in Warrensburg, Countryside Adult Home, to increase its census, and building a new garage for the county Department of Public Works in Johnsburg to replace one in need of major work.
Solving the EMS manpower crisis in some rural towns. Geraghty was appointed to head a committee to find a solution.
Addressing the need for better high-speed Internet and cellphone service in rural areas.
Pushing the state for better support of BOCES vocational programs.
Continuing to push for changes to the newly enacted criminal justice laws that will put more criminals on the street and drive up costs for prosecutors and police agencies. "We know there are major problems with this law," he said.
Conover was appointed to head the Public Works Committee, where the future of the county-owned railroad corridor will be debated in the coming months. Thomas said he was not taking a position on where to go with it. The board voted last month to pursue abandonment of the tracks, as some push for conversion of the rails to a recreational trail.
Thomas reshuffled some board committees and cut the number of members on some of the committees, so supervisors can pay more attention to the committees to which they were assigned. Committees that had 11 members will have nine, and those that had nine will have seven.
Thomas appointed Geraghty as his budget officer, which marked a return for Geraghty to the position he held for five years before his stint as chairman from 2013 to 2016.
Hague Supervisor Edna Frasier was named to lead the Finance Committee as well as serve as the board's vice chairwoman. Horicon Supervisor Matt Simpson was selected to serve as Personnel Committee chairman.
Thomas has been Stony Creek supervisor since 2003. He served as county budget officer since 2013, appointed by then-board Chairman Geraghty. Thomas also handled budget officer duties during Conover's three years as chairman.
Three new members joined the board for Friday's organizational meeting — Thurman Supervisor Susan Shepler, Glens Falls 4th Ward Supervisor Dan Bruno and Queensbury at-Large Supervisor Rachel Seeber. Seeber is returning to the board after a two-year absence.
Don Lehman covers police and court matters, Warren County government and the outdoors. He can be reached at 518-742-3224 or dlehman@poststar.com
Get local news delivered to your inbox!
Subscribe to our Daily Headlines newsletter.