Elise Stefanik successfully made her case that the Republican Party needs a "new, energetic candidate" to carry the party's banner in November.
Stefanik, a plywood company vice president and former White House policy adviser from Willsboro, handily defeated Matt Doheny, an investment fund manager from Watertown, in the Republican primary in the 21st Congressional District on Tuesday.
"I'm proud of the positive issues race we have run since day one," Stefanik said, speaking to supporters at the Queensbury Hotel in Glens Falls on primary election night.
She said she'd continue to push common sense ideas such as repealing President Barack Obama's health care reform law, rewriting the tax code and reining in "runaway spending."
She said Doheny, who also ran in 2010 and 2012, ran a "heartfelt race" this time around.
Stefanik received 15,292 votes and Doheny received 9,773 votes, with all precincts reporting, according to the Associated Press.
Locally, Stefanik carried Warren County by more than 900 votes, Washington County by more than 600 votes, and Saratoga County by nearly 700 votes.
Doheny, in his concession speech in Watertown, said his campaign was outspent, and that "Karl Rove had a good night."
Rove is co-founder of American Crossroads, a political action committee the Rove co-founded, which spent $764,081 on ads opposing Doheny.
Democrats also credited Stefanik's victory to American Crossroads.
"Elise Stefanik's victory in the Republican primary race ... proves just how far Karl Rove and the Washington special interests will go to add another loyal rubber stamp to their ranks," said Kelly Ward, executive director of the Democratic Congressional Campaign Committee.
Warren County Republican Chairman Michael Grasso said now it's time for Republicans to unite behind Stefanik.
"The committees endorsed, and the people agreed. Now it's time for us to get behind one candidate," he said.
Stefanik said she would "build the bridges" to make sure Republicans win in November.
"I'll work with anyone, anywhere to make progress," she said.
The race centered more around experience and perspective than policy.
Both candidates support repealing Obama's health care reform law and support term limits for Congress, and both said if elected they would post their daily schedules online.
Both candidates received "AQ" ratings, the highest rating possible from a non-incumbent, from the National Rifle Association.
Stefanik, making her first run for elected office at age 29, said she has a young person's and a woman's perspective that appeals to disenfranchised voters.
She said her experience as a White House policy adviser provides an understanding of the workings of Congress.
Doheny, 43, said his business background provides the perspective to spearhead economic development in the district.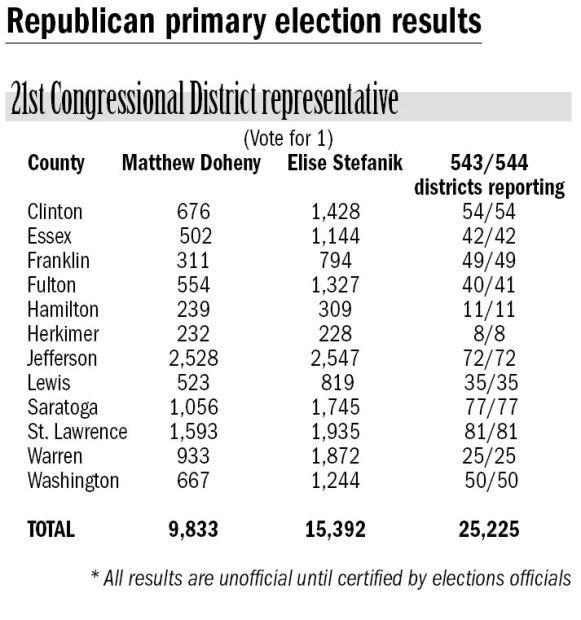 He said his previous congressional campaigns in 2010 and 2012 gave him an in-depth familiarity with the 12-county congressional district, which stretches from Lake Champlain to Lake Ontario, including Warren, Washington and northern Saratoga counties.
Doheny lost twice to U.S. Rep. Bill Owens, D-Plattsburgh, who is not seeking re-election this year.
Doheny was a late entry to the race this year, after Owens announced in mid-January he would not run.
Stefanik, who had been campaigning since fall, had already lined up support from many of the county Republican committees when Doheny entered the race.
Party loyalists were divided between the two candidates, even though 11 of the 12 county Republican committees endorsed Stefanik.
The race became a high-cost primary in which campaign and political action committees spent more than $1.64 million on advertising, including $764,081 which American Crossroads spent opposing Doheny.
It was the first time American Crossroads, which Republican strategist Karl Rove co-founded, aired ads opposing a Republican candidate in a primary election.
Steven Law, president and chief executive officer of American Crossroads, issued a statement congratulating Stefanik on her "decisive" win.
"Elise Stefanik offers a fresh and exciting voice of the North Country," he said.
State Republican Chairman Ed Cox also issued a statement congratulating Stefanik.
"Elise represents the next generation of Republican leaders," he said.
Essex County Republican Chairman Ron Jackson said Stefanik is a "dream" candidate.
"She represents a demographic we're not used to seeing here: a millennial," said Jackson, who also is regional vice chairman of the state Republican Committee.
Saratoga County Republican Chairman John Herrick said Stefanik showed "conviction" when she entered the race before it was known Owens would not run.
Stefanik and Doheny will both be on the ballot in the November general election on other party lines.
Doheny already had the Independence Party nomination, and Stefanik already had the Conservative Party nomination.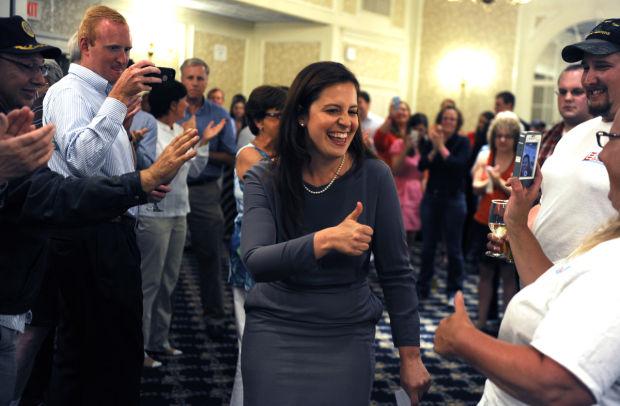 Doheny has not yet said whether he will continue actively campaigning."
The Democratic and Working Families Party candidate is Aaron Woolf, a filmmaker from Elizabethtown.
The Green Party candidate is Matt Funiciello, a bread company owner and political activist from Glens Falls.
Post-Star staff writer Amanda May Metzger contributed to this report.