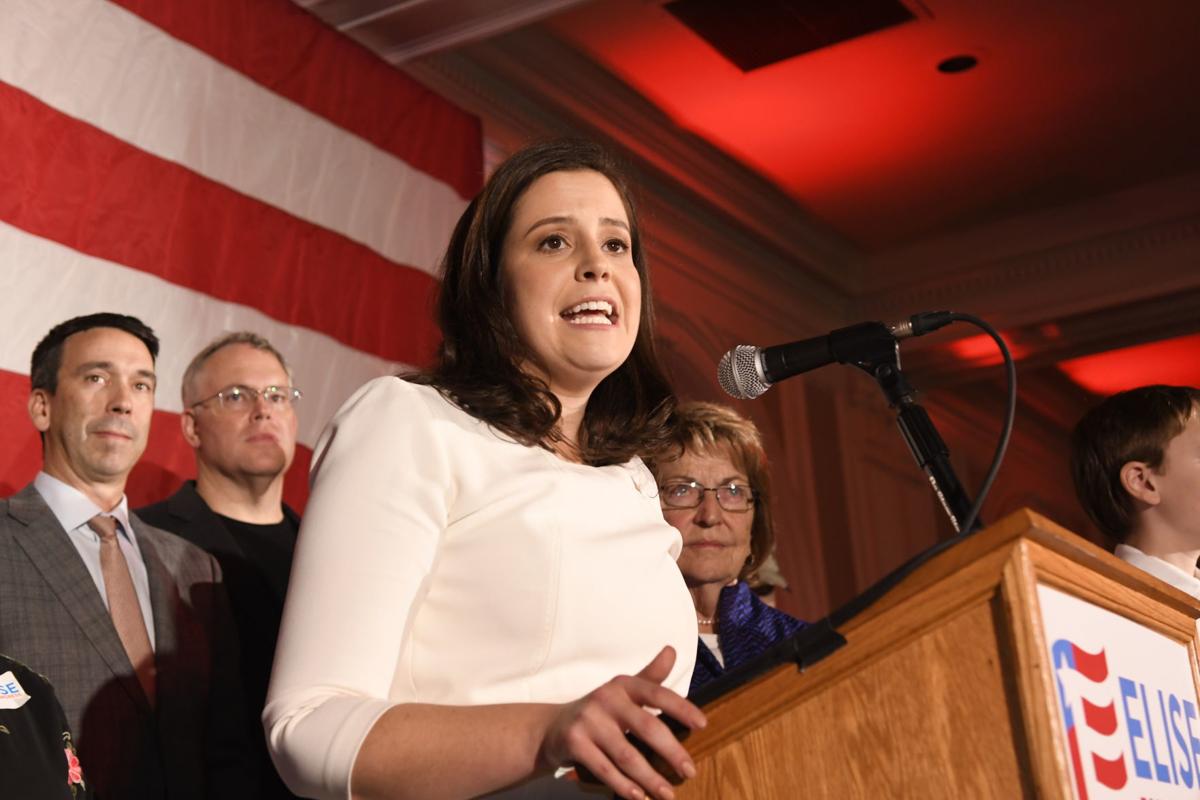 The election is over, but in Washington the work is just beginning.
House Republicans have been busy electing new leadership after the retirement of former House Speaker Paul Ryan, and taking a hard look at the future of the party.
U.S. Rep. Elise Stefanik, R-Willsboro, easily won re-election to the 21st Congressional District, but for the first time in her career she will be serving in the minority. And the election took 10 of her fellow Republican women from the House, leaving her as just one of a dozen.
"This is something I've been concerned about for a long time," Stefanik told the Watertown Daily Times.
During the leadership conference, she asked the minority leader candidates — Reps. Kevin McCarthy and Jim Jordan — about their plan to ensure a more diverse delegation in the future.
"I said if you look around, this does not look like the American public," Stefanik said. "We need to do better."
She said she was disappointed with the answers she received, which mostly revolved around touting Republican successes and economic growth. Stefanik thinks this is important, but it is not enough to attract women to the party, especially younger women.
Stefanik leads recruitment for the National Republican Congressional Committee, and over a 100 women registered to run for Congress this year. However, many of these women never made it through their primaries, and when they did, more of them lost in the general election.
"It wasn't a recruitment failure, it was a failure to provide support to fantastic candidates early," Stefanik said.
So, Stefanik plans to step back from her recruitment role to use her Political Action Committee to support candidates starting in the primary, pointing to the success of organizations like Emily's List — a powerful group that supports pro-choice Democratic women candidates.
"The NRCC doesn't get involved in primaries," she said. "One of the successes of the Emily's List model is it identifies women candidates early."
Stefanik, who was the youngest woman ever elected to the House when she first ran, said she benefited from the support of Reps. Ann Wagner and Diane Black early in her race. Now she wants to provide that kind of support to other Republican women.
"I just want to engage in — play in these primaries a little earlier," she said. "I've been able to see what works and what didn't."
Stefanik is still supportive of the current leadership — she has been vocal about her support for McCarthy since the summer, and supports Rep. Liz Cheney, who won the No. 3 spot in the House minority leadership, the conference chair position.
You have free articles remaining.
"I was one of three nominations for McCarthy and I was the main nominator for Cheney," Stefanik said.
She has spoken to McCarthy about her concerns and the importance of recruiting more diverse candidates to run — women, veterans, minorities — a message she thinks he is receptive to.
But Stefanik also wants to be clear that she will forge her own path.
"I intend to continue to be independent," she said.
This year, Stefanik also lost her title as the youngest woman ever elected to the House when 29-year-old Rep. Alexandria Ocasio-Cortez, D-Bronx, won her race. Despite the strong ideological differences between them — Ocasio-Cortez won by running to the left of an incumbent Democrat — Stefanik tweeted her congratulations to Ocasio-Cortez.
"While of a different political party, congratulations to @Ocasio2018 on becoming the newest youngest woman ever elected to Congress," Stefanik wrote. "As Elizabeth Holtzman did to me, I proudly hand off that mantle to you. Work hard to encourage the next generation of women who follow."
Ocasio-Cortez wrote back, "Thank you Rep. Stefanik for holding this historic milestone! Incredible that this record has been broken three times, all by New York voters from across the political spectrum."
Stefanik has not had a chance to congratulate Ocasio-Cortez in person.
"I haven't met her yet. I'm looking forward to meeting all the new members," Stefanik said. "I think it's important to encourage young women to run for office."
Assignments not expected to change
In many ways, Stefanik's role in the House will not change much — she does not expect to change committee assignments, for example. Her role on the House Intelligence Committee will be particularly important in the near future as she anticipates a briefing by the Central Intelligence Agency on the killing of a journalist by Saudi Arabia.
The CIA has reportedly concluded that the Saudi Crown Prince Mohammed bin Salman likely ordered the murder of Washington Post journalist Jamal Khashoggi, according to the New York Times, and briefed the Intelligence Committee. President Donald Trump cast doubt on that determination in an exclamation-point laced statement on Tuesday defending continued cooperation with the Saudi government.
Stefanik supports Congress taking action independently of the president.
"I believe we need to look at all possibilities, including the application of the Magnitsky Act," she said.
Seventeen Saudi officials suspected of participating in the killing have already been sanctioned by the Magnitsky Act, according to Politico, a 2012 bill that allows the U.S. government to sanction people who violate human rights. But Stefanik thinks the administration may have to expand the sanctions to the Saudi leadership as well.
"I believe the United States needs to stand up for human rights," Stefanik said. "I am disappointed the administration has not taken a clear position."