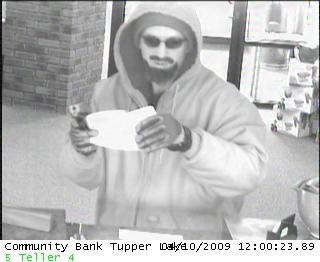 TUPPER LAKE - State Police are searching for a man they believe robbed the Community Bank in Tupper Lake at gunpoint on Friday.
Police said the suspect entered the bank at 12:15 p.m. and displayed a handgun.
He then fled the bank with an undetermined amount of cash.
Police said the suspect was described as a white male and tall with a thin build.
He was last seen wearing a tan hooded jacket and blue jeans.
Police said he may have tried to disguise himself with a fake moustache or goatee and wore sunglasses.
Anyone with information is asked to contact the New York State Police, Troop "B" Headquarters at Ray Brook at 897-2000.