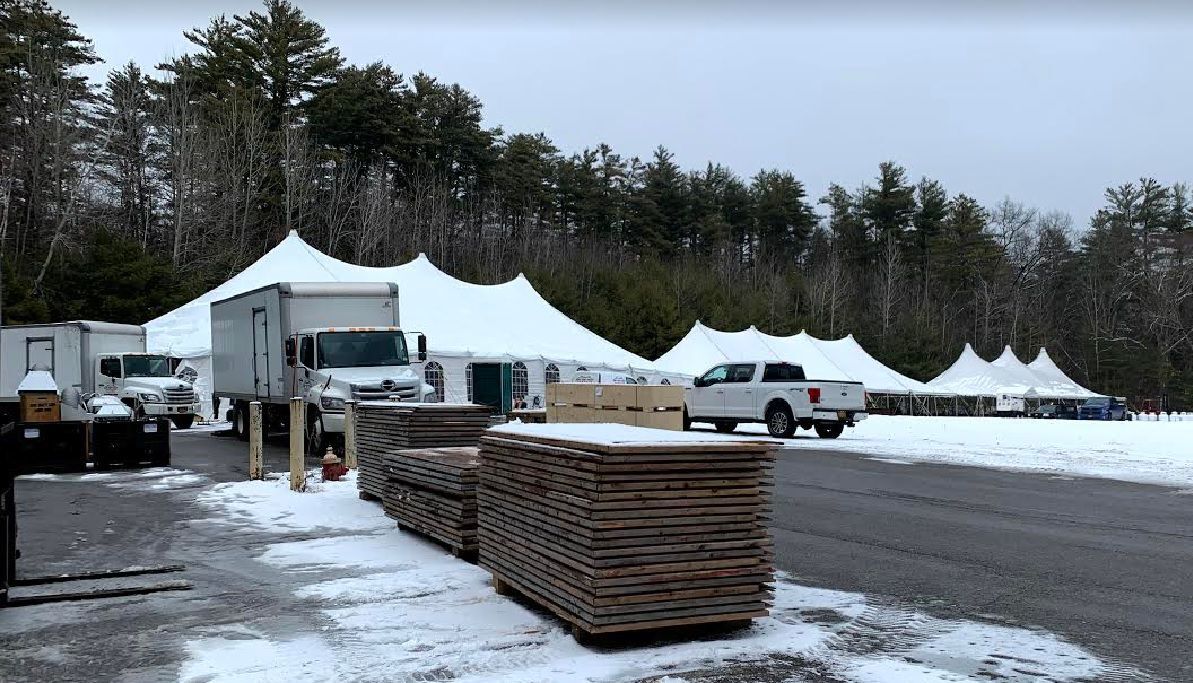 QUEENSBURY — The tent site near Warren Center for Rehabilitation and Nursing will soon become a mass coronavirus vaccination site.
Gov. Andrew Cuomo announced Monday that the site at 50 Gurney Lane and nine others in the state would open "in the coming weeks."
The site was built at the end of January but not finished. Workers were there Monday and have about two days' worth of work left.
State officials have not yet announced when the site will open. Once it is open, any eligible person will be able to reserve an appointment through the state reservation system.
"Thanks to increasing vaccine supply from our partners in Washington, we can utilize more of our state's capacity to distribute doses, and once they are open, these new sites will allow us to continue to get shots into arms on a large scale," Cuomo said in a statement. "We know the vaccine is the weapon that will win this war, but it's only effective if we all take it, which is why we are working around the clock to establish sites like these across the state to reach as many New Yorkers as possible. The more people we vaccinate, the more we can continue our progress in keeping the infection rate at bay, reopening our economy and defeating COVID once and for all."
Officials in Warren and Washington counties have been lobbying for weeks for a local site. Many residents have had to drive to Plattsburgh and other sites that are more than an hour away. For those who do not have cars or who cannot easily travel, the distance was insurmountable.
"Our residents have been asking for more options for COVID-19 vaccinations closer to home, and we have been working for weeks with our partners in New York state to put together this outstanding regional Warren County location working side by side with our state government," said Rachel Seeber, chairwoman of the Warren County Board of Supervisors, in a statement.
The new site will get people vaccinated "just minutes from their homes," she said, and will help end the crisis.
"This new vaccination clinic will be an important tool in helping us bring this health emergency to an end. I encourage you to share this information with your friends and family so that we can get back to safely spending quality time with those we love most," she said.
Samuel Hall, chairman of the Washington County Board of Supervisors, said in a statement that he, too, was grateful for a site "much closer to home."
"This is a giant step forward in support of what our county Public Health teams and health care partners are doing for our residents, communities and region toward ending the pandemic, helping to ensure our residents who want to be vaccinated can be vaccinated locally and in timely manner," he said.
There were some questions locally as to why Cool Insuring Arena in Glens Falls wasn't chosen. The arena has been closed.
Jeff Mead, general manager of the arena, said he didn't know why his site was not chosen, but said the arena was available.
"We would have accommodated the state if they wanted to use our site for these vaccinations or any other needs that the state, county or city may have needed from us during the past year," he said.
But the arena only has about 150 dedicated parking spots. The mass vaccination sites typically hold hundreds of people at a time, including volunteers.
The tents at the Gurney Lane site can hold hundreds of people and are heated. State officials said they liked the site because it was minutes from a Northway exit and had adequate parking for the expected number of people who would use it.