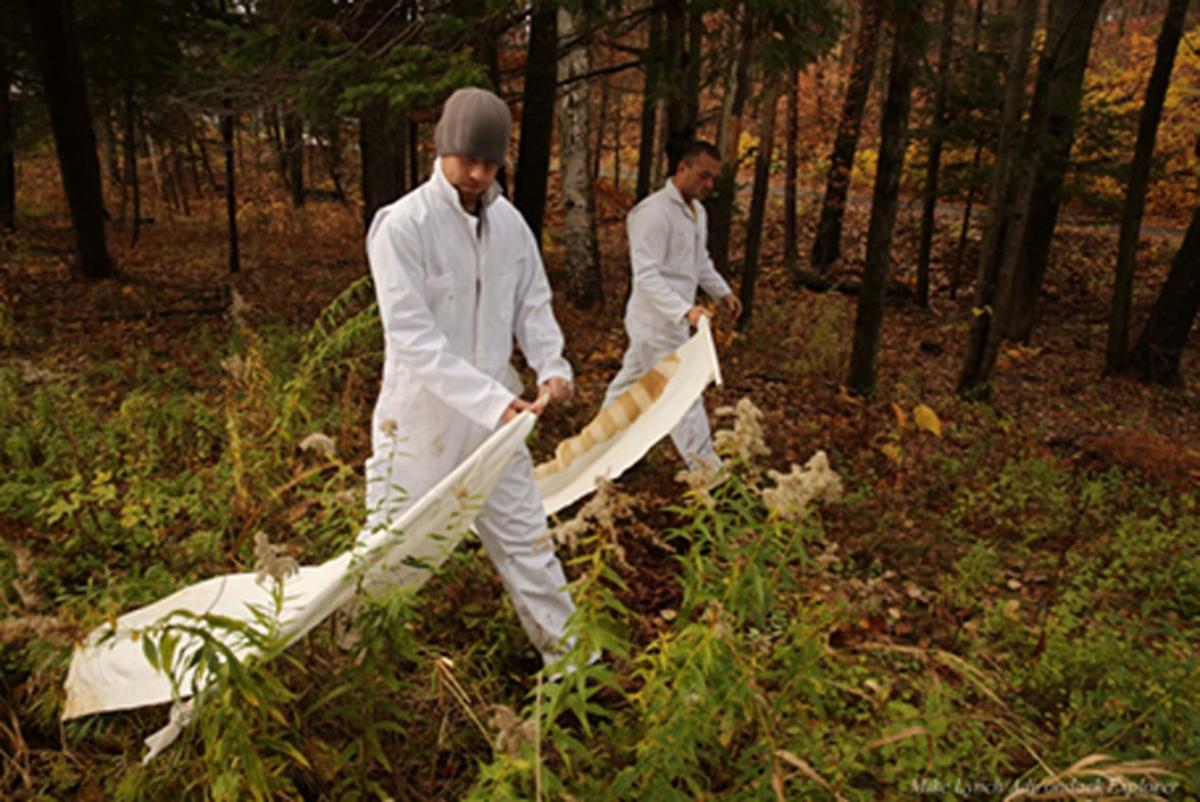 "It's disappointing, because I really see it as a big step back from what we've been able to achieve for the past three years," said Holly Ahern. "It seems short-sighted on the part of the state, given that we've made such good progress at this point."
Last year Ahern, a microbiology professor at SUNY Adirondack, had about $100,000 of that $1 million for the nonprofit organization Focus on Lyme. The money had helped with a biorepository, where testing of blood samples for Lyme and other tick-borne illnesses is done.
The work will carry on, Ahern said, but perhaps a little bit slower. She didn't count on the funds since it's approved year-to-year, but she was surprised it wasn't included.
She was concerned about what would happen to field work that Paul Smith's College conducted last year.
Professor Lee Ann Sporn and her students conducted the first study of its kind, collecting and testing harvested deer blood samples at state wildlife management areas in the Adirondacks, including in Warren, Washington and Essex counties. Students also wore white body suits and collected ticks on drop cloths.
With the help of $30,000 from the state last year, Sporn and her students found that the lethal Powassan virus, which ticks can carry, was more widespread than previously thought. Working with the state Department of Health to test the deer blood, they found about 40 percent of deer collected throughout the Adirondacks had been bitten by a tick carrying Powassan.
Three people had the virus in 2017 in Saratoga County. One man died from it.
"You know, our intent, our goal, was to establish the northern edge of spread of the virus, and when we didn't really see a northern edge, I realized I wish we had done this a few years ago," Sporn had said in a previous interview.
The state Department of Health had said, too, that the partnership with Sporn improved its tick surveillance capabilities.
On Monday, Sporn said the six years of monitoring will continue with funding from the college and the Adirondack Watershed Institute, but it won't be done to the same extent.
"I think we're going to have to pick and choose," she said. "My plan was to do everything, the field tick and deer blood collections, which last year we found surprisingly there's more of a risk of Powassan here than we knew. This year, we might have to choose what project we work on."
In her initial look at the budget, Ahern said it appears leading Democrats directed most of the money toward downstate issues. State Sen. Betty Little, R-Queensbury, felt that way, too, and was disappointed the tick funding was not included.
"It's something that's affecting many areas," she said of Lyme disease, adding that it probably does not affect much of New York City, where many of the legislators are based.
Sen. Sue Serino, R-Hyde Park, has been advocating for the $1 million, even holding a press conference at the beginning of March. On March 31, she issued a statement about the budget.
She said she was "truly shocked by the omission of this critically important funding. With reports surfacing this week, noting that New York is slated to see another boom in the tick population this spring and summer, to cut the funding we have previously been able to secure to address this epidemic is simply irresponsible."
The budget does include $30 million to Binghamton University's Health Science and Innovation Park, for the study of opioids and Lyme disease. It's not clear how much of that would go to Lyme disease. Ahern said the university does good work, but studies like Sporn's are unique to the Adirondacks.
"This is all data we don't have in New York state because the Adirondacks are this wild region, but it's also the area in our state where there's probably the greatest amount of tourism," Ahern said. "Just because the population is low doesn't mean people won't be at risk."
Sporn remains appreciative of the $30,000 she received last year, which covered staff time, travel and the creation of informational brochures.
Continuous monitoring, she added, is important because diseases and ticks are spreading fast. Six years ago, a malaria-like parasite ticks can carry called babesiosis was not present in the Adirondacks. A year later, it was.
Many of the tick-borne illnesses have similar side effects, but they are treated differently. By studying ticks and knowing what illnesses are in the area, Sporn said, local health officials have better information for making a diagnosis.
"The fact that I'm having to work so hard to figure funding to do this work points to the fact that maybe this needs to be reconsidered by funding agencies, earmarked for funding and surveillance work," Sporn said. "Without watching year-to-year, we just won't know."
Reporter Michael Goot contributed to this report.
Get local news delivered to your inbox!
Subscribe to our Daily Headlines newsletter.