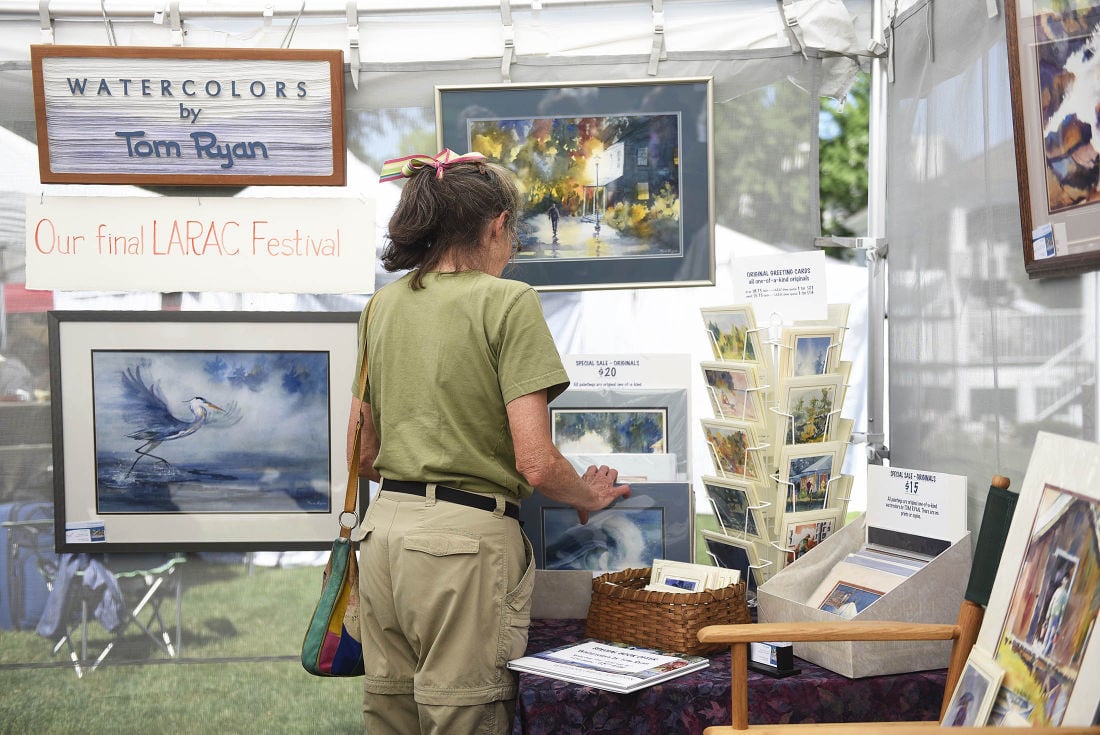 Cultural and arts organizations in Warren and Washington counties have been awarded slightly more than $400,000 in grants by the New York State Council on the Arts. The awards were announced Thursday.
Warren County organizations received nearly $300,000 in grants. Lower Adirondack Regional Arts Council, Crandall Public Library and The Hyde Collection Trust received the most money, with $153,800, $55,000 and $22,000, respectively.
Glens Falls Symphony Orchestra received $15,000 and Adirondack Theatre Festival and Lake George Music Festival Inc. were awarded $14,000 each.
Grants totaling $103,960 were awarded in Washington County. Hubbard Hall received $69,000 across three grants. Mettawee Theatre Co. in Salem received $15,000 and Slate Valley Museum Foundation was awarded $13,000.
According to a news release, 1,230 organizations in the state were awarded $41.26 million in grants to support the creation of visual, performing, literary and media arts. New York State Council on the Arts grants are awarded in 16 programs in all 62 counties.
The two grants to Crandall Public Library will pay for the Folklife Center's research, archives, gallery and programs in regional traditional culture, along with its film and video festival.
"The funding allows us to keep bringing exciting programming to the community," library Director Kathy Naftaly said, noting this was the fourth year of the film and video grant and the third of the folklife grant. "We are very pleased."
The film and video grant was for $19,000, and the Folklife Center grant was for $55,000.
LARAC received two grants, including $35,000 for general operating support for all activities that serve artists and the community. Executive Director Candice Frye noted the amount was $3,000 less than the group received last year.
LARAC received the same amount as last year, $118,800, for its Community Arts Grants program. The majority of that finding will be re-granted to arts groups in the community at a ceremony April 8.
"It's a great group of people, and everyone in that group has the same goal of spreading art and culture in the local community," she said. "This is very important to LARAC so we are able to re-grant."
With the funding, LARAC was able to help 19 groups in Warren County and 12 in Washington County, along with three projects for artists teaching in schools and three for artists creating new work.
The $22,000 to The Hyde will go toward general operating expenses.
One of the Hubbard Hall grants was for $34,000 to pay for a full-time program director and another was for $25,000 for general operations. The community center and theater also received $10,000 to help pay for actors, directors and designers.
You can read Bill Toscano's blog at poststar.com/blogs or his updates on Twitter, @billtoscano_ps.
New York State Council on the Arts grant announcemens
The New York State Council on the Arts awarded $41.26 million worth of grants on Thursday. Read the entire list.
Organization
County
Program
Category
Grant amount
1891 Fredonia Opera House Inc
Chautauqua
Music
Project Support
$7,500
52nd Street Project Inc
New York
Theatre
General Support
$19,000
6 On The Square
Chenango
Presenting
Project Support - Presentation
$5,000
7 Loaves Inc
New York
Folk Arts
Project Support - Presentation
$6,000
7 Loaves Inc
New York
Theatre
Professional Performances
$4,250
92nd Street YM-YWHA
New York
Dance
Rehearsal Space & Residencies
$3,400
92nd Street YM-YWHA
New York
Literature
Public Programs
$20,000
92nd Street YM-YWHA
New York
Presenting
General Support
$10,000
A Place For Jazz, Ltd.
Schenectady
Presenting
Project Support - Presentation
$6,500
A Public Space Literary Projects Inc.
Brooklyn
Literature
General Support
$20,000
Aaron Davis Hall
New York
Presenting
General Support
$56,340
Aaron Davis Hall
New York
State & Local Partnership
Services to the Field
$25,000
ABC No Rio
New York
Visual Arts
Exhibitions & Installations
$7,500
Abingdon Theatre Company
New York
Theatre
General Support
$15,000
Abraham Lincoln Brigade Archives
New York
Electronic Media & Film
Film Festivals and Screenings
$6,000
Academy of American Poets
New York
Literature
General Support
$15,000
Actors Company Theatre, Inc
New York
Theatre
Professional Performances
$6,500
Actors' Fund of America^The
New York
Theatre
Services to the Field
$9,200
Adirondack Architectural Herit
Clinton
Architecture + Design
General Support
$35,000
Adirondack Center for Writing
Franklin
Literature
General Support
$20,000
Adirondack Historical Association
Hamilton
Capital Projects
Capital Projects (Facilities)
$49,500
Adirondack Historical Association
Hamilton
Museum
General Support
$48,000
Adirondack Historical Association
Hamilton
Regional Economic Development
Planning
$49,500
Adirondack Lakes Cntr for Arts
Hamilton
State & Local Partnership
General Support
$45,000
Adirondack Lakes Cntr for Arts
Hamilton
State & Local Partnership
Regrants
$130,000
Adirondack Lakes Cntr for Arts
Hamilton
Theatre
Professional Performances
$10,000
Adirondack Shakespeare Company, Ltd.
Warren
Theatre
Professional Performances
$3,000
Adirondack Theatre Festival
Warren
Theatre
General Support
$14,000
African Cultural Ctr - Buffalo
Erie
Special Arts Services
General Oper Support
$50,000
African Diaspora Film Festival
New York
Electronic Media & Film
Film Festivals and Screenings
$10,000
African Film Festival
New York
Electronic Media & Film
General Support
$26,000
African Voices Communications
New York
Electronic Media & Film
Film Festivals and Screenings
$7,500
African Voices Communications
New York
Literature
General Support
$10,000
Ahl Foundation, Inc.
New York
Visual Arts
Exhibitions & Installations
$10,000
Akwesasne Cultural Center Inc
Franklin
Folk Arts
Folk Art Apprenticeships
$5,000
Akwesasne Cultural Center Inc
Franklin
Special Arts Services
General Support
$20,920
Alarm Will Sound, Inc.
New York
Music
Project Support
$10,000
Albany Center Galleries, Inc.
Albany
Visual Arts
Exhibitions & Installations
$5,000
Albany Institute History & Art
Albany
Museum
General Support
$29,000
Albany Institute History & Art
Albany
Arts Education
K-12: In-School Programs
$16,600
Albany Pro Musica Inc.
Rensselaer
Regional Economic Development
Workforce Investment
$41,000
Albany Symphony Orchestra Inc
Albany
Music
General Support
$37,530
Albany Symphony Orchestra Inc
Albany
Regional Economic Development
Implementation
$75,000
Alfred University
Allegany
Visual Arts
Workspace
$17,000
Alfred University
Allegany
Electronic Media & Film
Workspace
$14,000
Alhambra
New York
Music
Project Support
$3,300
Alleyway Theatre Inc
Erie
Theatre
General Support
$5,000
Alliance for Inclusion in the Arts
New York
Theatre
Services to the Field
$5,000
Alliance of Resident Thtr/NY
New York
Theatre
General Support
$40,580
Alliance of Resident Thtr/NY
New York
Theatre
Regrants
$39,324
Alliance of Resident Thtr/NY
New York
Theatre
Regrants
$50,000
Alliance of Resident Thtr/NY
New York
Regional Economic Development
Workforce Investment
$30,500
Allied Productions.Inc.
New York
Visual Arts
Exhibitions & Installations
$7,000
Allied Productions.Inc.
New York
Electronic Media & Film
Exhibitions & Installations
$5,450
Alpha Omega 1-7 Theatrical Dance Company
New York
Special Arts Services
General Support
$18,750
Alvin Ailey Dance Foundation
New York
Capital Projects
Capital Equipment (Facilities)
$49,500
Alvin Ailey Dance Foundation
New York
Dance
General Support
$88,000
Alvin Ailey Dance Foundation
New York
Special Arts Services
Instruction and Training
$29,000
Alwan Foundation, Inc.
New York
Special Arts Services
General Support
$50,000
Alwan Foundation, Inc.
New York
Electronic Media & Film
Film Festivals and Screenings
$20,000
Amas Musical Theatre, Inc
New York
Theatre
General Support
$12,000
Amas Musical Theatre, Inc
New York
Special Arts Services
Instruction and Training
$10,000
Amer Mus of the Moving Image
Queens
Museum
General Support
$50,000
Amer Mus of the Moving Image
Queens
Electronic Media & Film
Film Festivals and Screenings
$24,000
American Chamber Ensemble Inc
Nassau
Music
General Support
$5,000
American Composers Orchestra
New York
Music
General Oper Support
$45,000
American Dance Asylum Inc.
Steuben
Dance
Regrants
$175,323
American Dance Institute, Inc.
New York
Presenting
Project Support - Presentation
$16,000
American Documentary Inc
New York
Electronic Media & Film
General Support
$30,000
American Folk Art Museum
New York
Museum
General Support
$34,000
American Friends of the Ludwig Fdn of Cuba
New York
Electronic Media & Film
Film Festivals and Screenings
$15,000
American Indian Artists, Inc.
New York
State & Local Partnership
General Support
$27,000
American Indian Artists, Inc.
New York
Special Arts Services
Project Support
$5,000
American Lyric Theater Center, Inc.
New York
Music
General Support
$10,000
American Modern Ensemble, Inc.
New York
Music
General Support
$12,500
American Museum of Natural History
New York
Electronic Media & Film
Film Festivals and Screenings
$11,000
American Museum of Natural History
New York
Museum
General Support
$110,416
American Opera Projects Inc
Brooklyn
Music
General Support
$15,000
American Opera Projects Inc
Brooklyn
Individual Artists
Composer Commissions
$10,000
American Opera Projects Inc
Brooklyn
Individual Artists
Theatre Artist Commissions
$8,500
American Spanish Dance Theatre
New York
Special Arts Services
Project Support
$7,500
American Symphony Orch League
New York
Music
Services to the Field
$20,000
American Symphony Orchestra
New York
Music
General Support
$34,000
American Tap Dance Foundation, Inc.
New York
Dance
Services to the Field
$20,000
American Theatre Wing
New York
Theatre
Services to the Field
$7,500
American Turkish Society, Inc.^The
New York
Electronic Media & Film
Film Festivals and Screenings
$7,500
Americas Society, Inc
New York
Architecture + Design
Project Support
$17,500
Americas Society, Inc
New York
Presenting
Project Support - Presentation
$5,000
Americas Society, Inc
New York
Individual Artists
Composer Commissions
$4,500
Amigos del Museo del Barrio
New York
Museum
General Support
$29,000
An Claidheamh Soluis Inc
New York
Folk Arts
Project Support
$14,000
An Claidheamh Soluis Inc
New York
Special Arts Services
General Support
$55,000
Anne Frank Center USA^The
New York
Arts Education
K-12: In-School Programs
$7,900
Ansonia Music Outreach Organization, Inc.
New York
Music
Project Support
$5,000
Anthology Film Archives Inc
New York
Electronic Media & Film
General Support
$30,000
Antisocial Music
New York
Music
Project Support
$7,000
Aperture Foundation
New York
Arts Education
K-12: In-School Programs
$20,000
Aperture Foundation
New York
Visual Arts
General Support
$24,900
Apex Art Curatorial Program
New York
Visual Arts
Exhibitions & Installations
$7,000
Apollo Theater Foundation
New York
Presenting
General Support
$30,000
Apollo Theater Foundation
New York
Music
Project Support
$15,000
Apollo Theater Foundation
New York
Regional Economic Development
Implementation
$75,000
Aquila Theatre Company Inc.
New York
Arts Education
K-12: In-School Programs
$10,000
Aquila Theatre Company Inc.
New York
Theatre
General Support
$28,440
Archipelago Books, Inc.
Brooklyn
Literature
Literary Translation
$4,000
Archipelago Books, Inc.
Brooklyn
Literature
General Support
$17,500
Archipelago Books, Inc.
Brooklyn
Literature
Literary Translation
$8,000
Architectural League of NY
New York
Architecture + Design
General Support
$37,000
Architectural League of NY
New York
Architecture + Design
Independent Projects
$10,750
Architectural League of NY
New York
Architecture + Design
Independent Projects
$10,750
Architectural League of NY
New York
Architecture + Design
Independent Projects
$10,750
ArchiteXX
Onondaga
Architecture + Design
Project Support
$17,500
Arena Players Repertory Thtr
Suffolk
Theatre
Professional Performances
$5,910
Argento New Music Project
New York
Music
Project Support
$4,000
Arm-of-the-Sea Productions,Inc
Ulster
Arts Education
K-12: In-School Programs
$6,000
Arm-of-the-Sea Productions,Inc
Ulster
Theatre
General Support
$7,000
Arnot Art Museum
Chemung
Museum
General Support
$12,000
ARS Nova Musicians Chambr Orch
Erie
Music
General Support
$5,000
Ars Nova Theater I, Inc.
New York
Theatre
General Support
$19,000
Art Creates US
New York
Arts Education
Community-Based Learning
$4,000
Art Deco Society of New York, Inc.
New York
Architecture + Design
Project Support
$10,000
Art in General Inc
New York
Visual Arts
General Support
$33,644
Art of the Early Keyboard Inc
New York
Music
General Support
$7,500
Art Omi, Inc.
Columbia
Music
Services to the Field
$4,000
Art Radio International, Inc.
New York
Music
General Support
$13,000
Art Resources Transfer, Inc.
New York
Literature
Services to the Field
$8,500
Art Start, Incorporated
New York
Special Arts Services
General Support
$31,624
Art Start, Incorporated
New York
Arts Education
Community-Based Learning
$18,000
Art Studio of Western New York, Inc.
Erie
Visual Arts
Exhibitions & Installations
$8,000
Art Studio of Western New York, Inc.
Erie
Capital Projects
Design Studies (Facilities)
$9,680
Art Studio of Western New York, Inc.
Erie
Special Arts Services
Instruction and Training
$6,500
Art Sweats Inc
New York
Dance
General Support
$12,000
Arthur Aviles Typical Theatre
Bronx
Dance
Services to the Field
$18,000
Arthur Aviles Typical Theatre
Bronx
Dance
Rehearsal Space & Residencies
$8,000
Artists Alliance Inc
New York
Visual Arts
Exhibitions & Installations
$7,000
Artists Space Inc
New York
Visual Arts
General Support
$23,000
Artists Space Inc
New York
Arts Education
K-12: In-School Programs
$14,000
Arts Center of the Capital Region
Rensselaer
Capital Projects
Capital Equipment (Facilities)
$13,489
Arts Center of the Capital Region
Rensselaer
State & Local Partnership
General Support
$50,000
Arts Center of the Capital Region
Rensselaer
State & Local Partnership
Regrants
$140,000
Arts Center of the Capital Region
Rensselaer
Regional Economic Development
Planning
$49,500
Arts Center Tht of Schenectady
Schenectady
Presenting
General Support
$30,000
Arts Center Tht of Schenectady
Schenectady
Arts Education
K-12: In-School Programs
$9,000
Arts Connection Inc
New York
Theatre
Services to the Field
$8,240
Arts Connection Inc
New York
Arts Education
General Support
$25,000
Arts Council for Wyoming County
Wyoming
State & Local Partnership
General Support
$30,000
Arts Council for Wyoming County
Wyoming
State & Local Partnership
Regrants
$49,200
Arts Council for Wyoming County
Wyoming
Folk Arts
Project Support
$5,500
Arts Council of Rockland Inc
Rockland
State & Local Partnership
General Support
$20,000
Arts Council of Rockland Inc
Rockland
State & Local Partnership
Regrants
$60,000
ARTS Council of the Southern Finger Lakes
Steuben
State & Local Partnership
General Support
$43,000
ARTS Council of the Southern Finger Lakes
Steuben
Electronic Media & Film
Regrants
$69,820
ARTS Council of the Southern Finger Lakes
Steuben
Folk Arts
Regional & Cnty Folk Arts Prg
$36,000
ARTS Council of the Southern Finger Lakes
Steuben
State & Local Partnership
Regrants
$121,440
Arts for All, Inc.
New York
Arts Education
K-12: In-School Programs
$8,500
Arts For Art Inc
New York
Music
General Support
$15,000
Arts For Art Inc
New York
Regional Economic Development
Workforce Investment
$30,000
Arts Guild of Old Forge Inc
Herkimer
State & Local Partnership
General Support
$15,000
Arts Mid-Hudson, Inc.
Dutchess
State & Local Partnership
General Support
$37,000
Arts Mid-Hudson, Inc.
Dutchess
State & Local Partnership
Regrants
$166,980
Arts Mid-Hudson, Inc.
Dutchess
Folk Arts
Regional & Cnty Folk Arts Prg
$40,500
Arts Services Initiative of Western New York, In
Erie
State & Local Partnership
Regrants
$169,200
Arts Services Initiative of Western New York, In
Erie
State & Local Partnership
Partnerships
$36,022
Arts Services Initiative of Western New York, In
Erie
State & Local Partnership
General Support
$50,000
Arts Services Initiative of Western New York, In
Erie
Presenting
Project Support - Presentation
$10,000
Arts Services Initiative of Western New York, In
Erie
Regional Economic Development
Workforce Investment
$32,500
Arts/Cltrl Cncl Greater Rochester
Monroe
State & Local Partnership
General Support
$20,000
Ascension Music Chorus & Orch
New York
Music
General Support
$29,483
Ascension Music Chorus & Orch
New York
Regional Economic Development
Workforce Investment
$49,500
Asia Society
New York
Folk Arts
Project Support
$12,000
Asian American Arts Alliance
Brooklyn
State & Local Partnership
General Support
$25,000
Asian American Writers' Workshop
New York
Literature
General Support
$21,000
Asian American Writers' Workshop
New York
Special Arts Services
Project Support
$15,000
Asian American Writers' Workshop
New York
Regional Economic Development
Workforce Investment
$32,500
Asian Cine Vision Inc
Brooklyn
Electronic Media & Film
Film Festivals and Screenings
$6,000
Association Adv Crea Musicians
New York
Music
General Support
$8,000
Association of Dominican Classical Artists, Inc.
Bronx
Music
Project Support
$5,000
Association of Dominican Classical Artists, Inc.
Bronx
Music
Community Music Schools
$7,500
Association of Independents in Radio
New York
Electronic Media & Film
General Support
$30,000
Association of Teaching Artists, Inc.
Monroe
Arts Education
Services to the Field
$10,000
Aston Magna Fndn for Msc & Hum
Westchester
Music
Project Support
$5,500
Astoria Performing Arts Center, Inc.
Queens
Theatre
Professional Performances
$3,000
Atlantic Theater Company
New York
Arts Education
K-12: In-School Programs
$15,400
Atlantic Theater Company
New York
Theatre
General Support
$22,500
Atlantic Theater Company
New York
Individual Artists
Theatre Artist Commissions
$10,000
Auburn Public Theater, Inc.
Cayuga
State & Local Partnership
General Support
$39,000
Auburn Public Theater, Inc.
Cayuga
Presenting
Project Support - Presentation
$7,500
Auburn Public Theater, Inc.
Cayuga
State & Local Partnership
Regrants
$127,200
Avant Media Performance, Inc.
Brooklyn
Music
Project Support
$8,000
Axial Theatre, Inc.
Westchester
Theatre
Professional Performances
$2,500
Axion Estin Foundation, Inc.^The
Westchester
Folk Arts
Project Support
$10,000
Babylon Ctzns Cncl on the Arts
Suffolk
State & Local Partnership
General Support
$15,000
Ballet Hispanico of New York
New York
Special Arts Services
General Support
$63,467
Ballet Hispanico of New York
New York
Dance
Professional Performances
$14,000
Ballet Hispanico of New York
New York
Dance
Rehearsal Space & Residencies
$12,000
Ballet Tech Foundation Inc
New York
Special Arts Services
Instruction and Training
$15,000
Ballet Theatre Foundation Inc
New York
Dance
General Support
$124,000
Ballet Theatre Foundation Inc
New York
Arts Education
K-12: In-School Programs
$10,000
Bang On A Can Inc
New York
Music
General Support
$25,000
Bard College
Dutchess
Presenting
General Support
$14,500
Bard College
Dutchess
Literature
Book & Literary Mag Pubs
$10,000
Bard College
Dutchess
Capital Projects
Capital Equipment (Facilities)
$49,500
Bard College
Dutchess
Regional Economic Development
Workforce Investment
$49,500
Bardavon 1869 Opera House Inc
Dutchess
Music
Project Support
$28,000
Bardavon 1869 Opera House Inc
Dutchess
Presenting
General Support
$30,000
Bardavon 1869 Opera House Inc
Dutchess
Capital Projects
Capital Equipment (Facilities)
$20,688
Bargemusic Ltd
Brooklyn
Music
General Support
$25,000
Barnard College
New York
Electronic Media & Film
Film Festivals and Screenings
$8,000
Barrow Group Inc
New York
Theatre
General Support
$5,000
Baryshnikov Dance Foundation Inc.
New York
Presenting
Project Support - Presentation
$25,000
Baryshnikov Dance Foundation Inc.
New York
Dance
Rehearsal Space & Residencies
$11,623
Bat Theater, Inc.
New York
Theatre
Professional Performances
$7,500
Batoto Yetu, Inc.
New York
Special Arts Services
General Support
$12,530
Battery Dance Corporation
New York
Arts Education
K-12: In-School Programs
$8,100
Battery Dance Corporation
New York
Presenting
Project Support - Presentation
$7,000
Bay Street Theatre Festival
Suffolk
Theatre
General Support
$15,500
Bedford Stuyvesant Rest Corp
Brooklyn
Presenting
Project Support - Presentation
$5,000
Behind the Book, Inc.
New York
Arts Education
K-12: In-School Programs
$10,000
Belladonna Series, Inc.
Brooklyn
Literature
Book Publication
$3,600
Berkshire School of Contemporary Art, Inc.
Rensselaer
Visual Arts
Workspace
$5,000
Beth Morrison Projects, Inc.
New York
Theatre
Services to the Field
$5,000
Beth Morrison Projects, Inc.
New York
Music
General Support
$29,483
Bethel Woods Center for the Arts, Inc
Sullivan
Arts Education
Community-Based Learning
$13,000
Big Apple Circus Ltd
Brooklyn
Theatre
General Support
$5,000
Big Dance Theater Inc
Brooklyn
Theatre
General Support
$10,000
Big Tree Productions, Inc.
New York
Dance
Professional Performances
$14,000
Billie Holiday Theatre, Inc.
Brooklyn
Theatre
General Support
$16,408
Binghamton Philharmonic
Broome
Music
General Support
$18,000
blessed unrest theatre, inc.
New York
Theatre
Professional Performances
$7,500
Bloomingdale School of Music
New York
Music
Community Music Schools
$7,500
Bloomingdale School of Music
New York
Special Arts Services
Project Support
$20,000
Bluseed Studios, Inc.
Franklin
State & Local Partnership
General Support
$15,000
Bluseed Studios, Inc.
Franklin
Regional Economic Development
Implementation
$54,500
BOA Editions, Ltd.
Monroe
Literature
General Support
$20,900
Bond Street Theatre Coalition, Ltd.
New York
Theatre
Professional Performances
$6,000
Booklyn, Inc.
Brooklyn
Visual Arts
Project Support
$7,000
Borinquen Dance Theatre, Inc.
Monroe
Special Arts Services
General Support
$23,483
Boys & Girls Club of Newburgh, Inc.
Orange
Arts Education
Community-Based Learning
$13,000
Boys & Girls Club of Newburgh, Inc.
Orange
Special Arts Services
Instruction and Training
$29,000
Boys & Girls Harbor Inc
New York
Special Arts Services
General Support
$22,600
Boys And Girls Club Of Northern Chautaugua Count
Chautauqua
Folk Arts
Project Support
$5,000
Boys' Club of New York^The
New York
Arts Education
Community-Based Learning
$6,500
Braata Productions
New York
Special Arts Services
Project Support
$5,000
BRIC Arts Media Bklyn Inc.
New York
State & Local Partnership
General Support
$44,000
BRIC Arts Media Bklyn Inc.
New York
Presenting
Project Support - Presentation
$25,000
BRIC Arts Media Bklyn Inc.
New York
Electronic Media & Film
Workspace, Art & Technology
$8,000
BRIC Arts Media Bklyn Inc.
New York
Individual Artists
Theatre Artist Commissions
$8,500
BRIC Arts Media Bklyn Inc.
New York
Regional Economic Development
Workforce Investment
$49,500
Brick Theater, Inc.^The
Brooklyn
Theatre
General Support
$7,000
Bridge Street Theatre, Inc.
Greene
Theatre
Professional Performances
$3,500
Bridgehampton Chamber Music Association
New York
Music
Project Support
$9,000
Bridgehampton Chamber Music Association
New York
Individual Artists
Composer Commissions
$7,900
Bright Hill Press Inc
Delaware
Literature
Regrants
$15,000
Bright Hill Press Inc
Delaware
Arts Education
Community-Based Learning
$7,500
Bright Hill Press Inc
Delaware
Literature
General Support
$16,250
Bronx Arts Ensemble, Inc
Bronx
Music
General Support
$25,000
Bronx Children's Museum
Bronx
Museum
Project Support
$10,000
Bronx Council on the Arts
Bronx
State & Local Partnership
General Support
$60,000
Bronx Council on the Arts
Bronx
State & Local Partnership
Regrants
$143,880
Bronx Dance Theatre, Inc.
Bronx
Special Arts Services
General Support
$25,000
Bronx Documentary Center, Inc.
Bronx
Special Arts Services
General Support
$50,000
Bronx House, Inc.
Bronx
Capital Projects
Capital Projects (Facilities)
$4,133
Bronx House, Inc.
Bronx
Arts Education
Community-Based Learning
$4,000
Bronx House, Inc.
Bronx
Music
Community Music Schools
$6,000
Bronx Museum of the Arts
Bronx
Museum
General Oper Support
$43,500
Bronx Museum of the Arts
Bronx
Arts Education
Community-Based Learning
$15,000
Bronx Opera Company, Inc.
Bronx
Music
General Oper Support
$20,000
Bronx River Art Center Inc
Bronx
Presenting
Project Support - Presentation
$5,500
Bronx River Art Center Inc
Bronx
Visual Arts
General Support
$19,280
Brooklyn Academy of Music
Brooklyn
Presenting
General Oper Support
$125,000
Brooklyn Academy of Music
Brooklyn
Electronic Media & Film
Exhibitions & Installations
$15,000
Brooklyn Art Song Society Inc.
New York
Music
Project Support
$5,000
Brooklyn Arts Council, Inc.
Brooklyn
State & Local Partnership
Regrants
$158,400
Brooklyn Arts Council, Inc.
Brooklyn
Folk Arts
Regional & Cnty Folk Arts Prg
$45,000
Brooklyn Arts Council, Inc.
Brooklyn
Folk Arts
Folk Art Apprenticeships
$5,000
Brooklyn Arts Council, Inc.
Brooklyn
Folk Arts
Project Support
$8,500
Brooklyn Arts Council, Inc.
Brooklyn
State & Local Partnership
General Support
$60,000
Brooklyn Arts Exchange Inc
Brooklyn
Dance
Rehearsal Space & Residencies
$15,000
Brooklyn Arts Exchange Inc
Brooklyn
State & Local Partnership
General Support
$50,000
Brooklyn Arts Exchange Inc
Brooklyn
Arts Education
K-12: In-School Programs
$5,000
Brooklyn Ballet, Inc.
Brooklyn
Dance
Rehearsal Space & Residencies
$5,000
Brooklyn Book Festival, Inc.
Brooklyn
Literature
Public Programs
$8,500
Brooklyn Children's Museum
Brooklyn
Presenting
Project Support - Presentation
$8,000
Brooklyn Conservatory of Music
Brooklyn
Music
Community Music Schools
$7,500
Brooklyn Conservatory of Music
Brooklyn
Arts Education
Community-Based Learning
$10,600
Brooklyn Historical Society
Brooklyn
Museum
General Support
$30,000
Brooklyn Museum of Art
Brooklyn
Arts Education
Community-Based Learning
$3,700
Brooklyn Museum of Art
Brooklyn
Museum
General Support
$102,416
Brooklyn Music School
Brooklyn
Music
Community Music Schools
$6,000
Brooklyn Public Library
Brooklyn
Presenting
Project Support - Presentation
$6,000
Brooklyn Public Library
Brooklyn
Literature
General Support
$12,500
Brooklyn Rail, Inc.^The
Brooklyn
Literature
Book & Literary Mag Pubs
$11,750
Brooklyn Youth Chorus Academy, Inc
Brooklyn
Arts Education
Community-Based Learning
$11,300
Brooklyn Youth Music Project, Inc.
Brooklyn
Arts Education
Community-Based Learning
$8,000
Buffalo & Erie County Historical Society
Erie
Museum
General Support
$21,000
Buffalo Chamber Music Society Foundation
Erie
Presenting
General Support
$7,000
Buffalo Chamber Players, Inc.
Erie
Music
Project Support
$6,000
Buffalo Chamber Players, Inc.
Erie
Individual Artists
Composer Commissions
$3,600
Buffalo Fine Arts Academy
Erie
Museum
General Support
$48,000
Buffalo Fine Arts Academy
Erie
Regional Economic Development
Workforce Investment
$30,000
Buffalo Inner City Ballet Co.
Erie
Special Arts Services
General Support
$20,000
Buffalo Media Resources Inc
Erie
Arts Education
Community-Based Learning
$19,000
Buffalo Media Resources Inc
Erie
Electronic Media & Film
General Support
$35,300
Buffalo Media Resources Inc
Erie
Electronic Media & Film
Workspace, Art & Technology
$10,000
Buffalo Media Resources Inc
Erie
Regional Economic Development
Implementation
$75,000
Buffalo Philharmonic Orch Soc
Erie
Music
General Support
$134,360
Builders Association^The
Brooklyn
Theatre
General Support
$15,000
Burchfield-Penney Art Center
Erie
Museum
General Support
$29,000
Burchfield-Penney Art Center
Erie
Electronic Media & Film
Exhibitions & Installations
$7,000
Burchfield-Penney Art Center
Erie
Regional Economic Development
Implementation
$27,000
Bushwick Starr, Inc.
Brooklyn
Presenting
General Support
$25,000
Byrd Hoffman Water Mill Foundation
New York
Theatre
Services to the Field
$5,000
Byrd Hoffman Water Mill Foundation
New York
Regional Economic Development
Workforce Investment
$48,000
Byrdcliffe Theatre Company
Ulster
Theatre
Professional Performances
$2,500
C4: Choral Composer/Conductor Collective, Inc.
New York
Music
Project Support
$9,000
Caffe Lena, Inc.
Saratoga
Presenting
Project Support - Presentation
$6,000
Caffe Lena, Inc.
Saratoga
Capital Projects
Capital Equipment (Facilities)
$34,235
Calpulli Mexican Dance Co., Inc.
Queens
Special Arts Services
General Support
$15,000
Camera Club of New York
New York
Visual Arts
Workspace
$12,000
Camera Club of New York
New York
Visual Arts
Exhibitions & Installations
$17,000
Camera News, Inc.
New York
Electronic Media & Film
General Support
$20,000
Camera News, Inc.
New York
Individual Artists
Film & Media / New Tech Prod.
$16,000
Camera News, Inc.
New York
Special Arts Services
Instruction and Training
$15,000
Canajoharie Library & Art Gallery
Montgomery
Regional Economic Development
Workforce Investment
$43,000
Canopy Canopy Canopy, Inc.
New York
Visual Arts
Project Support
$10,000
Canopy Canopy Canopy, Inc.
New York
Literature
Literary Magazine Publication
$3,700
Canticorum Virtuosi
New York
Music
General Support
$13,000
Capital Repertory Company
Albany
Arts Education
K-12: In-School Programs
$13,700
Capital Repertory Company
Albany
Theatre
General Support
$21,000
Capital Repertory Company
Albany
Regional Economic Development
Implementation
$44,000
Capitol Chamber Artists Inc
Albany
Music
Project Support
$4,000
Capitol Civic Center
Oneida
Electronic Media & Film
General Support
$20,000
Caramoor Center for Music & Arts
Westchester
Presenting
Project Support - Presentation
$20,000
Caramoor Center for Music & Arts
Westchester
Music
Project Support
$15,000
Carnegie Hall Corporation
New York
Individual Artists
Composer Commissions
$3,600
Carnegie Hall Corporation
New York
Presenting
General Support
$75,000
Carnegie Hall Corporation
New York
Music
Project Support
$12,000
Carousel Soc-Niagara Frontier
New York
Museum
Project Support
$8,000
Casita Maria, Inc.
Bronx
Arts Education
Community-Based Learning
$7,000
Catskill Art Society
Sullivan
State & Local Partnership
General Support
$15,000
Catskill Art Society
Sullivan
Capital Projects
Design Studies (Facilities)
$30,250
Catskill Mountain Foundation
Greene
Arts Education
K-12: In-School Programs
$8,000
Catskill Symphony Orchestra
Otsego
Music
General Support
$15,000
Cattaraugus County Arts Cncl
Cattaraugus
State & Local Partnership
General Support
$20,000
Cattaraugus County Arts Cncl
Cattaraugus
State & Local Partnership
Regrants
$104,280
Cave Canem Foundation Inc
Brooklyn
Literature
General Support
$21,000
CAVE Organization Inc.
New York
Dance
Rehearsal Space & Residencies
$6,000
CAVE Organization Inc.
New York
Presenting
Project Support - Presentation
$5,000
CAVE Organization Inc.
New York
Dance
Professional Performances
$10,000
Cayuga Chamber Orchestra Inc
Tompkins
Music
General Oper Support
$10,000
Cayuga Museum of History & Art
Cayuga
Museum
General Support
$9,000
Center Explor/Perceptual Art
Erie
Arts Education
Community-Based Learning
$20,000
Center Explor/Perceptual Art
Erie
Visual Arts
General Support
$36,000
Center Explor/Perceptual Art
Erie
Regional Economic Development
Workforce Investment
$26,500
Center For Art, Tradition, And Cultural Heritage
New York
Special Arts Services
Project Support
$10,000
Center for Arts Education
New York
Arts Education
General Support
$24,700
Center for Book Arts, Inc.
New York
Literature
Public Programs
$8,000
Center for Book Arts, Inc.
New York
Visual Arts
General Support
$36,450
Center for Creative Education, Inc.
Ulster
Special Arts Services
Instruction and Training
$15,000
Center for Creative Education, Inc.
Ulster
Arts Education
General Support
$30,006
Center for Disability Services, Inc.
Albany
Arts Education
Community-Based Learning
$10,600
Center for Disability Services, Inc.
Albany
Special Arts Services
Project Support
$10,000
Center for Holographic Arts
Queens
Visual Arts
Exhibitions & Installations
$5,000
Center for Performance Research, Inc.
Brooklyn
Dance
Rehearsal Space & Residencies
$9,000
Center for Photography Woodstock
Ulster
Visual Arts
General Support
$37,500
Center for the Arts at Ithaca
Tompkins
Capital Projects
Capital Equipment (Facilities)
$9,500
Center for the Arts at Ithaca
Tompkins
Theatre
General Support
$11,896
Center for the Arts at Ithaca
Tompkins
Arts Education
K-12: In-School Programs
$10,300
Center for Trad Music & Dance
New York
Folk Arts
General Support
$72,500
Center for Trad Music & Dance
New York
Special Arts Services
Project Support
$15,000
Center for Trad Music & Dance
New York
Folk Arts
Project Support
$10,000
Center for Trad Music & Dance
New York
Special Arts Services
Project Support
$30,000
Center for Trad Music & Dance
New York
Folk Arts
Project Support
$12,000
Center for Trad Music & Dance
New York
Special Arts Services
Instruction and Training
$20,000
Center for Trad Music & Dance
New York
Folk Arts
Folk Art Apprenticeships
$5,000
Center for Trad Music & Dance
New York
Special Arts Services
Instruction and Training
$29,000
Center for Trad Music & Dance
New York
Folk Arts
Folk Art Apprenticeships
$5,000
Center for Trad Music & Dance
New York
Folk Arts
Folk Art Apprenticeships
$5,000
Center for Trad Music & Dance
New York
Special Arts Services
Instruction and Training
$10,000
Center for Trad Music & Dance
New York
Regional Economic Development
Implementation
$75,000
Center for Urban Pedagogy^The
Brooklyn
Architecture + Design
General Support
$29,000
Center for Urban Pedagogy^The
Brooklyn
Arts Education
K-12: In-School Programs
$25,000
Central NY Jazz Arts Fndn
Onondaga
Music
General Support
$15,000
Central NY Jazz Arts Fndn
Onondaga
Regional Economic Development
Workforce Investment
$28,500
Centro Cultural Cubano Inc.
New York
Presenting
Project Support - Presentation
$5,000
Chamber Music America
New York
Music
Services to the Field
$5,000
Chamber Music Society of Lincoln Center
New York
Music
General Support
$25,000
Chamber Music Society of Utica
Oneida
Presenting
Project Support - Presentation
$4,000
Chamber Players International
Nassau
Music
General Support
$8,000
Change For Kids, Inc.
New York
Arts Education
K-12: In-School Programs
$9,000
Chashama, Inc.
New York
Theatre
Services to the Field
$6,016
Chashama, Inc.
New York
Visual Arts
Exhibitions & Installations
$5,000
Chatham Film Club, Inc.
Columbia
Electronic Media & Film
Film Festivals and Screenings
$10,000
Chautauqua Institution
Chautauqua
Music
General Support
$32,000
Chelsea Opera, Inc.
New York
Music
Project Support
$6,000
Chemung County Historical Society
Chemung
Museum
General Support
$15,000
Chemung County Performing Arts
Chemung
Presenting
General Support
$20,000
Chenango Co Cncl of the Arts
Chenango
State & Local Partnership
Regrants
$170,400
Chenango Co Cncl of the Arts
Chenango
State & Local Partnership
General Support
$25,500
Chenango River Theatre Inc.
Chenango
Theatre
General Support
$7,000
Cherry Lane Alternative
New York
Theatre
Professional Performances
$10,000
Chez Bushwick, Inc.
Brooklyn
Dance
Rehearsal Space & Residencies
$9,000
Chez Bushwick, Inc.
Brooklyn
Dance
Professional Performances
$5,000
CHHANDAYAN INC.
New York
Folk Arts
Project Support
$10,000
CHHANDAYAN INC.
New York
Special Arts Services
Instruction and Training
$10,000
Children's Museum of Manhattan
New York
Museum
General Support
$30,000
Children's Museum of the Arts
New York
Arts Education
Community-Based Learning
$13,000
Children's Museum of the Arts
New York
Museum
General Support
$42,370
Children's Museum of the East End
Suffolk
Museum
Project Support
$17,860
Children's Theatre Company
New York
Arts Education
Community-Based Learning
$4,000
Children's Theatre Company
New York
Theatre
Professional Performances
$3,500
China Institute in America
New York
Museum
Project Support
$20,000
Chinese American Arts Council
New York
Special Arts Services
General Support
$18,500
Chinese Music Ensemble of NY
New York
Music
Project Support
$15,000
Chinese Music Ensemble of NY
New York
Special Arts Services
Instruction and Training
$12,500
Chinese Theatre Works
Queens
Folk Arts
Project Support
$15,000
Chinese Theatre Works
Queens
Special Arts Services
General Support
$25,000
Church Street School for Music and Art, Inc.
New York
Music
Community Music Schools
$6,000
Cider Mill Playhouse
Broome
Theatre
General Support
$6,880
Cine Qua Non
Westchester
Individual Artists
Film & Media / New Tech Prod.
$22,500
Cinema 10
St Lawrence
Electronic Media & Film
Screenings
$7,250
Cinema Tropical, Inc.
New York
Electronic Media & Film
General Support
$25,000
Circle in the Square Tht Schl
New York
Arts Education
K-12: In-School Programs
$9,000
Circle of Dance Repertory Co
Queens
Arts Education
K-12: In-School Programs
$11,000
Circuit Productions Inc
Brooklyn
Special Arts Services
General Support
$20,000
Circus Amok
Brooklyn
Theatre
Professional Performances
$6,000
City Lore Inc
New York
Folk Arts
Project Support
$12,000
City Lore Inc
New York
Folk Arts
Regrants
$40,000
City Lore Inc
New York
Folk Arts
General Support
$90,000
City Lore Inc
New York
Arts Education
K-12: In-School Programs
$23,000
City Lore Inc
New York
Folk Arts
Project Support
$10,000
City of Cohoes
Albany
Regional Economic Development
Implementation
$62,500
City of Oswego
Oswego
Regional Economic Development
Planning
$40,000
City of Utica
Oneida
Regional Economic Development
Planning
$49,500
City Parks Foundation
New York
Presenting
Project Support - Presentation
$20,000
Civilians, Inc.^The
Brooklyn
Arts Education
K-12: In-School Programs
$2,500
Civilians, Inc.^The
Brooklyn
Theatre
General Support
$15,000
Clarion Music Society, Inc.
New York
Music
Project Support
$10,000
Classical Theatre of Harlem
New York
Theatre
General Support
$20,000
Clay Art Center Inc.
Westchester
Arts Education
K-12: In-School Programs
$10,000
Clay Art Center Inc.
Westchester
Special Arts Services
Project Support
$10,000
Clay Art Center Inc.
Westchester
Regional Economic Development
Planning
$49,500
Clemente Soto Velez Cultural Center
New York
Visual Arts
Exhibitions & Installations
$7,000
Clubbed Thumb Inc
New York
Individual Artists
Theatre Artist Commissions
$8,500
Clubbed Thumb Inc
New York
Theatre
General Support
$12,000
CNY Arts Inc
Onondaga
State & Local Partnership
General Support
$38,000
CNY Arts Inc
Onondaga
State & Local Partnership
Regrants
$274,200
CNY Arts Inc
Onondaga
State & Local Partnership
Partnerships
$29,188
CNY Arts Inc
Onondaga
Museum
Regrants
$36,300
CNY Arts Inc
Onondaga
Regional Economic Development
Planning
$49,500
CO/LAB Theater Group, Inc.
New York
Special Arts Services
Instruction and Training
$10,000
CoDanceCo, Inc.
Suffolk
Arts Education
K-12: In-School Programs
$5,000
Colgate University
Madison
Arts Education
Community-Based Learning
$5,000
Colgate University
Madison
Electronic Media & Film
Screenings
$6,000
Collaboration Town A Theatre Company
Brooklyn
Theatre
Professional Performances
$4,000
Collaborative Arts Project 21
New York
Theatre
Professional Performances
$3,000
Collapsable Giraffe Inc
New York
Theatre
General Support
$5,000
Collapsable Giraffe Inc
New York
Individual Artists
Theatre Artist Commissions
$8,000
College Community Services,Inc
Brooklyn
Presenting
Project Support - Presentation
$20,000
College of Saint Rose
Albany
Presenting
Project Support - Presentation
$5,000
Collegiate Chorale, Inc.^The
New York
Music
Project Support
$5,000
Colonial Dames of America
New York
Museum
General Support
$10,000
Colt Coeur
New York
Theatre
Professional Performances
$3,000
Columbia Univ NYC^Trustees of
New York
Presenting
Project Support - Presentation
$49,500
Coming Together Fest/DNC & MSC
Ulster
Dance
General Oper Support
$11,000
Coming Together Fest/DNC & MSC
Ulster
Arts Education
K-12: In-School Programs
$18,500
Community Arts Partnership-Tompkins Cnty
Tompkins
Literature
Public Programs
$7,000
Community Arts Partnership-Tompkins Cnty
Tompkins
State & Local Partnership
Regrants
$86,400
Community Arts Partnership-Tompkins Cnty
Tompkins
State & Local Partnership
General Support
$35,000
Community Design Center Rochester, Inc.
Monroe
Architecture + Design
General Support
$17,000
Community Music School Of Buffalo
Erie
Music
Community Music Schools
$7,500
Community Music School Of Buffalo
Erie
Arts Education
General Support
$19,000
Community School of Music & Arts
Tompkins
State & Local Partnership
General Support
$30,000
Community-Word Project
New York
Arts Education
General Oper Support
$25,000
Complicated, Incorporated
Brooklyn
Theatre
Professional Performances
$3,000
Composers Concordance Inc
New York
Music
Project Support
$5,000
Concert Artists Guild, Inc
New York
Music
General Support
$20,000
Concerted Effort Inc
Columbia
Arts Education
K-12: In-School Programs
$11,600
Concerts in Motion Inc.
New York
Special Arts Services
Project Support
$24,000
Concerts in the Heights
New York
Music
Project Support
$5,000
Concrete Temple Theatre
New York
Theatre
Professional Performances
$3,000
Constance Saltonstall Foundation for the Arts
Tompkins
State & Local Partnership
General Support
$18,000
Cool Culture
Brooklyn
Museum
Project Support
$18,000
Cooper Union Adv of Sci & Art
New York
Special Arts Services
Instruction and Training
$15,000
Cooper Union Adv of Sci & Art
New York
Individual Artists
Film & Media / New Tech Prod.
$20,000
Cooperstown Chamber Music Festival, Inc.
Otsego
Music
General Support
$14,000
Cooperstown Concert Series Inc
Otsego
Presenting
Project Support - Presentation
$3,500
Copland House, Inc.
Westchester
Regional Economic Development
Workforce Investment
$40,500
Cornell University
Tompkins
Capital Projects
Capital Equipment (Facilities)
$9,693
Cornell University
Tompkins
Electronic Media & Film
Screenings
$20,000
Corning Museum of Glass
Steuben
Museum
General Support
$40,000
Corning Museum of Glass
Steuben
Regional Economic Development
Implementation
$74,500
Corning-Elmira Musical Arts, Inc.
Steuben
Music
General Support
$13,300
Corning-Painted Post Civic Msc
Steuben
Presenting
Project Support - Presentation
$10,000
Corona Youth Music Project, Inc.
Queens
Arts Education
Community-Based Learning
$8,000
Corporation of Yaddo
Saratoga
Electronic Media & Film
Workspace
$10,000
Corporation of Yaddo
Saratoga
State & Local Partnership
General Support
$20,000
Cortland Repertory Theatre Inc
Cortland
Theatre
General Support
$25,000
Council of Literary Magazines & Presses
New York
Literature
Regrants
$25,000
Council of Literary Magazines & Presses
New York
Literature
General Support
$18,800
Council of Literary Magazines & Presses
New York
Literature
Book & Literary Mag Pubs
$20,500
Council of Literary Magazines & Presses
New York
Literature
Regrants
$30,000
Council of Literary Magazines & Presses
New York
Regional Economic Development
Workforce Investment
$37,500
Council on the Arts for Staten Island
Staten Isl
Folk Arts
Folk Art Apprenticeships
$5,000
Council on the Arts for Staten Island
Staten Isl
State & Local Partnership
General Support
$30,000
Council on the Arts for Staten Island
Staten Isl
State & Local Partnership
Regrants
$87,120
Council on the Arts for Staten Island
Staten Isl
Folk Arts
Regional & Cnty Folk Arts Prg
$40,500
Council on the Arts for Staten Island
Staten Isl
Arts Education
Services to the Field
$13,000
Council on the Arts for Staten Island
Staten Isl
Regional Economic Development
Implementation
$75,000
Crandall Public Library
Warren
Electronic Media & Film
Screenings
$19,000
Crandall Public Library
Warren
Folk Arts
Regional & Cnty Folk Arts Prg
$36,000
Creative Capital Foundation
New York
Visual Arts
Regrants
$40,000
Creative Music Foundation, Inc.
Ulster
Music
Project Support
$5,000
Creative Time Inc
New York
Electronic Media & Film
Exhibitions & Installations
$16,000
Creative Time Inc
New York
Visual Arts
General Support
$36,900
CSC Repertory, Ltd
New York
Theatre
General Support
$25,000
CUE Art Foundation
New York
Visual Arts
Exhibitions & Installations
$14,500
CUE Art Foundation
New York
Arts Education
Community-Based Learning
$10,600
CultureHub, Inc.
New York
Electronic Media & Film
Workspace, Art & Technology
$8,000
CultureHub, Inc.
New York
Electronic Media & Film
General Support
$15,000
Da Capo Chamber Players Inc
New York
Music
Project Support
$10,000
Dance Continuum Inc
New York
Dance
General Support
$22,000
Dance Entropy, Inc.
Queens
Dance
Rehearsal Space & Residencies
$10,000
Dance Entropy, Inc.
Queens
Presenting
Project Support - Presentation
$3,500
Dance Films Association, Inc.
Brooklyn
Electronic Media & Film
Film Festivals and Screenings
$15,000
Dance Notation Bureau
New York
Dance
General Support
$12,000
Dance Ring, Inc.
New York
Special Arts Services
Instruction and Training
$15,000
Dance Ring, Inc.
New York
Dance
Professional Performances
$14,000
Dance Ring, Inc.
New York
Individual Artists
Dance Commissions
$5,000
Dance Service New York City, Inc.
New York
Dance
General Support
$22,000
Dance Theatre Etcetera, Inc.
Brooklyn
Arts Education
General Oper Support
$35,000
Dance Theatre of Harlem
New York
Capital Projects
Capital Equipment (Facilities)
$35,009
Dance Theatre of Harlem
New York
Special Arts Services
General Support
$56,466
Dancenow/NYC Inc
New York
Dance
Services to the Field
$12,000
Dances For A Variable Population, Inc
New York
Arts Education
Community-Based Learning
$10,000
Dancewave
Brooklyn
Dance
Rehearsal Space & Residencies
$3,000
Dancewave
Brooklyn
Arts Education
K-12: In-School Programs
$10,600
Dancewave
Brooklyn
Arts Education
Community-Based Learning
$10,000
DanceWorks Inc
New York
Dance
General Support
$31,000
DanceWorks Inc
New York
Arts Education
K-12: In-School Programs
$12,000
Dancing Classrooms, Inc
New York
Arts Education
General Support
$25,000
Dancing Crane, Inc.
Brooklyn
Arts Education
K-12: In-School Programs
$11,200
Dancing Crane, Inc.
Brooklyn
Special Arts Services
Project Support
$12,500
Danspace Project Inc
New York
Dance
General Support
$20,000
Danspace Project Inc
New York
Individual Artists
Dance Commissions
$10,000
David Hochstein Mem Music Sch
Monroe
Music
Community Music Schools
$7,500
David Hochstein Mem Music Sch
Monroe
Special Arts Services
Instruction and Training
$10,000
DEEP Arts, Inc
Monroe
Arts Education
K-12: In-School Programs
$12,500
DEEP Arts, Inc
Monroe
Theatre
General Support
$14,000
Deep Dish Network
New York
Electronic Media & Film
General Support
$17,000
Delaware Valley Arts Alliance
Sullivan
State & Local Partnership
General Support
$18,000
Delaware Valley Arts Alliance
Sullivan
State & Local Partnership
Regrants
$36,000
Delaware Valley Arts Alliance
Sullivan
Visual Arts
Exhibitions & Installations
$10,000
Dell'Arte Opera Ensemble
New York
Music
Services to the Field
$5,000
Depot Theatre, Inc
Essex
Theatre
Professional Performances
$4,000
Depot Theatre, Inc
Essex
Theatre
General Support
$6,000
Design Trust for Public Space
New York
Architecture + Design
General Support
$32,000
Dia Center for the Arts
New York
Electronic Media & Film
Exhibitions & Installations
$13,500
Dia Center for the Arts
New York
Museum
General Support
$42,370
Dieu Donne Papermill Inc
New York
Visual Arts
General Support
$36,450
Diller-Quaile School of Music^The
New York
Music
Community Music Schools
$7,500
Discalced Inc
Brooklyn
Dance
General Support
$42,000
Discalced Inc
Brooklyn
Dance
Rehearsal Space & Residencies
$32,000
Doing Art Together Inc
New York
Arts Education
K-12: In-School Programs
$10,600
Door-A Ctr of Alternatives^The
New York
Special Arts Services
Project Support
$20,000
Dorian Woodwind Quintet Fndn
New York
Music
Project Support
$10,000
Dorian Woodwind Quintet Fndn
New York
Music
Project Support
$3,000
Double Entendre Music Ensemble, Inc.
New York
Music
Project Support
$5,000
DOVA Inc
New York
Dance
General Support
$23,000
DOVA Inc
New York
Dance
Rehearsal Space & Residencies
$30,000
Downtown Art Company, Inc.
New York
Theatre
Professional Performances
$3,000
Downtown Art Company, Inc.
New York
Arts Education
Community-Based Learning
$9,500
Downtown Community Television Center, Inc.
New York
Electronic Media & Film
General Oper Support
$40,000
Downtown Community Television Center, Inc.
New York
Arts Education
Community-Based Learning
$18,000
Downtown Music at Grace, Inc.
Westchester
Presenting
General Support
$5,000
Downtown Music Productions Inc
New York
Music
Project Support
$5,000
Drama League of New York Inc.
New York
Theatre
Services to the Field
$7,500
Drawing Center Inc
New York
Visual Arts
General Support
$18,000
DreamYard Drama Project Inc
Bronx
Arts Education
Community-Based Learning
$16,000
DreamYard Drama Project Inc
Bronx
Arts Education
K-12: In-School Programs
$16,000
Drunken Boat
New York
Literature
Book & Literary Mag Pubs
$4,200
Dynamic Forms Inc
New York
Arts Education
General Support
$20,000
Earlville Opera House Inc
Chenango
State & Local Partnership
General Support
$12,000
Earlville Opera House Inc
Chenango
Presenting
Project Support - Presentation
$13,500
Early Music Foundation, Inc
New York
Music
General Support
$17,500
EarSay, Inc.
Queens
Arts Education
K-12: In-School Programs
$14,000
East End Arts & Hum Cncl
Suffolk
Special Arts Services
Instruction and Training
$10,000
East End Arts & Hum Cncl
Suffolk
State & Local Partnership
General Support
$34,000
East Meadow Public Library
Nassau
Presenting
Project Support - Presentation
$5,000
East Meadow Public Library
Nassau
Folk Arts
Project Support
$6,000
Education Through Music
New York
Arts Education
General Support
$20,000
Educational Alliance, Inc.^The
New York
Arts Education
Community-Based Learning
$4,000
Educational Video Center Inc
New York
Electronic Media & Film
Workspace
$13,000
Educational Video Center Inc
New York
Arts Education
General Support
$31,000
Edward Hopper Landmark Preservation Foundation
Rockland
State & Local Partnership
General Support
$10,000
Either/Or Inc.
New York
Music
Project Support
$8,000
El Mundo Del Flamenco, Inc.
New York
Folk Arts
Project Support
$5,000
El Museo Francisco Oller y
Erie
Visual Arts
Exhibitions & Installations
$7,000
El Puente De Williamsburg Inc.
Brooklyn
Special Arts Services
General Support
$36,000
El Puente De Williamsburg Inc.
Brooklyn
Arts Education
K-12: In-School Programs
$7,500
Elaine Kaufman Cultural Center
New York
Music
Community Music Schools
$7,500
Elaine Kaufman Cultural Center
New York
Presenting
Project Support - Presentation
$9,500
Elders Share the Arts Inc
New York
Special Arts Services
Project Support
$20,000
Elders Share the Arts Inc
New York
Arts Education
Regrants
$30,652
Elders Share the Arts Inc
New York
Arts Education
Community-Based Learning
$13,000
Electric Lit, Inc.
New York
Literature
Book & Literary Mag Pubs
$15,000
Electronic Arts Intermix Inc
New York
Electronic Media & Film
General Support
$30,000
Elevator Repair Service Tht
New York
Theatre
General Support
$6,500
Elizabeth Fndn for the Arts
New York
Visual Arts
Workspace
$15,000
Ellen Sinopoli Dance Co Inc
Rensselaer
Arts Education
K-12: In-School Programs
$10,000
Emelin Theatre for Perf Arts
Westchester
Presenting
General Support
$10,000
Emerging Artists Theatre Co.
New York
Theatre
General Support
$12,000
En Foco, Inc
Bronx
Special Arts Services
Project Support
$15,000
En Garde Arts, Inc.
New York
Theatre
General Support
$15,000
En Garde Arts, Inc.
New York
Individual Artists
Theatre Artist Commissions
$8,000
Encompass Theatre Company Inc
Brooklyn
Music
General Support
$13,000
Ensemble for the Romantic Century
New York
Music
Project Support
$5,000
Ensemble Mise-En, Inc.
New York
Music
General Support
$5,000
Ensemble Studio Theatre
New York
Theatre
General Support
$13,000
EPIC Theatre Center Inc.
New York
Arts Education
K-12: In-School Programs
$19,300
EPIC Theatre Center Inc.
New York
Theatre
General Support
$24,000
Episcopal Actor's Guild of America^The
New York
Theatre
Services to the Field
$5,000
Erie Canal Museum
Onondaga
Museum
General Support
$16,000
Erie Canal Museum
Onondaga
Regional Economic Development
Implementation
$36,500
Esopus Foundation Ltd
New York
Visual Arts
Project Support
$9,000
Esopus Foundation Ltd
New York
Literature
Book & Literary Mag Pubs
$7,500
Essex County Historical Soc
Essex
Museum
General Support
$7,000
Ethel's Foundation for the Arts
New York
Music
General Support
$13,000
Ethical Culture Fieldston Schools
Bronx
Arts Education
Community-Based Learning
$9,900
Eugenio Maria De Hostos Community College Founda
Bronx
Presenting
Project Support - Presentation
$10,000
Eva Dean Dance Company
Brooklyn
Dance
Rehearsal Space & Residencies
$6,000
Everson Museum of Art
Onondaga
Museum
General Support
$15,000
Everson Museum of Art
Onondaga
Electronic Media & Film
Workspace, Art & Technology
$5,450
Everson Museum of Art
Onondaga
Regional Economic Development
Implementation
$66,000
Experimental Intermedia Fndn
New York
Electronic Media & Film
Screenings
$3,000
Explore & More... a children's museum
Erie
Museum
General Oper Support
$15,000
Explore & More... a children's museum
Erie
Folk Arts
Project Support
$5,000
Explore & More... a children's museum
Erie
Regional Economic Development
Planning
$23,500
Exploring The Metropolis, Inc.
New York
Music
Services to the Field
$10,000
Eyebeam Atelier^The
Brooklyn
Electronic Media & Film
General Support
$20,000
Farmers' Museum, Inc.
Otsego
Museum
General Support
$37,000
Fashion Institute of Technology Foundation
New York
Museum
Project Support
$12,500
Fashion Institute of Technology Foundation
New York
Architecture + Design
Project Support
$14,500
FASNY Museum of Firefighting
Columbia
Museum
Project Support
$5,000
Feminist Press
New York
Literature
General Support
$5,000
Fence Magazine, Inc.
Albany
Literature
Book & Literary Mag Pubs
$3,511
Fence Magazine, Inc.
Albany
Literature
Book & Literary Mag Pubs
$3,511
Festival of New Trumpet Music, Inc.
New York
Music
General Support
$8,000
Fiction Inc
New York
Literature
Literary Magazine Publication
$3,400
Fiji Theatre Company
New York
Arts Education
K-12: In-School Programs
$10,000
Fiji Theatre Company
New York
Theatre
General Support
$24,000
Film Forum, Inc
New York
Electronic Media & Film
General Oper Support
$39,800
Film Society of Lincoln Center
New York
Electronic Media & Film
General Oper Support
$36,800
Film Society of Lincoln Center
New York
Arts Education
K-12: In-School Programs
$25,000
Fire Island Artist Residency Incorporated
Queens
Visual Arts
Workspace
$8,000
Five Boroughs Music Festival, Inc.
New York
Presenting
Project Support - Presentation
$7,500
five myles inc
Brooklyn
Visual Arts
Exhibitions & Installations
$12,000
Flushing Cncl on Culture & Art
Queens
State & Local Partnership
General Support
$55,000
Flushing Cncl on Culture & Art
Queens
Presenting
Project Support - Presentation
$40,000
Flux Factory
Queens
Visual Arts
General Support
$20,000
Flux Factory
Queens
Regional Economic Development
Workforce Investment
$49,500
Fndn for Independent Artists
New York
Dance
Professional Performances
$7,500
Folksbiene Yiddish Theatre Inc
New York
Theatre
General Support
$5,000
Fort Ticonderoga Assoc Inc
Essex
Capital Projects
Capital Equipment (Facilities)
$20,000
Fort Ticonderoga Assoc Inc
Essex
Museum
General Support
$38,000
Foundation for the Open Eye
Delaware
Arts Education
K-12: In-School Programs
$7,000
Foundation for the Open Eye
Delaware
Theatre
Professional Performances
$3,500
Foundry Theatre Inc^The
New York
Theatre
General Support
$24,000
Four Nations Inc
Columbia
Music
General Support
$8,000
Four Way Books Inc.
New York
Literature
Book Publication
$8,600
Fourth Arts Block, Inc.
New York
Dance
Rehearsal Space & Residencies
$5,000
Fourth Arts Block, Inc.
New York
State & Local Partnership
General Support
$18,000
Fourth Arts Block, Inc.
New York
Theatre
Services to the Field
$7,500
Fractured Atlas, Inc.
New York
State & Local Partnership
Services to the Field
$25,000
Fractured Atlas, Inc.
New York
Theatre
Professional Performances
$7,500
Fractured Atlas, Inc.
New York
Individual Artists
Film & Media / New Tech Prod.
$20,000
Fractured Atlas, Inc.
New York
Theatre
Professional Performances
$3,000
Fractured Atlas, Inc.
New York
Individual Artists
Film & Media / New Tech Prod.
$20,000
Fractured Atlas, Inc.
New York
Dance
Professional Performances
$10,000
Fractured Atlas, Inc.
New York
Individual Artists
Film & Media / New Tech Prod.
$20,000
Fractured Atlas, Inc.
New York
Dance
Professional Performances
$10,000
Fractured Atlas, Inc.
New York
Literature
Book & Literary Mag Pubs
$5,000
Fractured Atlas, Inc.
New York
Special Arts Services
Project Support
$5,000
Fractured Atlas, Inc.
New York
Music
Project Support
$8,000
Fractured Atlas, Inc.
New York
Individual Artists
Film & Media / New Tech Prod.
$16,000
Fractured Atlas, Inc.
New York
Literature
Book & Literary Mag Pubs
$3,000
Franklin Furnace Archive Inc
Brooklyn
Visual Arts
General Support
$33,000
Franklin Furnace Archive Inc
Brooklyn
Arts Education
K-12: In-School Programs
$6,000
Franklin Stock Co @ ChapelHall
Delaware
Theatre
General Support
$22,500
Freestyle Repertory Theatre
New York
Arts Education
K-12: In-School Programs
$3,000
French Inst-Alliance Francaise
New York
Presenting
Project Support - Presentation
$13,000
French Inst-Alliance Francaise
New York
Electronic Media & Film
Screenings
$15,000
Friends of Alice Austen House, Inc.
Staten Isl
Museum
Project Support
$7,500
Friends of Bristol Val Playhse Fdn
Ontario
Theatre
General Support
$5,000
Friends of Bristol Val Playhse Fdn
Ontario
Arts Education
Community-Based Learning
$4,000
Friends of Bristol Val Playhse Fdn
Ontario
Capital Projects
Capital Equipment (Facilities)
$5,329
Friends of Chamber Msc-Troy NY
Rensselaer
Presenting
Project Support - Presentation
$3,500
Friends of Ganondagan Inc
Ontario
Folk Arts
Project Support
$6,500
Friends of Ganondagan Inc
Ontario
Regional Economic Development
Workforce Investment
$28,500
Friends of Materials for the Arts, Inc.
Queens
Arts Education
K-12: In-School Programs
$10,000
Friends of NY Transit Museum
Brooklyn
Museum
General Support
$30,000
Friends of NY Transit Museum
Brooklyn
Architecture + Design
Project Support
$17,500
Friends of the Cultural Center Inc.
Suffolk
State & Local Partnership
General Support
$15,000
Friends of the High Line
New York
Visual Arts
Exhibitions & Installations
$11,000
Friends of the High Line
New York
Electronic Media & Film
Exhibitions & Installations
$7,500
Friends of the Mozartina^The
Westchester
Electronic Media & Film
Screenings
$6,300
Fund for the City of New York
New York
Arts Education
K-12: In-School Programs
$15,000
Fund for the City of New York
New York
Music
Project Support
$5,000
Fund for the City of New York
New York
Arts Education
Community-Based Learning
$7,000
Futurepoem, Inc
New York
Literature
Book Publication
$8,500
Gallim Dance Company Inc.
New York
Dance
Professional Performances
$14,000
Gamelan Kusuma Laras, Inc.
New York
Folk Arts
Project Support
$5,000
Gamelan Son of Lion, Inc.
New York
Music
Project Support
$2,500
Games for Change, Inc.
New York
Electronic Media & Film
Film Festivals and Screenings
$18,000
GARNER Arts Center
Rockland
Regional Economic Development
Workforce Investment
$38,000
Garrison Art Center
Putnam
State & Local Partnership
General Support
$20,000
Garth Fagan Dance Inc
Monroe
Special Arts Services
Instruction and Training
$29,000
Garth Fagan Dance Inc
Monroe
Dance
General Support
$35,000
Genesee Country Museum
Monroe
Folk Arts
Project Support
$6,000
Genesee Country Museum
Monroe
Museum
General Support
$34,000
Genesee Street Corporation
Monroe
State & Local Partnership
General Support
$20,000
Genesee Street Corporation
Monroe
Regional Economic Development
Workforce Investment
$25,000
Genesee Valley Cncl on the Art
Livingston
State & Local Partnership
Regrants
$152,500
Genesee Valley Cncl on the Art
Livingston
State & Local Partnership
General Support
$25,000
Genesee Valley Cncl on the Art
Livingston
Regional Economic Development
Implementation
$60,000
Genesee-Orleans Reg Arts Cncl
Genesee
State & Local Partnership
General Support
$25,000
Genesee-Orleans Reg Arts Cncl
Genesee
State & Local Partnership
Regrants
$90,120
Genesee-Orleans Reg Arts Cncl
Genesee
Folk Arts
Regional & Cnty Folk Arts Prg
$38,000
Geneseo Migrant Center Inc
Livingston
Literature
Public Programs
$5,500
Geneseo Migrant Center Inc
Livingston
Special Arts Services
Instruction and Training
$10,250
George Eastman Museum
Monroe
Electronic Media & Film
Screenings
$20,000
George Eastman Museum
Monroe
Museum
General Support
$55,000
Geva Theatre Center, Inc.
Monroe
Theatre
General Support
$35,000
Geva Theatre Center, Inc.
Monroe
Literature
Public Programs
$8,500
Geva Theatre Center, Inc.
Monroe
Regional Economic Development
Workforce Investment
$49,500
Ghetto Film School, Inc.
Bronx
Electronic Media & Film
General Support
$10,000
Gina Gibney Dance
New York
Dance
Rehearsal Space & Residencies
$20,000
Gina Gibney Dance
New York
Dance
Services to the Field
$20,000
Gina Gibney Dance
New York
Arts Education
Community-Based Learning
$12,000
Gingold Theatrical Group, Inc.
New York
Theatre
General Support
$13,000
Girl Be Heard Institute
New York
Theatre
Professional Performances
$3,000
Glens Falls Symphony Orch, Inc
Warren
Music
General Support
$15,000
Glimmerglass Opera Inc
Otsego
Music
General Support
$60,000
Global Action Project
New York
Electronic Media & Film
General Support
$25,000
Good Shepherd Services
New York
Arts Education
Community-Based Learning
$13,500
Gotham Early Music Scene, Inc.
New York
Presenting
Project Support - Presentation
$3,500
Gotham Early Music Scene, Inc.
New York
Music
Services to the Field
$11,000
Gotham Early Music Scene, Inc.
New York
Music
Project Support
$5,000
Gotham Early Music Scene, Inc.
New York
Music
Project Support
$7,500
Gotham Early Music Scene, Inc.
New York
Music
Project Support
$8,000
Grand Street Community Arts, Inc.
Albany
Electronic Media & Film
Workspace, Art & Technology
$18,000
Graycliff Conservancy, Inc.
Erie
Architecture + Design
General Support
$14,000
Great Neck Ctr for the Vis. & Per. Arts
Nassau
State & Local Partnership
General Support
$15,000
Great Neck Ctr for the Vis. & Per. Arts
Nassau
Electronic Media & Film
Film Festivals and Screenings
$6,000
Great Small Works Inc
New York
Theatre
General Support
$14,400
Great Small Works Inc
New York
Special Arts Services
Project Support
$10,000
Greater Hudson Heritage Network
Westchester
Museum
General Support
$38,170
Greater Hudson Heritage Network
Westchester
Museum
Regrants
$105,160
Greater Hudson Heritage Network
Westchester
Museum
Regrants
$39,000
Greater Hudson Heritage Network
Westchester
Museum
Regrants
$34,000
Green-Wood Historic Fund^The
Brooklyn
Architecture + Design
Project Support
$15,000
Greene County Council on the Arts
Greene
State & Local Partnership
General Support
$34,000
Greene County Council on the Arts
Greene
State & Local Partnership
Regrants
$177,000
Greenwich House Inc
New York
Music
Community Music Schools
$7,500
Greenwich House Inc
New York
Visual Arts
Exhibitions & Installations
$9,500
Greenwich Village Soc Hist Pre
New York
Architecture + Design
General Support
$15,000
Groundswell Community Mural Project
Brooklyn
Special Arts Services
Instruction and Training
$5,000
Groundswell Community Mural Project
Brooklyn
Arts Education
General Support
$32,000
Group I Acting Company Inc
New York
Theatre
General Support
$25,000
Guild Hall of East Hampton Inc
Suffolk
Museum
General Support
$8,000
H Lee White Maritime Museum at Oswego
Oswego
Regional Economic Development
Workforce Investment
$29,000
H T Dance Company Inc/Chen Dance Center
New York
Special Arts Services
General Support
$49,500
H.A.D.L.E.Y. Players
New York
Special Arts Services
Project Support
$10,000
Haiti Cultural Exchange, Inc.
Brooklyn
Presenting
Project Support - Presentation
$5,000
Haiti Cultural Exchange, Inc.
Brooklyn
Special Arts Services
Project Support
$20,000
Haiti Cultural Exchange, Inc.
Brooklyn
Regional Economic Development
Workforce Investment
$32,000
Haleakala, Inc
New York
Presenting
General Support
$70,000
Haleakala, Inc
New York
Visual Arts
Exhibitions & Installations
$24,000
Half Moon Theatre, Inc.
Dutchess
Regional Economic Development
Workforce Investment
$49,500
Hallockville, Inc
Suffolk
Folk Arts
Project Support
$3,700
Hallwalls Inc
Erie
Music
Project Support
$15,000
Hallwalls Inc
Erie
Visual Arts
General Support
$35,100
Hallwalls Inc
Erie
Electronic Media & Film
Workspace, Art & Technology
$7,000
Hamilton College Trustees
Oneida
Presenting
Project Support - Presentation
$10,000
Hamptons Int'l Film Festival
Suffolk
Electronic Media & Film
Film Festivals and Screenings
$10,000
Hands on Sign Interpreted Perf
New York
Theatre
Services to the Field
$5,000
Hanford Mills Mus E Meredith
Delaware
Museum
General Support
$16,000
Harbor Lights Theater Company, Inc.
Staten Isl
Theatre
Professional Performances
$5,000
Harlem Arts Alliance
New York
State & Local Partnership
Services to the Field
$10,000
Harlem Chamber Players, Inc.^The
New York
Music
Project Support
$10,000
Harlem Chamber Players, Inc.^The
New York
Regional Economic Development
Workforce Investment
$30,000
Harlem School of the Arts
New York
Special Arts Services
Instruction and Training
$15,000
Harmonie Ensemble Inc
New York
Music
General Support
$8,000
Harmony Program
New York
Arts Education
Community-Based Learning
$11,300
Harness Racing Museum & Hall of Fame
Orange
Museum
General Support
$15,000
Hart Island Project, Inc.
Westchester
Individual Artists
Composer Commissions
$7,900
Harvestworks, Inc.
New York
Individual Artists
Film & Media / New Tech Prod.
$17,500
Harvestworks, Inc.
New York
Individual Artists
Film & Media / New Tech Prod.
$20,000
Harvestworks, Inc.
New York
Music
Services to the Field
$10,000
Harvestworks, Inc.
New York
Electronic Media & Film
Exhibitions & Installations
$7,500
Harvestworks, Inc.
New York
Individual Artists
Film & Media / New Tech Prod.
$15,307
Harvestworks, Inc.
New York
Individual Artists
Composer Commissions
$10,000
Harvestworks, Inc.
New York
Regional Economic Development
Planning
$43,500
Henry Street Settlement
New York
Capital Projects
Capital Equipment (Facilities)
$21,600
Henry Street Settlement
New York
Presenting
Project Support - Presentation
$25,000
Henry Street Settlement
New York
Arts Education
General Support
$24,700
Herbert Berghof Studio, Inc
New York
Theatre
Services to the Field
$5,000
Herbert Berghof Studio, Inc
New York
Regional Economic Development
Workforce Investment
$25,000
Herstory Writers Workshop, Inc.
Suffolk
Literature
General Support
$7,000
Herstory Writers Workshop, Inc.
Suffolk
Arts Education
Community-Based Learning
$20,000
Hester Street Collaborative, Inc.
New York
Arts Education
K-12: In-School Programs
$13,600
Hester Street Collaborative, Inc.
New York
Architecture + Design
General Support
$25,000
Highbridge Voices Corporation^The
Bronx
Arts Education
Community-Based Learning
$25,000
Hip Hop Theatre Junction
New York
Theatre
Professional Performances
$3,000
Hip Hop Theatre Junction
New York
Arts Education
Community-Based Learning
$5,000
Hispanic Org of Latin Actors
New York
Special Arts Services
General Support
$23,795
Hispanic Society of America^The
New York
Museum
Project Support
$15,000
Historic Albany Foundation Inc
Albany
Architecture + Design
General Support
$19,000
Historic Albany Foundation Inc
Albany
Capital Projects
Capital Projects (Facilities)
$49,500
Historic Cherry Hill
Albany
Museum
Project Support
$18,000
Historic Districts Council Inc
New York
Architecture + Design
Project Support
$27,000
Historic Districts Council Inc
New York
Regional Economic Development
Workforce Investment
$37,500
Historic House Trust of NYC
New York
Architecture + Design
General Support
$19,500
Historic Hudson Valley
Westchester
Museum
General Support
$42,370
Historic Ithaca Inc
Tompkins
Architecture + Design
General Support
$21,000
Historic Saranac Lake
Franklin
Arts Education
K-12: In-School Programs
$2,700
Historic Saranac Lake
Franklin
Architecture + Design
General Support
$15,000
Historical Society of Saratoga Springs
Saratoga
Museum
General Support
$9,000
History Center in Tompkins County^The
Tompkins
Regional Economic Development
Planning
$28,500
Hoff-Barthelson Music School
Westchester
Music
Community Music Schools
$7,500
Hofstra University
Nassau
Museum
General Support
$16,000
Holy Trinity Lutheran Church
New York
Music
Project Support
$6,000
Home for Contemporary Thtr & Art Ltd
New York
Theatre
General Support
$50,000
Home for Contemporary Thtr & Art Ltd
New York
Presenting
Project Support - Presentation
$30,000
House Foundation for the Arts
New York
Theatre
General Support
$24,000
Houses on the Moon Theater Company
New York
Theatre
Professional Performances
$3,000
Hubbard Hall Projects Inc
Washington
State & Local Partnership
General Oper Support
$25,000
Hubbard Hall Projects Inc
Washington
Theatre
Professional Performances
$10,000
Hubbard Hall Projects Inc
Washington
Regional Economic Development
Workforce Investment
$34,000
Hudson Developement Corporation
Columbia
Regional Economic Development
Planning
$14,000
Hudson Guild
New York
Special Arts Services
General Support
$20,000
Hudson Opera House
Columbia
Presenting
Project Support - Presentation
$11,500
Hudson Opera House
Columbia
State & Local Partnership
General Support
$45,000
Hudson Opera House
Columbia
Theatre
Professional Performances
$10,000
Hudson Opera House
Columbia
Individual Artists
Composer Commissions
$9,000
Hudson Opera House
Columbia
Capital Projects
Capital Equipment (Facilities)
$49,500
Hudson Opera House
Columbia
Regional Economic Development
Workforce Investment
$49,500
Hudson River Healthcare, Inc.
Westchester
Folk Arts
Project Support
$7,000
Hudson River Museum of Westchester
Westchester
Museum
General Support
$32,000
Hudson Stage Company
Westchester
Theatre
General Support
$6,500
Hudson Valley Shakespeare Fest
Putnam
Arts Education
K-12: In-School Programs
$10,000
Hudson Valley Shakespeare Fest
Putnam
Theatre
General Support
$19,000
Hudson Valley Writers' Center
Westchester
Literature
General Support
$11,600
Hundred Grand Dance Foundation
New York
Dance
Rehearsal Space & Residencies
$6,000
Hundred Grand Dance Foundation
New York
Dance
Professional Performances
$5,000
Huntington Arts Council Inc
Suffolk
Presenting
Project Support - Presentation
$8,500
Huntington Arts Council Inc
Suffolk
State & Local Partnership
Regrants
$267,120
Huntington Arts Council Inc
Suffolk
State & Local Partnership
General Support
$34,000
Hyde Collection Trust
Warren
Museum
General Support
$22,000
Ifetayo Cultural Arts Academy, Inc
Brooklyn
Special Arts Services
Instruction and Training
$30,000
Ifetayo Cultural Arts Academy, Inc
Brooklyn
Arts Education
K-12: In-School Programs
$7,000
Il Piccola Teatro dell'Opera
Brooklyn
Arts Education
K-12: In-School Programs
$5,000
IMANI HOUSE
Brooklyn
Literature
Public Programs
$7,000
Immediate Medium, Inc.
New York
Dance
Services to the Field
$5,000
Immediate Medium, Inc.
New York
Theatre
Services to the Field
$3,500
Immediate Medium, Inc.
New York
Theatre
Professional Performances
$3,000
Independent Curators International
New York
Visual Arts
Project Support
$12,000
Independent Feature Project
Brooklyn
Electronic Media & Film
General Support
$20,000
Independent Feature Project
Brooklyn
Individual Artists
Film & Media / New Tech Prod.
$25,000
Independent Feature Project
Brooklyn
Individual Artists
Film & Media / New Tech Prod.
$22,500
Independent Feature Project
Brooklyn
Individual Artists
Film & Media / New Tech Prod.
$20,000
Independent Feature Project
Brooklyn
Individual Artists
Film & Media / New Tech Prod.
$20,000
Independent Feature Project
Brooklyn
Individual Artists
Film & Media / New Tech Prod.
$20,000
Independent Feature Project
Brooklyn
Individual Artists
Film & Media / New Tech Prod.
$25,000
Independent Feature Project
Brooklyn
Individual Artists
Film & Media / New Tech Prod.
$20,000
Independent Feature Project
Brooklyn
Individual Artists
Film & Media / New Tech Prod.
$20,000
Independent Feature Project
Brooklyn
Individual Artists
Film & Media / New Tech Prod.
$20,000
Indo-American Arts Council
New York
Electronic Media & Film
Film Festivals and Screenings
$11,000
Indo-American Arts Council
New York
Special Arts Services
General Support
$25,000
Infinity Visual and Performing Arts, Inc
Chautauqua
Music
Community Music Schools
$7,500
Infinity Visual and Performing Arts, Inc
Chautauqua
Arts Education
General Support
$12,000
Institute for Publishing Arts
Dutchess
Literature
Book Publication
$2,900
Instituto Arte Teatral Int'l
New York
Theatre
Professional Performances
$12,000
Instituto Arte Teatral Int'l
New York
Special Arts Services
Project Support
$5,000
Int'l Center of Photography
New York
Arts Education
Community-Based Learning
$11,300
Int'l Center of Photography
New York
Museum
General Support
$42,000
INTA, Inc.
New York
Dance
Professional Performances
$15,000
Interactive Drama-Education/Awareness
Brooklyn
Arts Education
General Support
$16,900
Interactive Drama-Education/Awareness
Brooklyn
Arts Education
Services to the Field
$13,000
International African Art Fest
Brooklyn
Presenting
Project Support - Presentation
$12,420
International Arts Relations
New York
Special Arts Services
Instruction and Training
$18,000
International Arts Relat