SOUTH GLENS FALLS — In many ways, Allie Myott has been helping prepare for South High Marathon Dances since she was born.
Her father, Tom Myott, has been an adviser of the dance for years and Allie remembers hanging out in her dad's art room and exploring the dance as an elementary and middle schooler, an experience that left a lasting impression.
"Being a fifth grader and during all the middle school years we were able to dance for an hour," Myott said. "It really made me want to become one of those dancers and a chairperson and it's been a lifetime goal."
Now serving as a student chairperson for the third time, Myott and one of her eight co-chairs, Kassi Cook, said this year's experience will be bitter-sweet.
Cook and Myott are seniors this year and the dance will be their last as participants before moving into supporting roles as alumni, a factor that has played a huge motivating factor in making the 42nd Marathon Dance the best it can be.
Both said the many meetings and committees leading up to this week have been draining, but all the planning means they haven't been super stressed in days leading up to the dance.
"We're actually really ahead of schedule this year," Cook said, "And it's really nice because there's not too much more that we can do in the current moment."
The chair committee used the recent week-long school break to craft many of the decorations that will be on display, working from 8 a.m. to 5 p.m. or later according to Cook.
Cook and Myott said with more than 800 students participating this year, getting everything together has been a challenge, but nothing they weren't ready to handle.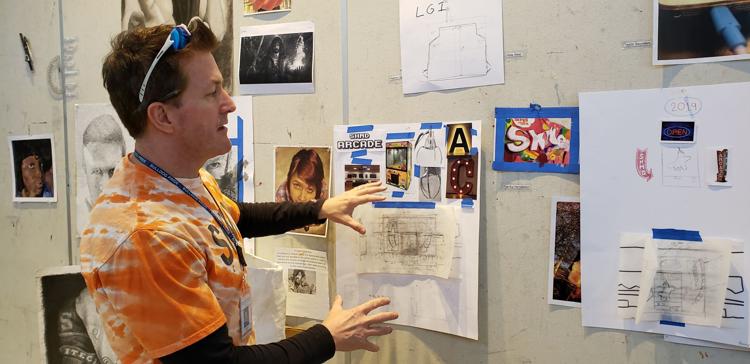 This year's theme is "Arcade" and Marathon Dance Adviser Tom Myott has been hard at work with his students on many of the props that will be on display this year.
"Hot glue, paper and paint," Tom said. "That's all this stuff is and it's amazing what these students come up with."
Myott said this year the ideas for each decoration have been developed by the New Media program in an effort to give students more control over the final product. Students decided what they wanted to construct, made blueprints for each piece and worked together to build everything that will be on display this year.
"The creative problem solving for the students is something that's been missing," Myott said, "Because in the past it's been us telling them what to rather than letting them figure it out."
Cook said although there is always excitement around the event it was important not to forget its purpose, and helping people from the community in need is the top priority.
Cook has had family members receive assistance in the past and many of the recipients this year have close ties to the South Glens Falls area.
"It's awesome seeing how we can help students families that are inside the school," Cook said, "But then also reaching outside of our community or outside of our state to help people that are in need is really great."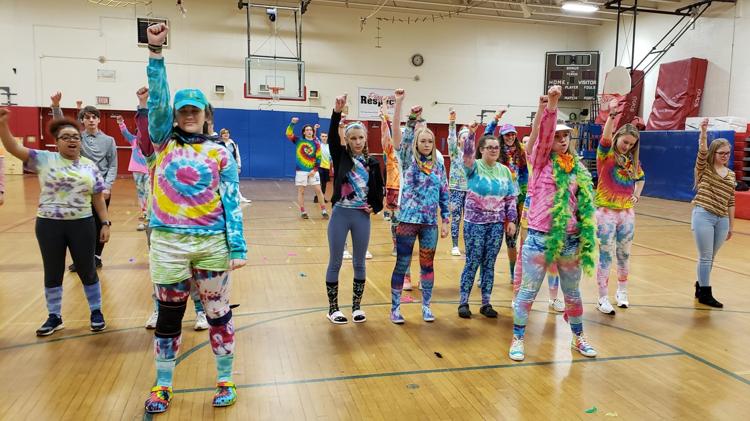 Meet the 2019 SHMD Recipients- John Miner
Meet the 2019 SHMD Recipients- Tony Trapasso
Meet the 2019 SHMD Recipients- Star Regimbald
Meet the 2019 SHMD Recipients- The Open Door Mission
Meet the 2019 SHMD Recipients- Bridging People & Places
Meet the 2019 SHMD Recipients- Teagan Klingenberg
Meet the 2019 SHMD Recipients- Dillin Nelson Jr
Meet the 2019 SHMD Recipients- Francis Decrescenzo
Meet the 2019 SHMD Recipients- James Newell
Meet the 2019 SHMD Recipients- Gregory & Mary Cross
Meet the 2019 SHMD Recipients- Lou Vinciguerra
Meet the 2019 SHMD Recipients- Robert Rizzo
Meet the 2019 SHMD Recipients- Alex Sherman
Meet the 2019 SHMD Recipients- Richard Cook
Meet the 2019 SHMD Recipients- Stephan Dodge
Meet the 2019 SHMD Recipients- Buddy Blankets and Bears
Meet the 2019 SHMD Recipients- Moreau Community Center
Meet the 2019 SHMD Recipients- Strength in Numbers
Meet the 2019 SHMD Recipients- Heather Whitney
Meet the 2019 SHMD Recipients- David Cooper Sr
Meet the 2019 SHMD Recipients- Rebuilding Together Saratoga County
Meet the 2019 SHMD Recipients- Gabrielle Potter
Meet the 2019 SHMD Recipients- Debbie Bujanowsk
Meet the 2019 SHMD Recipients- Bobbi Fitzgerald
Meet the 2019 SHMD Recipients- Karen Wrobel
Meet the 2019 SHMD Recipients- Alzhiemer's Association
Meet the 2019 SHMD Recipients- Glens Falls Area Youth Center
Meet the 2019 SHMD Recipients- Codey Pulver
Meet the 2019 SHMD Recipients- Angel Names Association
Meet the 2019 SHMD Recipients- Kaitlyn Tracy
Meet the 2019 SHMD Recipients- Ashlynne Marra
Meet the 2019 SHMD Recipients- Christopher Whalen
Meet the 2019 SHMD Recipients- Nathan Salazar