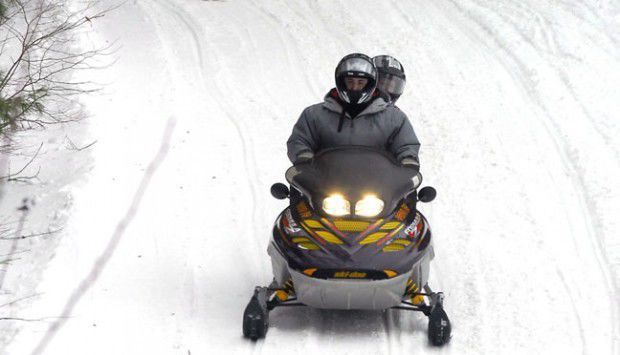 Lake Luzerne Supervisor Gene Merlino doesn't need to look at the region's snowmobile trails to see how this winter has been for snowmobiles.
He just needs to look at the ledgers for his bed-and-breakfast, where the only night in recent weeks when it has been full was New Year's Eve.
Other businesses that typically cater to snowmobilers in the Lake George/Lake Luzerne area are feeling the impact as well.
Ciro's, a popular restaurant on the trail system off Route 9N, has not reopened for the winter season since it closed in the fall.
Merlino said a good snowmobile season can have a big impact on small towns in the region that trail systems cross, as riders stay at local hotels and motels and frequent businesses at a time of the year when tourism is slower.
"They get gas in town, go to restaurants, bars," he said. "The guys are eager to get going, but there's not much we can do about it but hope for snow. Maybe it's time for the snow dance."
You have free articles remaining.
A weather forecast that has snowstorms and cold weather lined up for the next week or two could change that. A few inches is expected by early Thursday, with a bigger snowstorm on the horizon for late Saturday and early Sunday.
Mike Zilm, president of the South Warren Snowmobile Club, which operates the largest trail network in the region, said having good snow and trail conditions can mean a 60 percent business swing for eateries along the trails.
He said not having trails open in mid-January was not unusual with recent weather patterns that bring January thaws, but there were indications that better weather for snowmobilers is coming.
"Last year, we didn't start moving the groomers until Jan. 20 and the trails probably opened a couple of days later," he said. "If we get 10 to 12 inches of snow this weekend, we will probably start opening gates and packing the snow down with the groomers. If the trails are clear and safe enough to ride we may open them. I'm hearing the weather pattern is changing after this weekend so fingers crossed we will be in good shape for the season."
Several snowstorms and an unusually cold pattern in November and December had some clamoring for local trail systems to open, but clubs have agreements to not open their gates until after hunting seasons end.
Gina Mintzer of the Lake George Regional Chamber of Commerce and Convention & Visitors Bureau said a number of innkeepers in the region have found that owners of all-terrain vehicles have been replacing snowmobilers as they come up to ride local trails. Some resorts and ranches have created trail networks specifically for four-wheelers.
"The ATV folks generate more in economic impact than do the snowmobilers," Mintzer said.
Don Lehman covers police and court matters, Warren County government and the outdoors. He can be reached at 518-742-3224 or dlehman@poststar.com