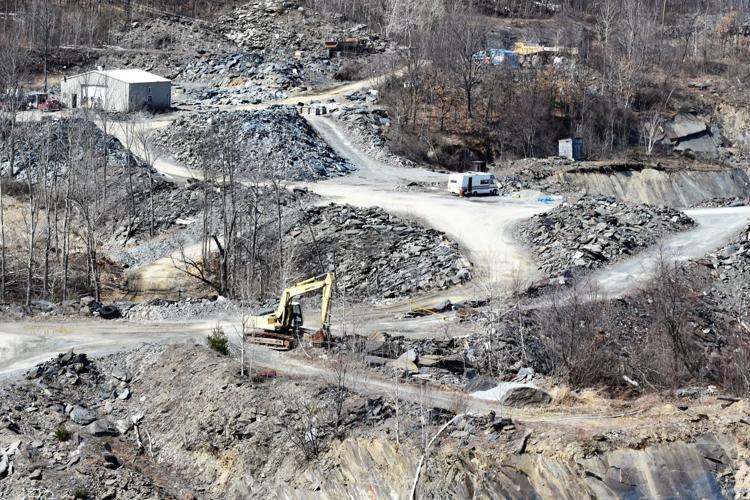 GRANVILLE — There is something mystical about driving down inside the Earth, into the vein of rock that travels 24 miles along the New York and Vermont border from Rupert, Vermont to Hartford.
The deeper the drive, down and past mountains upon mountains of discarded slate, the more visions of the women and men who have been hand-chiseling these quarries in backbreaking work one block at a time for over a century emerge.
It is at the same time peaceful, immense and wondrous.
The way the natural sounds seem a bit different, echoing off one another.
The way artisans find that sweet spot to probe and cut into the multicolored rock bed, creating a cleave that cleanly breaks massive sections of slate free.
The way working one bed of rock leads to a completely different bed, always at the slant.
"Spring is a gorgeous event at a quarry," said Paul Labas while driving down into his Granville slate quarry on one of the first warm days this month.
"The smell of the earth, the smell of the rock, it's all fresh," he said. "The earth is alive, it breathes, it creaks and cracks."
Steel on stone
Labas, just elected mayor of Granville, is one of the few remaining quarrymen still chiseling perfectly sectioned pieces of rock into slate roof tiles. He works with his nephew, Michael Labas, at their Granville mill, The Paul Labas Slate Co.
"These are men and women of steel," said Labas. "When I think of the old times, of the hand-cutting. I think I can hear the metal against stone. There is more stone excavated here by hand than by machines."
A roof tour of the region reveals a surprising number of slate roofs, and in Granville, most roofs are slate. Even some relatively modest homes are beautifully graced with colored patterns of red, green, purple and gray slate.
Slate roof tiles from Granville get shipped all over the world for government buildings, universities and high-end homes.
Town Supervisor Matt Hicks, like many Granville locals, was in the family slate business until recently.
"My brother and I ran Evergreen Slate for 30 years," Hicks said. "The slate companies have basically been run by a series of families, handed down from one generation to another."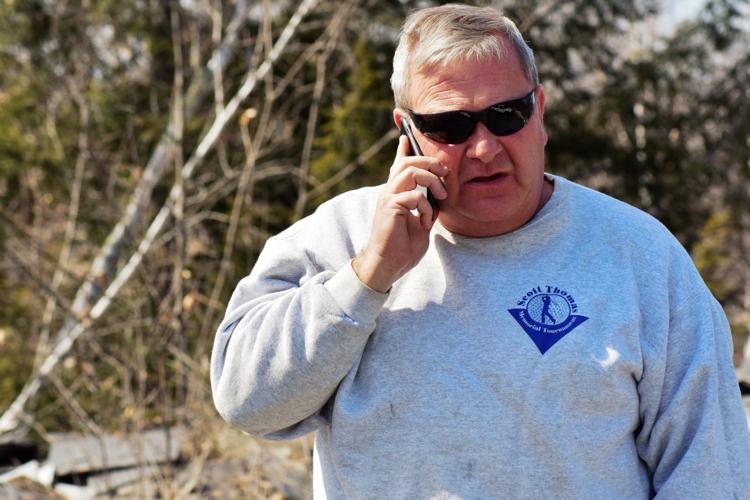 The art of color
Labas has spent most of his life walking the 40 acres of quarry land his father bought for $850 in 1966.
It seems that after World War II, many of the quarries were owned by banks, and by the 1950s and 1960s, they were trying to get rid of them.
"The banks held onto these quarries and they were not reopened. They held onto the properties for years, since the Depression; then in the 1950s and 1960s, they dumped them," Labas said. "Quarries were purchased cheap up and down the valley."
The slate industry, spread across many small companies, employs about 500 people in the area, Hicks said. About a dozen slate companies own or lease several quarries.
"Granville is the hub because of the railroad," Hicks said, and slate gets shipped all over the world. "We are considered the 'colored slate center' of the world. Other places have dark gray slate; here, we have greens, purples, reds. It's the only place that has the colors."
According to experts, green, gray, gray-black, purple, mottled green and purple, and red are found in the area's slate vein — the only place in the world with such a variety of colors.
Hicks' Evergreen Slate Co. supplied the slate for the North Portico of the White House in Washington, D.C., and in what he calls their biggest job, for the Pentagon after 9/11.
"We got an award from the federal government," said Hicks about the company's rapid response after 9/11.
Even the discards gleam in their disparate shapes and colors.
Labas likens it to a pile of snowflakes.
"Every piece is different; they are all random patterns," he said.
As the rock gets cut away one stone wall at a time, the cutters have to know the patterns and understand the feel of the rock to get the cleave from the strata and pull every piece just right.
Driving round one corner of the quarry that seemed to go up before going back down, Labas pointed to a wooded area of pines and cedars on the left, a place to stop for lunch and see the bears, moose and turkey pass through, unfazed by the sounds of metal clanging on rock.
Another turn back up to the right and there it is, the prized purple slate, an abstract splay of deep and varied hues.
"The purple is pretty rare; most is in Castleton," Labas said. "See down there, it's a bed of purple."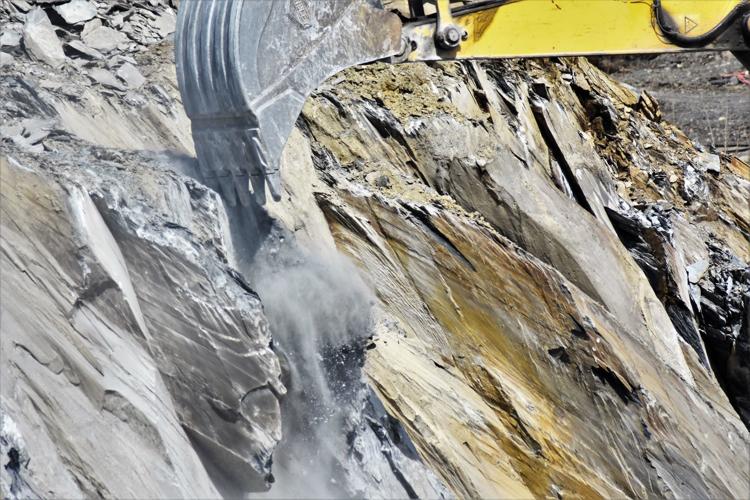 The art of extraction
Driving past the purple bed, around some green and over to a ridge, a precariously placed excavator is working the rock.
The operator places just one tooth of the bucket onto a corner of the stone, pulling back ever so slightly. Back and stop, back and stop. He moves over a bit, back and stop, again and again. Suddenly, the cleave bursts open and a new block of slate is born.
"He knows the tenderness of the rock, how much pressure to use," Labas said. "It's like pulling an egg from a crate."
Watching the slate workers brings to mind a quote from Michelangelo: "I saw an angel in the marble, and I carved until I set him free."
For more than a century, slate workers in the region have been coaxing the stone free, moving quarries down deeper. Labas' quarry is currently moving west and down, he said.
It is now about 150 feet deep at its lowest point. Labas has been working in the quarry since he was 12. He talks about its beauty by moonlight, about its crystal clear, spring-fed pools.
"It's part of my family heritage," he said. "It's a skill, and to do it without hurting yourself and make money, you have to know what you are doing."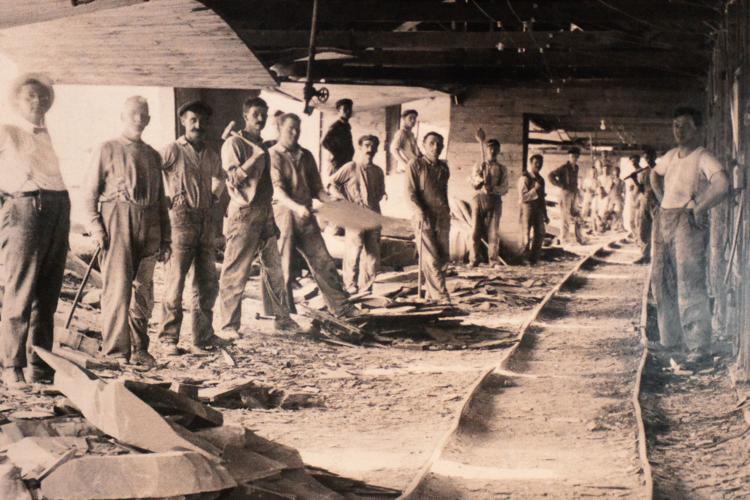 Stories in stone
Labas' stories about slate blend past and present, and include those who first worked the stone, like his Slovakian grandfather, John Labas, first sent to work in the coal mines.
"He heard of an eligible maiden, a Slovakian," Labas said about his grandmother. "She lived 10 miles from him in Slovakia — they met, got married and started a family."
A tour through Granville's Slate Valley Museum brings to life the lives, struggles and creations of early slate artisans like John Labas, who started working in the quarries in 1906 for seven cents a 10-hour day, six days a week.
The story of the late famed photographer Neil Rappaport, who happened on the quarrymen in the 1960s after hearing opera music in the distance, is also preserved in the museum, along with a collection of his black and white images.
"On a Saturday afternoon, my car broke down next to the Evans pit. Looking over the edge, I could see a lone rock man shoveling rubbish, the radio in his lunch bucket playing the Saturday afternoon opera from the Metropolitan," wrote Rappaport, as part of the museum's display of his photographs. "I knew I should photograph there … I formed a lifelong friendship with that lone rock man, Vince Covino, who taught me what it was to be a worker who cared passionately about his work."
Labas talks about the Depression closing the mines, and slate company owner, H.G. Williams, who had lost everything.
"He went to the Slovak people and asked to borrow money. He told them, 'If you loan me the money, I'll give you work,'" Labas said. "The people who had nothing raised enough money to help. My grandfather raised $500 for him and $500 for his brother. They trusted him, and my father told me that every week he (Williams) added a repayment in their pay envelopes. They loved this guy."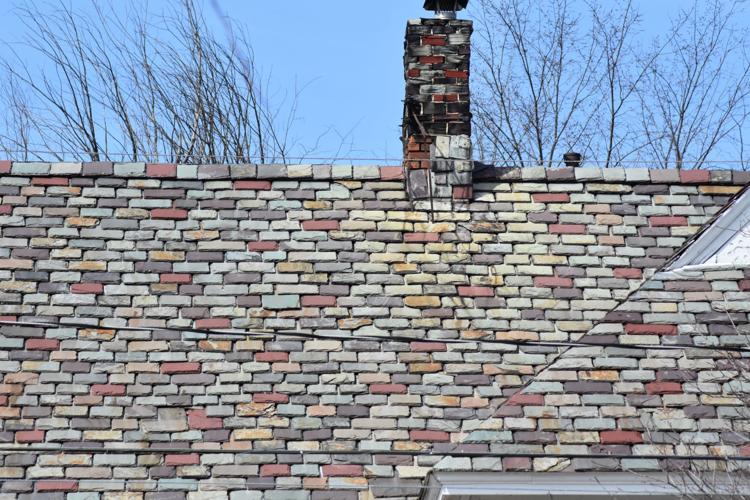 The art of roofing
Dave Wilmot and his wife, Gretchen, were chicken farmers in Cambridge.
But farming was getting harder and harder. One day, Gretchen, who was working as a bartender at time, asked Dave if he knew how to repair slate roofs, because some people at work were talking about it.
"She said, 'All the slate roofers are gone,'" Dave Wilmot said. "I told her, 'All farm boys in Washington County know how to fix a slate roof.'"
Gretchen rounded up a few repair jobs for Dave. Now, 19 years and five kids through college later, Dave is a slate roofing artisan and his company is Battenkill Slate in Cambridge.
"I've put on slate roofs from Schoharie to the Connecticut border. I've worked all the churches in Cambridge and Greenwich," he said. "When you get down (from the roof) you can step back and say, this will be here 75 years from now."
Actually, Labas said, most slate roofs these days are guaranteed for 150 years. Asphalt, made from petroleum, usually lasts from 15 to 20 years, although it is much less costly.
The only real enemy of slate is hail, Wilmot said, and many of the older homes with slate roofs can be repaired.
"Ninety-five percent can be repaired," he said. "I work on churches 100 to 150 years old. You need to respect the slate, respect the stone, keep these roofs."
Putting on a slate roof is reserved for seasoned artisans. Wilmot has many tales of people running into problems with inexperienced roofers.
He tells the story of a roof in Troy. When he went onto the red slate roof for a repair, he discovered from the broken pieces that a previous roofer had been repairing it with less expensive gray slate and painting it red.
Then there was the woman who wondered why her roofer kept saying she had three or four more broken tiles whenever he came for a repair. So, on his next visit, she went into a field with binoculars and saw him breaking three tiles, Wilmot said.
"Instead of fixing eight, she paid to have 38 fixed," he said. "You have to be very careful, get someone experienced. And make sure they are insured."
One of the biggest considerations with slate is the weight, because each 10-foot by 10-foot square weighs 800 pounds.
"You have to know what you are doing, and that starts with knowing if the structure can hold the weight," said Wilmot. "You need a good substructure."
When Wilmot starts a roof, he starts in the middle, running a string from top to bottom. Then he runs subsequent strings about every 5 to 8 feet.
"That way, the gusset is nice and straight," he said.
According to Wilmot, the average house would need about 20 10-foot by 10-foot squares.
Cost varies greatly by roof, design, color, size and thickness, Labas said. But as an average, if using an 18- by 12-inch tile, 165 tiles would fit into one square and each square might cost about $400.
A roof with 20 squares would weigh about 16,000 pounds and cost about $8,000 for just the tiles, not to mention labor and other materials.
"Making a dollar out of a stone," Labas said. "That's an art."