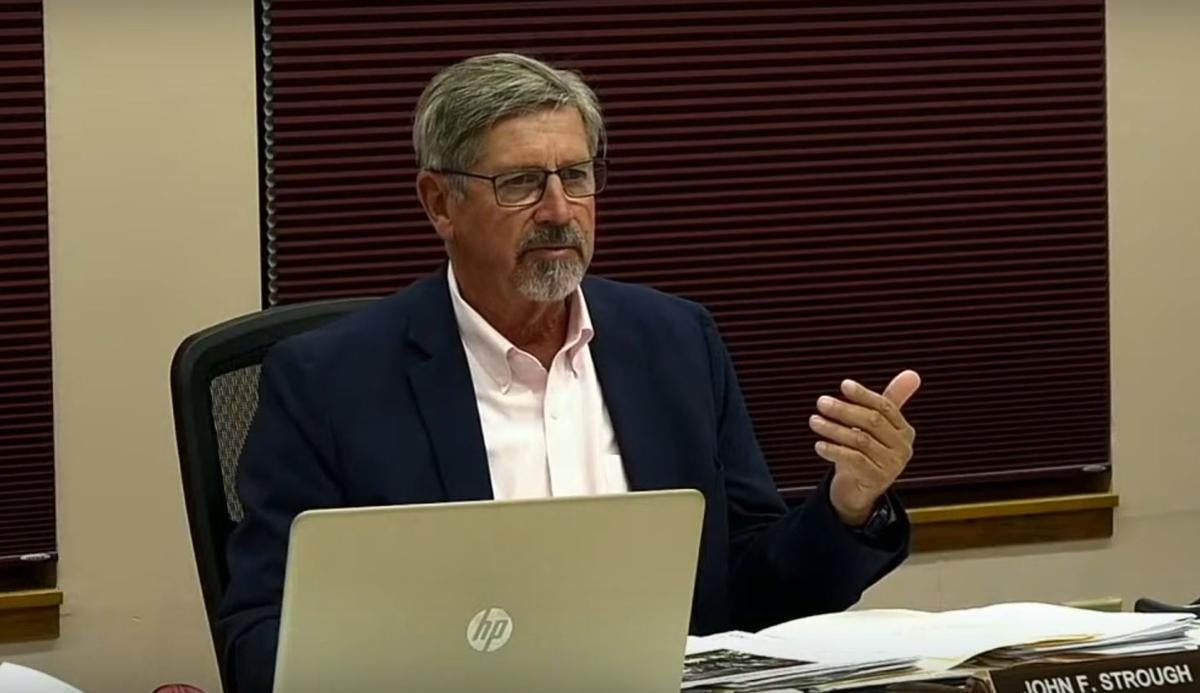 QUEENSBURY — The proud owner of a political sign that uses the spelled-out "B.S." word has added another sign to her yard.
It names Supervisor John Strough and says that he is "full of" it.
That's in response to Strough's comments at Monday's Town Board meeting about Kim Ouderkerk's signs, at her house on Luzerne Road and her daughter's home on Wagon Trail. Both signs support President Donald Trump with the tagline, "No more bull——."
Strough said the "B.S." word was "obscene." He said he plans to enforce the town's sign ordinance, which does not allow obscene signs, and told the owners he would "see you in court" if they did not cover up the word within a week.
Town Board member Harrison Freer said Wednesday that Strough tried talking with the owners and was "rebuffed."
But Ouderkerk said she didn't know about the issue until she read about it in The Post-Star.
"Probably, if the gentleman (Strough) came and stated his opinion nicely," she would have altered the sign, she said Wednesday.
But she dug in her heels after reading his statements from the Town Board meeting.
"I'm not backing down, nor am I a pushover," she said. "That flag has been on my house for almost a month. I have had no complaints. One neighbor said, 'You know, that's kind of cute.'"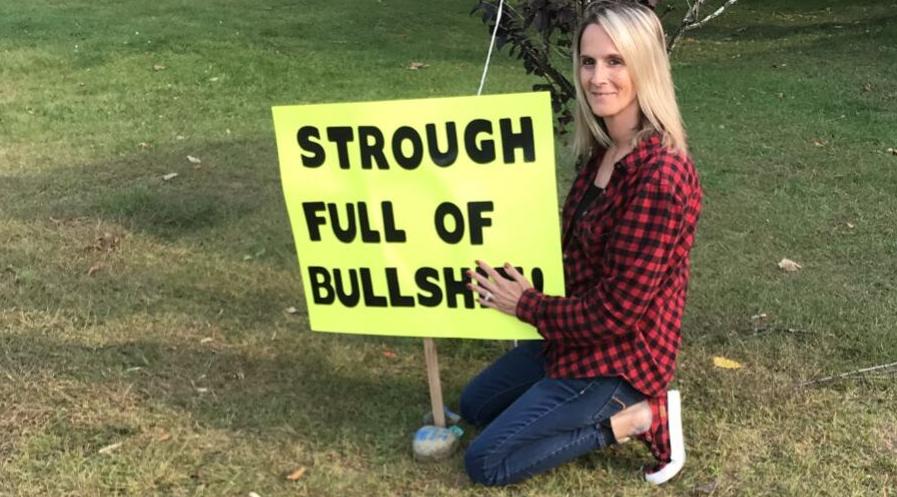 A representative from APEX, a local group that supports Trump, left a letter on her door Wednesday urging her to fight and suggesting two attorneys. She called the attorneys immediately.
"They told me not to take my flag down. They said that is your right," she said. "He said he'd be more than happy to take my case."
So she is keeping the sign up, and she added one about Strough on Wednesday afternoon.
Two Town Board members said they were reluctant to get into a court battle over the signs.
"Frankly, I see this as a distraction to more important issues," Freer said, though he added in Strough's defense that he did not plan to sue, but to take the owners to court on the grounds that they were violating the sign ordinance.
"Queensbury does have a sign ordinance that prohibits obscene signs, and this is what John was referencing with regard to possible enforcement action," Freer said.
He also doesn't like the signs.
"It is my view that at the very least, these signs are in bad taste," Freer said. "Politeness and courtesy are attributes that I admire and not in evidence with this signage. However, there is, in my understanding, a higher threshold of free speech, when it comes to political statements, so the town will have to weigh this in any decision with regard to code enforcement."
Board member Amanda Magee said the issue shouldn't go to court.
"I believe in and respect the people's right to free speech. I am not entirely clear on the town's authority on this matter. I don't think this is something that needs to go to court," she said.
She added that she is not generally offended by the spelled-out version of "B.S."
"As for the word 'B.S.,' I have been known to use it, but I try to be selective about where," she said.