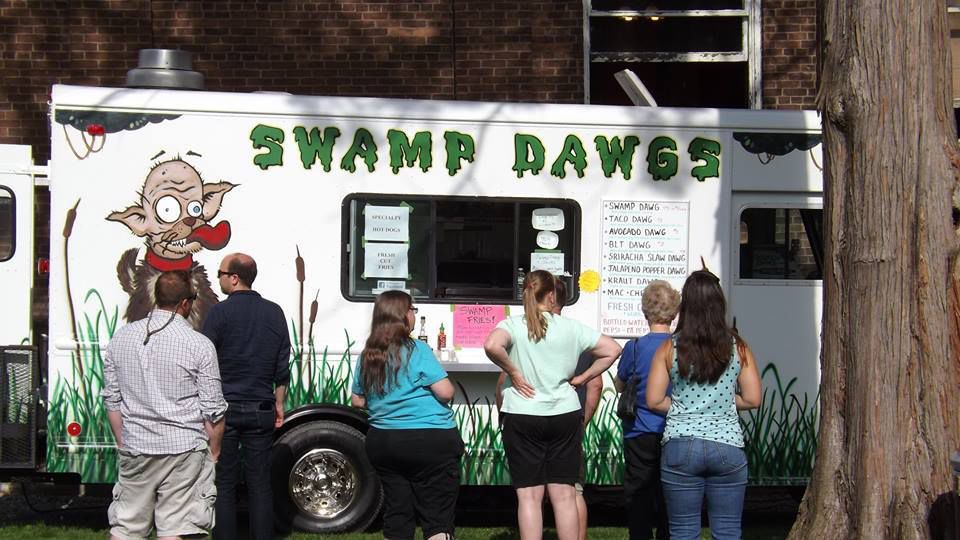 The Shirt Factory will hold a second "Food Truck Corral" from 5 to 8 p.m. July 20 at the courtyard in front of The Shirt Factory at the corner of Lawrence and Cooper streets in Glens Falls.
The debut event last week exceeded expectations and three of the eight food trucks sold out of food by 7:30 p.m., said Eric Unkauf, owner of The Shirt Factory, which has an assortment of small shops and art studios in the rehabilitated factory building.
New vendors are being added for July 20, with a goal of having 16 food trucks and more dinner items, he said.
Lower Adirondack Regional Arts Council is exploring ways to partner with Unkauf to add more arts features to the event, said LARAC Executive Director Candice Frye.
'Battle of the Books'
The second round of voting in the Crandall Public Library "Battle of the Books" reading tournament is underway.
Thirty-two books remain in contention in the adult summer reading program, modeled after the National Collegiate Athletic Association March Madness basket ball tournament, which started out with 64 books nominated by library patrons.
Readers, in this round, select their favorite book from 16 pairings.
The final championship round is Aug. 4-9.
Out to Lunch
Artists Tom Ryan and Robin Brewer will display their works at the debut Out to Lunch event from 11 a.m. to 1 p.m. Tuesday in Glens Falls City Park.
Saxophone player Sean Pettis will entertain.
Photographer Craig Murphy will attend with his mobile tintype photo studio.
The Glens Falls Collaborative summer mid-day music and arts event continues weekly on Tuesdays through Aug. 15.
Take A Bite
Local music duo Mark Rabin and the Lovely Missus will perform at Centennial Circle roundabout during Take a Bite, from 5 to 7 p.m. Wednesday in downtown Glens Falls.
Vincent Seeger will perform on Glen Street, in the vicinity of Crandall Public Library.
Take a Bite, the Glens Falls Collaborative summer food and entertainment festival in downtown Glens Falls continues weekly, 5 to 7 p.m., through Aug. 16.
Maury's Musing
I am intrigued with Jacquie Tinker's photographs of frogs on exhibit at the North County Arts Center gallery on the second floor of City Hall.
The art gallery has always been a pleasant part of my routine stops at City Hall.
My wife suggests that, after I retire, I will still feel the urge to stop at City Hall to chat about local government dealings.
If you spot me on the second floor after retirement, remind me I'm only there to check out the art.
The art gallery, featuring rotating exhibits, is open to the public free of charge anytime that City Hall is open.
Follow staff writer Maury Thompson at All Politics is Local blog, at PS_Politics on Twitter and at Maury Thompson Post-Star on Facebook.