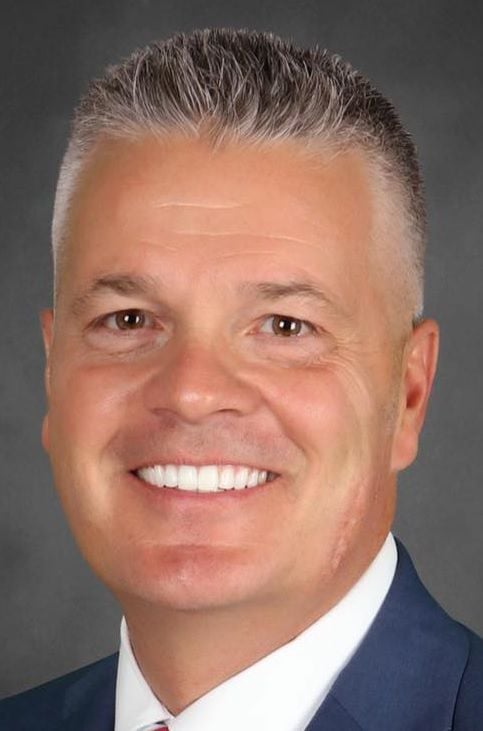 QUEENSBURY — Warren County Sheriff Jim LaFarr's son has been appointed to a road patrol officer position, despite a county anti-nepotism policy banning someone from supervising a relative.
LaFarr on Wednesday confirmed that Tanner LaFarr is one of four recruits who will start training on July 28 at the Zone 5 Regional Law Enforcement Academy in Schenectady.
Sheriff LaFarr said he removed himself from the hiring process. Undersheriff Terry Comeau and three administrative lieutenants vetted the candidates, he said.
To be eligible, all applicants must place in the top three on a civil service written test, according to LaFarr. They also must pass a physical agility test and psychological and medical examination.
Sheriff LaFarr does sign the formal paperwork to appoint these candidates.
LaFarr said he does not believe the anti-nepotism policy applies, because New York State Civil Service Law takes precedence. It would be a different story if it was a non-civil service position, he said.
"If I were to hire my son, with no experience, to do maintenance work for the Sheriff's Office, I think the county people could have an argument," he said.
LaFarr said the county has the authority to create positions and approve filling positions, but it is up to the sheriff to make the appointments.
"They control the budgetary side of it and they could say for budgetary reasons, we're not going to fill the vacancy, but the selection of the actual candidates — that's left to the agency itself," he said.
Warren County Administrator Ryan Moore did not immediately return a Post-Star request for comment Wednesday.
Sheriff LaFarr said this is the first time in 11 years that Warren County has sent recruits to the academy. The county was a founding member of the academy, but had backed out. LaFarr wanted the county to rejoin.
The other two hires are Patrick Mellon Jr., who is a corrections officer in Warren County, and Brandon Combs, who also worked in corrections and currently works for the Warren County airport. Interviews are still being conducted for the fourth open position.
The issue of the younger LaFarr possibly working for the department came up in November as Sheriff LaFarr was preparing to take office.
Some county officials believed such an appointment would violate the county's anti-nepotism policy, adopted in 2014, which says that "no Warren County officer or employee may supervise a relative in the performance of the relative's official powers or duties."
However, there was some question about whether that would apply to the Sheriff's Office.
At that time, LaFarr told Moore, the county administrator, that he would consider resigning if his son was barred from working for the department. He said it was Tanner's dream to work for the same agency where his father has spent his career.
LaFarr later backed off on that resignation threat, saying it was made in the passion of the moment.
Stony Creek Supervisor Frank Thomas, chairman of the Warren County Board of Supervisors, said Wednesday he does not believe the matter is clear cut and the county attorney is reviewing the issue.
"We're still thinking about it. I do believe it will become an issue," he said.
Horicon Supervisor Matt Simpson, chairman of the Personnel Committee, said a couple of supervisors had contacted him last week about the hiring, but he had not received anything directly from LaFarr.
Simpson said he believes that the sheriff does have the authority to make appointments, with the county controlling the department's budget.
He said he had asked for information from Thomas about the anti-nepotism policy and had not received anything.
"I need clarification on the process of what we can and can't do to stay in line with our law," Simpson said.
Another issue is a notice of claim, which is a precursor to a lawsuit against a municipality, filed against Lake George, alleging that Tanner LaFarr, who has worked as a village peace officer in recent summers, used excessive force during a June 2019 arrest.
Joseph G. Schuster and his mother, Elizabeth Schuster, filed claims in connection with the incident. Joseph Schuster and Maxwell T. Roach were arrested after peace officers tried to take Schuster into custody for allegedly smoking marijuana. A scuffle ensued and Roach was accused of choking LaFarr. Elizabeth Schuster said her son had cuts and bruises as a result of the scuffle with LaFarr.
Charges against Schuster and Roach were adjourned in contemplation of dismissal as long as they stay out of trouble for six months.
Village Mayor Robert Blais said the village received a letter from its counsel, indicating that the Schusters no longer wanted to pursue the claim against the village.
The village has since discontinued its peace officers program.
Get local news delivered to your inbox!
Subscribe to our Daily Headlines newsletter.