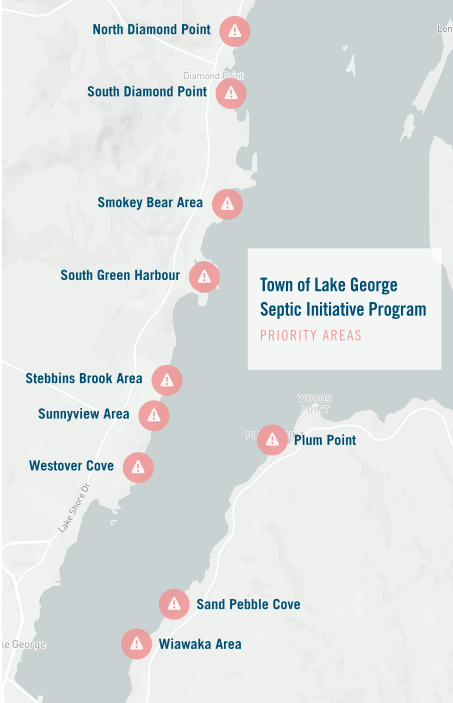 LAKE GEORGE — The Lake George Septic Initiative report has identified 10 areas around the lake at the greatest risk from failing septic systems.
The areas of concern cited in the final report are North Diamond Point and South Diamond Point, Smokey Bear, South Green Harbour, Stebbins Brook, Sunnyview, Westover Cove, Plum Point, Sand Pebble Cove and Wiawaka.
Lake George Waterkeeper Chris Navitsky on Friday shared an advance copy of his report, which he was set to present Monday at the Lake George Town Board meeting.
The study by the Fund for Lake George was paid for with a $104,000 Water Quality Improvement Grant from the state Department of Environmental Conservation.
The Town Board commissioned the study because members had heard anecdotally that residents had aging systems.
"Through this type of analysis and applying engineering principals, it appears we have justification for the development of some type of inspection or management system," Navitsky said.
Navitsky said the next step is for the town to adopt a septic transfer law similar to the one that Queensbury passed last year, which would require that septic systems be inspected when property changes hands.
The Fund for Lake George used three sets of data to reach its conclusions.
The first set was the assessment of the septic system, including its age, the last time it had been pumped out and its overall condition. The fund sent out a survey to about 400 property owners, and about one-third were returned.
Last month, officials reported they believe that one-third of septic systems are older than their life expectancy of 30 years, one-third are newer than that and they do not have information on the other third. In addition, in more than half of the septic systems, the last pump-out date is unknown.
Septic systems should be pumped out every three to five years, Navitsky said. He has talked to people who said that they have never had a problem with their system, so they have never had it pumped.
"If you maintain your septic system, that's about 90 percent of what you need to do to have your system function properly," he said.
In addition, about 20 percent of the systems are undersized. Navitsky said the rule of thumb is a three-bedroom house needs a 1,000-gallon septic system. For each additional bedroom, another 250 gallons are needed.
There is no information on 20 percent of the septic systems.
The second data set included the condition of soils, how far the systems are set back from the lake and the overall slope. Steep and shallow sites reduce the effectiveness of septic systems.
The third data set included samples to determine the amount of algae growth at various points around the lake. Fifty percent of the algae samples had excessive nutrients, according to Navitsky.
"When you start putting that data on top of each other, it really fine-tunes where you can see the problems," he said.
Among the ideas to address the problem are to create "sub-watershed management districts," which would be like a sewer district but for a group of properties on septic systems. A similar setup is used at Dunham's Bay.
Navitsky said the town could go out to bid for septic system pumping firms to get a reduced cost for residents. The Fund for Lake George has allocated $30,000 to help homeowners upgrade septic system.
Over the long term, the town could hire its own staff person to check individual systems and work with homeowners on repairs or upgrades.
All lakeside dwellings could be required to install water conservation fixtures to reduce the amount of wastewater, which would reduce strain on septic systems, Navitsky said.
Partnerships should be explored with lending institutions to see if they can develop a program to help people upgrade their septic systems, he said.
Higher education institutions and organizations could be contacted about the latest research on addressing septic issues.
"As people develop new technologies and they need places to try that out, can we be a test case for that?" he said.
Also long-term, a watershed management improvement district could be created. Navitsky said this would be similar to an economic development zone and perhaps payment-in-lieu-of-taxes agreements could be worked out with homeowners.
"If somebody upgrades their system, could they get that investment in their properties taken off their assessment for a period of time?" he asked.
Navitsky said he understands there will be questions and concerns from property owners, but once they understand what officials are trying to do and they see the science to back it up, they will understand.
"I think 99 percent of the people want to do the right thing and protect the lake, and I think we need to make them aware of that," he said.
"If you don't want everybody coming onto your property and inspecting it, I think you have the responsibility to show that you're being a good and responsible property owner and steward for the community and you're maintaining your system," he added.
Navitsky said he plans to give this presentation to other towns on the lake, such as Hague and Ticonderoga.
"We wanted to create a model that we could show other municipalities — something that could be replicable to other towns," he said.
The Lake George Park Commission could take over this program, Navitsky added.
"We really think that this is something that could be implemented basin-wide," he said.
Get local news delivered to your inbox!
Subscribe to our Daily Headlines newsletter.