GLENS FALLS — R. Cohen Recycling crews began taking down mountains of metal trash Thursday, after residents voiced concerns about the safety of the neighborhood.
The piles of stacked-up metal pieces towered over white picket fences and peoples' backyards, and some residents had recorded video of metal sheets precariously flapping in the wind.
Nathan Kelman, owner of the Geer Street business, said the concerns were brought to his attention Wednesday, and he planned to follow up with residents later Thursday.
"Our response was rather immediate," Kelman said on Thursday. "This is something that was brought to our attention yesterday. We will have corrective action."
Karla Dubrule, who runs her own hair styling business out of her Platt Street home, said the metal started piling up next to her backyard fence about three months ago.
Customers used to have a front-row seat to her green lawn and white picket fence as they sat in her salon chair, getting their hair styled. But that view was marred by the towering pile of scrap.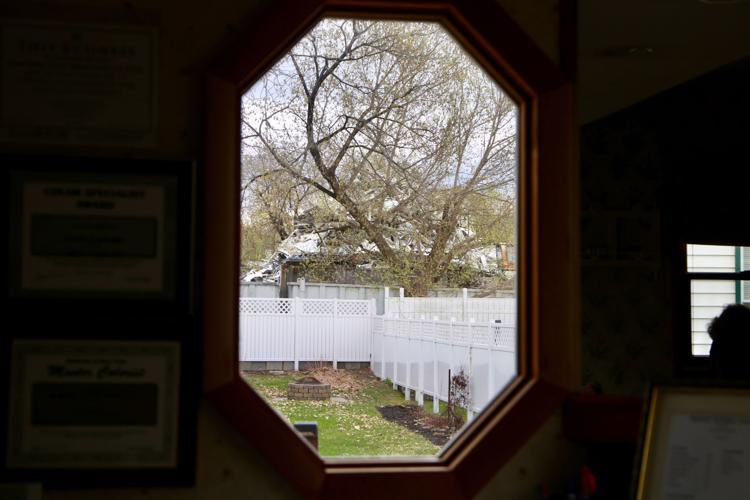 "I'm embarrassed," she said Wednesday, while the scrap mounds were still there. "It's sad because I try to keep my house nice. It's discouraging. It really just makes me want to relocate."
A couple of workers could be seen walking around the pile Thursday afternoon, and an excavator had removed the top-most part.
"It's better," Dubrule said Thursday.
Wednesday, she said she hadn't called anyone to complain about it because over the months she had seen recycling operators removing items. She'd feel relief it was coming down, she said, but then she'd observe a crane stacking on more.
Linda Plante and Audrey Charron, who live next door to each other on Katherine Street, also witnessed the piles growing at the Geer Street scrapyard.
On Wednesday, Plante said she has been fighting the scrapyard operation since it changed hands in 2011. She has been discouraged with the past response from city officials in addressing her concerns about air quality, increased truck traffic, damage to roads and sidewalks and heightened noise.
"Our quality of life has very much decreased," Plante said.
Charron and Dubrule were worried about children's safety in the area, too. R. Cohen's Recycling is about a block away from East Field Park. Dubrule said she could see the piles enticing kids to climb on or build forts in.
Kris Vanderzee, code enforcement officer for the city, said Thursday he was looking into the situation.
First Ward Councilman Jim Campinell said Thursday he was not aware of the scrap metal piles. He understood why residents would be concerned about metal blowing around, and he said he would be calling Kelman.
Kelman said Thursday remedial activities were ongoing.
"As we've said before, we're rooted deep into the community," Kelman said. "We've got a growing business model, and as our business has grown, employment has grown, and our market share in the community has grown for scrap metal."
He added that the metal is processed as quickly as the company possibly can.