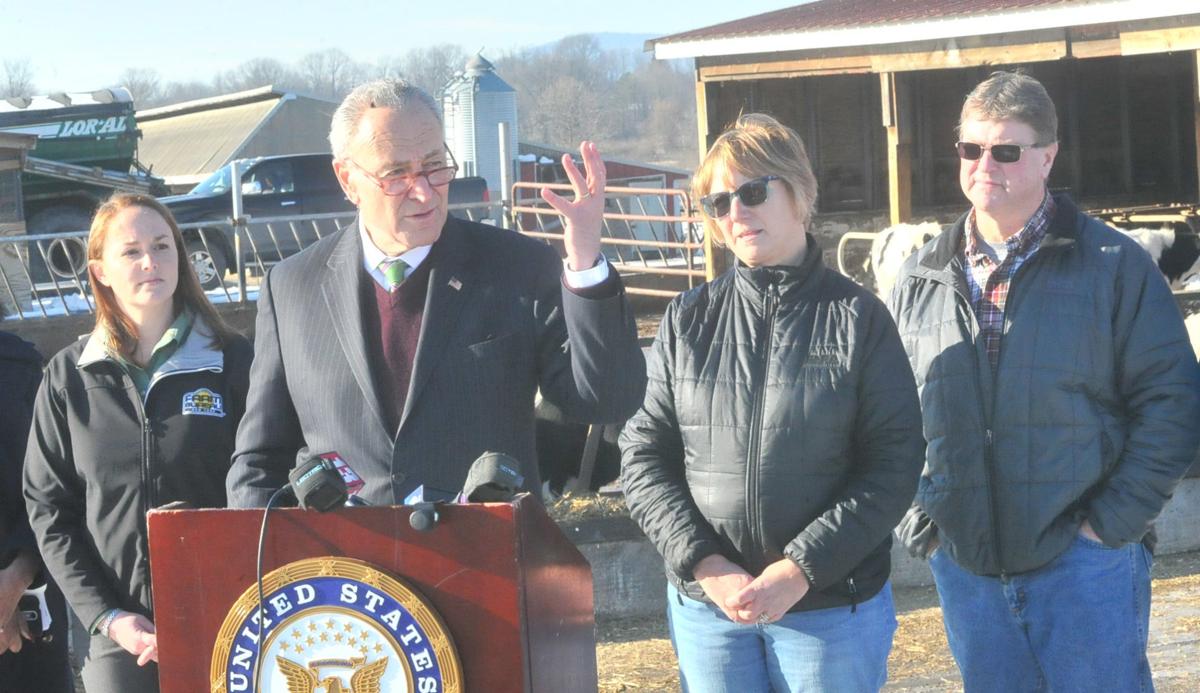 KINGSBURY — Farmers are taking their own lives at 3 1/2 times the rate of the general population, which U.S. Sen. Charles Schumer said is a problem that needs to be addressed.
Schumer, D-N.Y., is asking the Centers for Disease Control and Prevention to conduct a comprehensive study on suicide rates. It currently does not track this data.
"It will tell us where it happens, why it happens, what are the conditions under which it happens," he said on Monday at a news conference at the Walker Farmers Heifer Facility.
Schumer said farmers are facing difficult circumstances, including trade uncertainty, low dairy prices and the changes in weather, which has added to their stress.
The nationwide suicide rate has increased by 33% since 1999, and the New York state suicide rate has increased by 28%, according to Schumer. He said that each of the 11 counties in the Capital Region, plus Essex County, had suicide rates higher than the state average of 8.4 suicides per 100,000 residents. The rate was 13.6 for Warren County and 8.6 for Washington County.
Citing a 2018 CDC report, Schumer said if farmers, ranchers and agricultural managers were categories as a separate occupational group, they would have ranked first in suicides in 2012 and fourth in 2015.
Schumer is also calling on Congress to pass the Seeding Rural Resilience Act, legislation that would would provide training for people who work with farmers to recognize signs that they may be considering suicide.
The bill would also provide $3 million for a public awareness campaign. Schumer said this would not be in the form of television advertisements, but literature that could be distributed to different farm organizations.
The third major component of the bill would mandate that the Secretary of Agriculture develop best practices to recognize the warning signs of suicide.
Farmer Larry Bailey said farming today is different than it was even 10 years ago.
"The price of milk hasn't gone up as fast of the price of fuel or the price of inputs," he said.
Kim Trombly, field adviser for the New York Farm Bureau, said training to spot suicidal signs would be beneficial.
"This could not only save a farm, but potentially save a life," he said.
Amanda West, executive director for the Council for Prevention, said the organization does a lot of education in local schools about suicide ideation.
"We are always trying our very best to break down the stigma," he said.
West said the council has been tracking data in its own coverage area. From 2015 to 2017 there were seven deaths by suicide and one was a farmer.
Linda Wright, of the Office of Community Services for Warren and Washington Counties, agreed that more awareness of the problem is needed.
The National Suicide Prevention Lifeline is 1-800-273-TALK.
Schumer's visit on Monday marked the completion of his annual goal of visiting all 62 counties in the state.
Schumer took some questions on other topics, including impeachment. He called on Senate Majority Leader Mitch McConnell to allow four direct witnesses to testify in the impeachment trial of President Donald Trump.
"I think we need some witnesses — not a fishing expedition," he said.
"They could give evidence that's exculpatory of the president. They could give evidence that's negative to the president. I don't know what the end will be. We shouldn't have a trial without some witnesses and documents," he said.
Schumer has been asking top administration officials to testify in light of a new email obtained by the Center for Public Authority, published on Saturday. That email revealed that Michael Duffey, associate director for national security programs at the Office of Management and Budget, informed the Pentagon of the freeze on security aid to Ukraine 91 minutes after President Donald Trump's phone call to Ukraine President Volodymr Zelensky on July 25, according to CBS News.
McConnell is thinking about the request, according to Schumer.
Schumer said he supports the decision of House Speaker Nancy Pelosi not to send the charges over to the Senate until she knows the format of the trial.
Schumer also took the time to thank Sen. Betty Little, R-Queensbury, who was not in attendance, for her service to the district. Little recently announced she would not seek re-election in 2020.
"She was a Republican. I was a Democrat. That never stood in the way of us working together. She was a great public servant," he said.
Get local news delivered to your inbox!
Subscribe to our Daily Headlines newsletter.