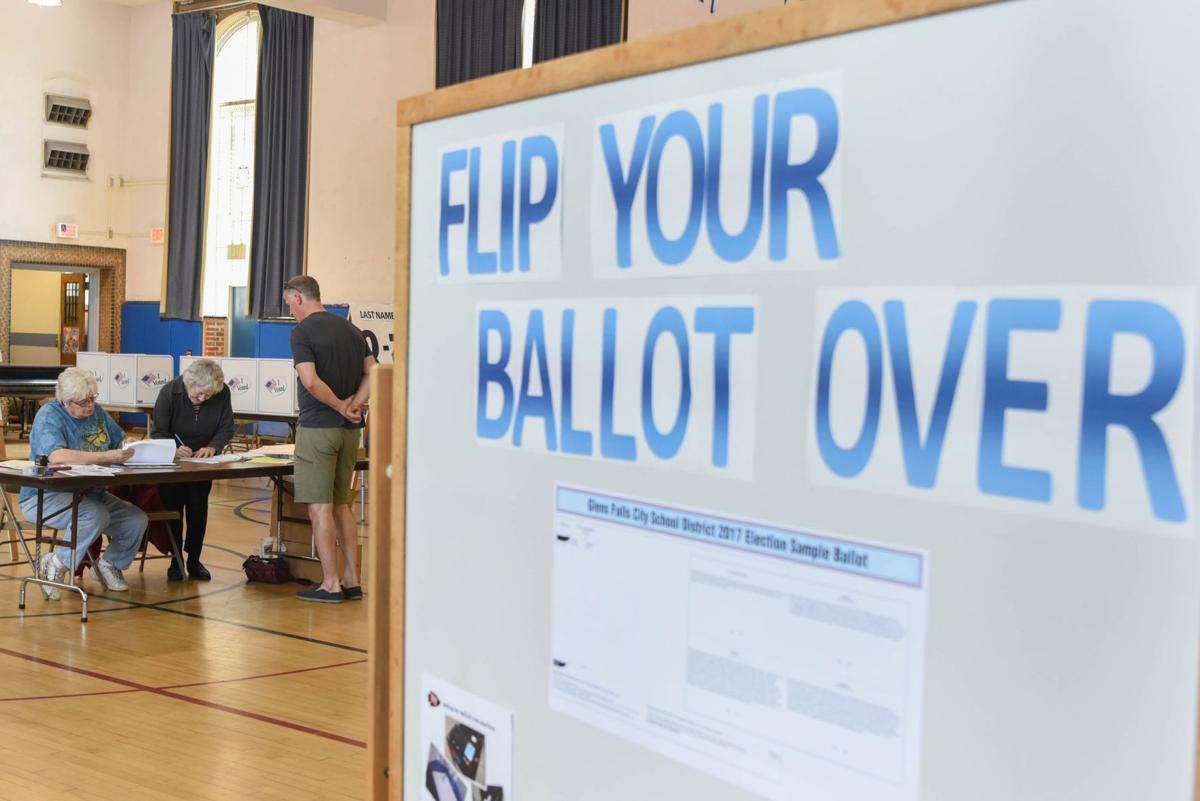 School districts are in uncharted waters with the COVID-19 pandemic — conducting an election entirely through mail-in ballots and facing the threat of a 20% cut in state aid because of declining revenue.
The school election is always scheduled for the third Tuesday in May. That would have been on May 19. However, Gov. Andrew Cuomo delayed the election to contain the spread of the coronavirus. Cuomo on May 6 set the new date on June 9 and said it would be done entirely through mail.
That sent school districts scrambling. In a normal year, school district might send out a few dozen absentee ballots. Now they have to send them to every registered voter within their district. That meant obtaining voter lists from the counties and paying for stamped envelopes to be mailed to everybody, according to New York State School Boards Association spokesman David Albert.
"It's been a cumbersome process, but districts are doing their best to comply in a very short period," he said.
Residents should have received their ballot in the mail at this point and, if not, should contact their district office. Ballots must be mailed back and be in the hands of district officials by June 9 at 5 p.m. in order to be counted.
Albert said he is not sure how voting solely by mail will affect turnout.
"If this were a normal year, I could tell you maybe 10% to 14% of voters would show up, because that's typically what we see in a school budget vote and board election," he said. "This is uncharted territory. Nobody knows. It's just speculation at this point. There's no educated guest because there's no historical precedent for this."
Hadley-Luzerne Superintendent of Schools Beecher Baker said he thought voter turnout could increase.
"It's a little easier to check 'yes' or 'no' at your dinner table rather get in your car and vote," he said. "It's going to be interesting to see how it works."
Argyle Business Manager Ron Black said how many voters will participate is a big question mark. He worried that there is a greater chance of a budget being defeated.
"Instead of 250 voters, it's now going to be in the hands of 4,000 people," he said during a recent Argyle Board of Education meeting.
"A lot of those people have never cared about the school budget, have never paid attention to it and now to have the chance to say 'no' to something in the middle of pandemic. It just made me more nervous," he said.
Keeping spending tight
Because of the economic climate with many people being laid off or having their hours reduced, school districts are keeping spending tight. The average proposed increase statewide is about 2.16%, according to a sample of about 75 school districts, according to Albert.
He said the average tax levy increase is about 2.68%. There are a couple of districts proposing large increases that skew the average.
"Districts want to keep tax levy increase down. They understand what's happening with the economy right now," he said.
The average spending increase for the 30 school districts in The Post-Star's coverage area is 1.91%, and the average tax levy increase is around 2%. This tax levy calculation excludes the one district seeking to exceed the tax cap — Fort Edward, which is proposing a nearly 20% tax levy increase.
The district has seen major problems with the loss of tax revenue from the former Hudson River cleanup dewatering plant. The owner of the property defaulted on the taxes and the county made the school district whole. Now, Fort Edward has to pay $1.7 million back and it took out a bond because it did not have the funds.
This year's $153,000 payment by itself is higher than the $147,000 the district could have raised the tax levy to and stayed under the tax cap.
Superintendent of Schools Dan Ward has pointed out that the proposed tax levy is slightly less than what the district had in the 2016-2017 school year.
The fate of the budget is in the hands of about 1,600 registered voters. Ward said school officials were happy that more people were attending the budget meetings, which were held online because of the pandemic. People care about the issue, he said.
"We hope that level of participation continues to stay at a high level," he said.
However, even if voters approve the large tax increase, Ward has said there would still need to be cuts to programs and positions to close a $1 million gap.
In a normal year, districts that saw their budgets fail in May would get to put up the same or a revised budget for a second vote in June. There has not been a lot of state information about what happens in this case.
District may have to adopt a contingency budget, where the tax levy has to stay the same as the current year.
Union concessions
In order to reduce the potential for cuts, the Fort Edward Teachers Association agreed to switch to a less expensive health insurance plan and take a $500 pay cut — saving more than $250,000.
The 33 teachers at Schroon Lake in Essex County also agreed to forgo their cost-of-living raises for the next two years. They will still receive their step increase for another year of service. Superintendent of Schools Stephen Gratto said the teachers' sacrifice will save over $27,000 for the district.
"This is a very generous gesture on the part of the teachers," he said in a news release. "They did not have to take a pay freeze, but I know they realize that the school and the community are facing extremely difficult financial situations. The Schroon Lake community is hurting, and the teachers wanted to do something to help."
Gratto also agreed to freeze his salary.
Few propositions, candidates
School districts also are not proposing much in the way of special ballot propositions. Glens Falls and Queensbury both initially were putting capital projects before voters — only to take them off the ballot after the pandemic hit.
Many school districts have uncontested school board races. The pandemic hampered the ability for people to circulate petitions as the state did not want candidates interacting with the public. There was also a short time frame after the election was rescheduled to submit nominations.
Perhaps because of the financial circumstances the district faces, there is a contested race for the Fort Edward Board of Education. Incumbent Michael Glass and Christina Durkee, Daniel Shiels and Elaine Trackey-Saltsman are running for a five-year seat and a one-year seat created by a resignation. The top vote-getter will get the full term and the second-place finisher will get the partial term.
In Whitehall, there are six candidates seeking four seats on the school board. The field includes incumbents Thomas Baker, Richard LaChapelle and Patricia Norton and challengers George Armstrong, Amy Michaud and Roslyn Stark-Lambert.
The district recently was facing a controversy where Jeff Keller was fired from his job as principal of the junior-senior high school because school officials say he changed students' test scores and attendance records to improve Whitehall's academic standing.
Future state aid cut?
Looming over all school officials is Cuomo's threat to cut school aid by 20% if the federal government does not come through with a bailout package. That would mean a $5.5 billion aid to schools, which Albert said would be "catastrophic" for schools.
Albert said he anticipates it would take a while for state aid to bounce back just like it took time to recover from the Great Recession.
One trend Albert said he noticed is that even in this tight fiscal climate, districts are trying not to cut mental health services because students are going to need emotional support when they return to school. Some children have even lost parents to the coronavirus. Parents are also dealing with job loss.
"There's going to be some significant mental health implications from this pandemic," he said.
The Glens Falls City School District was one of the few districts locally that factored the threated 20% aid cut into its budget — deliberately using a lower state aid figure in its revenue numbers and using some more fund balance.
School districts are using more surplus to help weather the storm, according to Albert. However, he said school officials are worried about whether they will be hit with more increased costs such as more extensive cleaning of schools, increased transportation costs because of staggered school schedules or reconfiguration of classrooms to accommodate fewer students.
"There's a lot of potential for new costs that we just don't know," he said.
Proposed school spending and tax levy increases
| District | Spending increase | Tax levy increase | Tax cap |
| --- | --- | --- | --- |
| Abraham Wing | 1.34% | 2.17% | 2.17% |
| Argyle | -0.44% | 1.97% | 3.37% |
| Bolton | 1.71% | 1.94% | 2.42% |
| Cambridge | 0.36% | 1.90% | 4.82% |
| Corinth | 0.11% | 2.09% | 2.14% |
| Fort Ann | 5.32% | 2.72% | 2.72% |
| Fort Edward | 0.62% | 19.80% | 4.89% |
| Glens Falls | 4.38% | 0.05% | 0.05% |
| Granville | 2.05% | 0% | 0.97% |
| Greenwich | 0% | 1.90% | 1.90% |
| Hadley-Luzerne | 0.53% | 1% | 4.83% |
| Hartford | 5.50% | 1.74% | 1.74% |
| Hudson Falls | -0.08% | 1.90% | 3.40% |
| Indian Lake | 4.08% | 2.44% | 2.44% |
| Johnsburg | 2.35% | 2.29% | 2.29% |
| Lake George | 0.40% | 1.50% | 2.26% |
| Long Lake | 4.66% | 5.86% | 5.86% |
| Minerva | 1% | 0.24% | 0.24% |
| Newcomb | 0.93% | 1.97% | 2.04% |
| North Warren | 2.35% | 1.20% | 1.28% |
| Putnam | 0.90% | 2.33% | 2.33% |
| Queensbury | 3.32% | 2.98% | 2.98% |
| Salem | 1.62% | 1.95% | 5% |
| Saratoga Springs | 2.28% | 3.10% | 3.14% |
| Schroon Lake | -1.37% | 2.25% | 2.25% |
| Schuylerville | 3.40% | 2.60% | 6.50% |
| South Glens Falls | 2.59% | 2.99% | 3.56% |
| Ticonderoga | -0.46% | 2.92% | 2.92% |
| Warrensburg | 5.08% | 1.75% | 4.39% |
| Whitehall | 1.12% | 1.95% | 4.32% |
School voters will receive ballots in the mail this year due to the coronavirus pandemic. Ballots must be received by the school district no l…
Get local news delivered to your inbox!
Subscribe to our Daily Headlines newsletter.