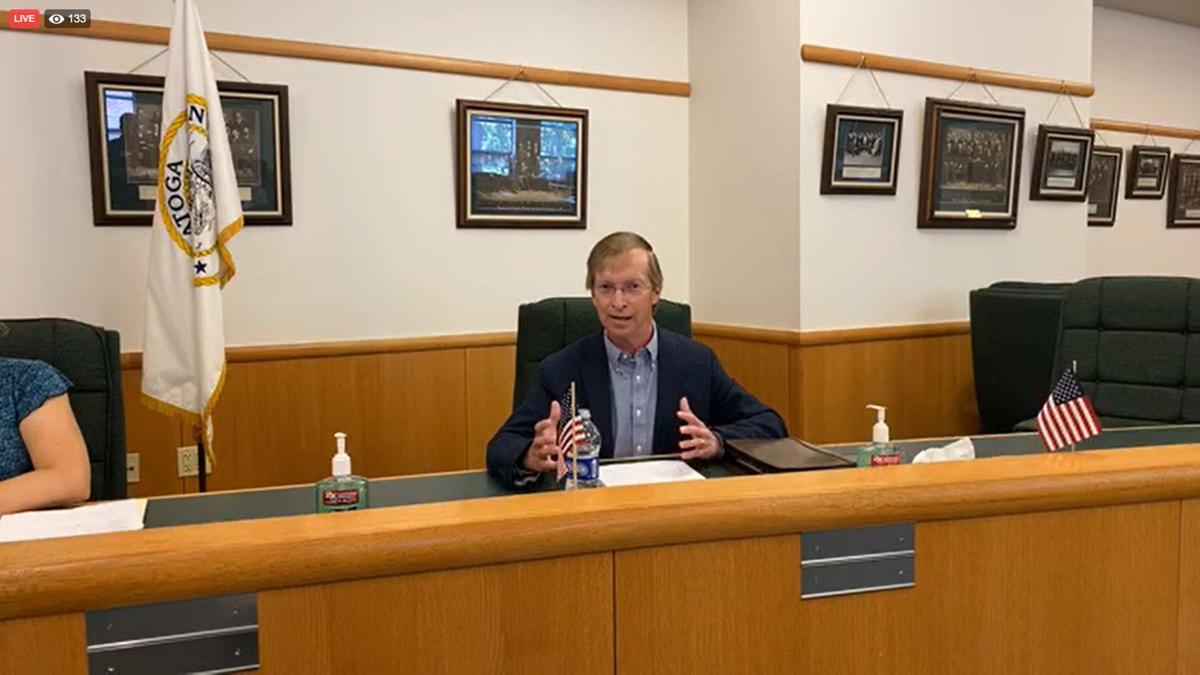 Saratoga County debuted a website Wednesday to help businesses navigate the reopening process.
Saratoga County Reopening Advisory Group Chairman Jack Lawler, the Waterford supervisor, announced the launch of www.saratogacountyny.gov/county-reopening. The website will be updated regularly with information pertaining to when certain businesses may begin to reopen.
"The website will provide information related to which businesses can open under which phase, how the business safety plans are being created and how small businesses can reach out for financial support," Saratoga County Board of Supervisors Chairman Preston Allen said in a statement.
A Facebook Live event Wednesday morning also directed Saratoga County business owners to saratogacountyny.gov for guidance on how to reopen their businesses.
"If you are focused on reopening your business, it is that website that you should be going to," said Todd Shimkus, the president of the Saratoga County Chamber of Commerce.
The event, hosted on the Saratoga County Office of Emergency Services Facebook page, mostly focused on businesses and the steps they need to take in reopening.
Peter Bardunias, senior vice president of Community Advancement for the Capital Region Chamber, noted that there has been a shift from the human impact to the economic impact of the coronavirus pandemic.
A business impact survey showed that 59% of Saratoga County businesses showed they were at risk of closing, said Shelby Schneider, president and CEO of Saratoga County Prosperity Partnership.
"What we found was that Main Street, Saratoga County, was being deeply impacted, our accommodation and food service, our hospitality industry, our professional services," Schneider said. "And we wanted to know what they needed immediately to be able to weather this storm."
Her organization worked with partners and state and federal officials to find funding, working capital and potential grants to help struggling businesses.
She noted that businesses need to establish a safety plan to prevent another outbreak. There is a safety plan template available on the county's website.
Saratoga County has confirmed 464 positive cases and 403 recovered and 47 active cases. At the earliest, Saratoga County could start Phase 2 of reopening on June 3.
There were four people hospitalized with COVID-19 at Saratoga Hospital on Wednesday. Glens Falls Hospital also has four positive patients.
No one died from COVID-19 Wednesday in any of the four local counties.
Saratoga County reported two new COVID-19 cases, for a total of 464 cases. There have been 403 people that have recovered from the virus. There are 47 active cases and four people are hospitalized.
Warren County reported two new cases among residents as of Wednesday morning, one in a nursing home and one in an assisted living facility. There have been 240 coronavirus cases confirmed since the outbreak began. Two additional recoveries were documented, for a total of 152 full recoveries. Three COVID-19 patients are hospitalized and all are considered moderately ill. Thirty residents have died from COVID-19 infections. The last fatality was May 19.
Washington County reported two new cases of COVID-19 for a total of 199 cases. The number of recoveries stayed at 177. No one was hospitalized.
Essex County has no new cases of COVID-19. The county has had 52 confirmed cases. There is one active case in Essex County, and 48 people have recovered. Twenty-six people have tested positive for the antibodies. No one is hospitalized.
Statewide, the number of people hospitalized with COVID-19 is under 4,200. New COVID-19 cases were at 181 on Tuesday, which Gov. Andrew Cuomo called "very encouraging news."
Seventy-four people died from COVID-19 infections in the state Tuesday. On Monday, 73 people died.
The governor held his press conference from Washington, D.C., where he had met with President Donald Trump regarding funding for state and local governments. Cuomo said the coronavirus should not be political.
"We're fighting a virus. The virus is not a Democratic virus, it's not a Republican virus," Cuomo said. "It's a virus, and viruses respond to science and science is about facts and about numbers."
States are responsible for the reopening, testing, tracing and health care systems, he said, but the federal government has a role to play as well.
"The federal government has to do its part as we work our way through this crisis," Cuomo said. "And there cannot be a national recovery if the state and local governments are not funded. That is a fact."
Cuomo criticized the "hyper-partisan Washington environment," calling it "toxic" for the country.
"We have to get to a point," he said, "if only for a moment, if only for a moment, if only for a moment in response to a national crisis, where we say, it's not red and blue. It's red, white and blue. It's the United States, and we're going to act that way."
Gretta Hochsprung writes hometown news and covers Washington County. You can reach her at ghochsprung@poststar.com or 518-742-3206. Follow her on Twitter @GrettaHoch or at her blog on www.poststar.com.