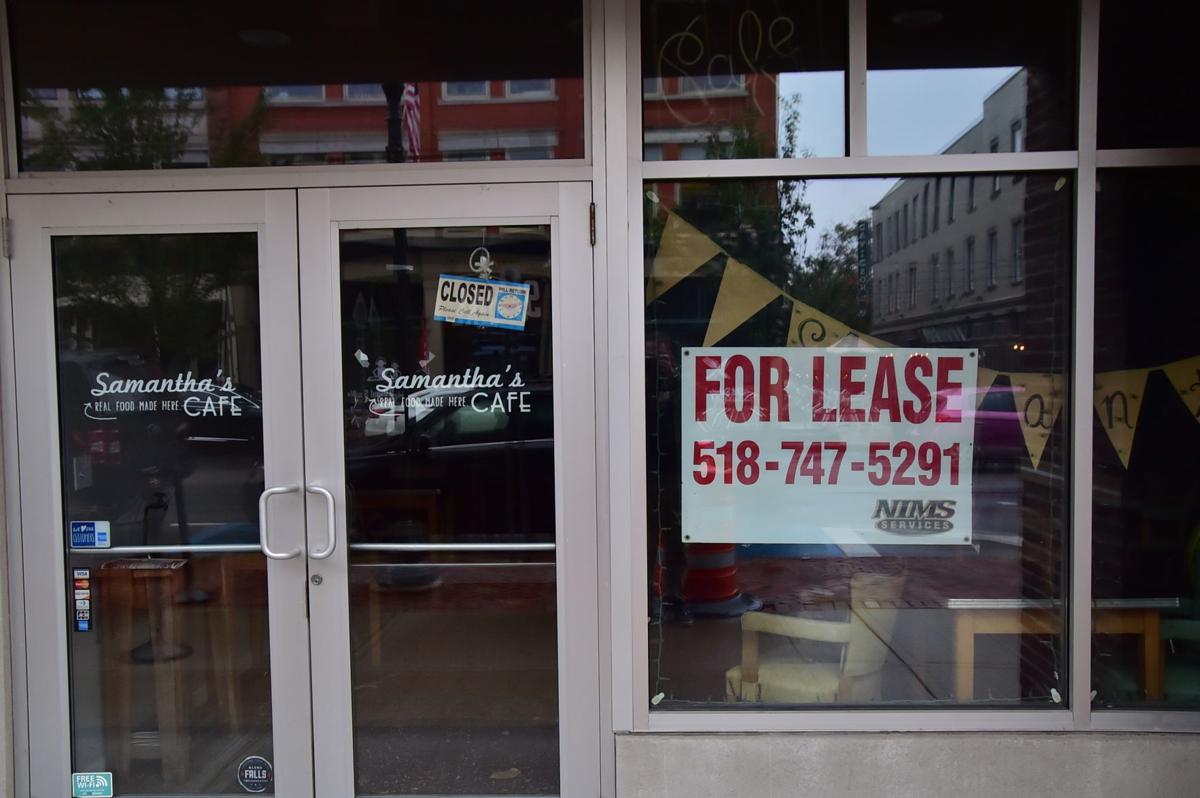 GLENS FALLS — After more than 30 years in business, Samantha's Cafe has closed its doors as a result of the coronavirus pandemic.
A message posted to the cafe and catering company's Facebook page on Wednesday said the Glen Street establishment will not be reopening, and its catering operations will be merged with Farmacy, a restaurant located on Ridge Street.
"Many of you have been waiting for the closed sign on Samantha's Cafe to be flipped over to read open," the message reads. "Unfortunately, COVID-19 has prevented that from being possible. We are sad to announce that the cafe on Glen Street, Hometown USA, will not be reopening for its day-to-day operations.
The owners of Samantha's did not return multiple requests seeking comment.
But the Facebook post provided some reason for optimism: Most of the company's staff were able to join Farmacy, where they will continue to provide catering services.
"Even in the worst of times, we were able to find something positive. We are thrilled to announce that most of our team has joined forces with Farmacy and will be providing catering services and continuing to do what they love," the post reads.
It's unclear just how many employees from Samantha's have joined the Farmacy team. The Farmacy did not return requests seeking comment.
With shorter days and colder nights beginning to set in, restaurants owners are preparing to eliminate their outdoor seating, which has helped carry their business throughout the pandemic. 
Samantha's Cafe has been a staple in the Glens Falls area since 1986, when it was founded by Carole Newell, who named the business after her daughter Samantha.
The business has changed hands and locations multiple times during its history, but it has remained a woman-owned operation throughout the years. The cafe was located at 193 Glen St. for the last five years.
On Friday, a "For Lease" sign was spotted in the building's front window.
The pandemic has had devastating effects on the state's restaurant industry.
Restaurants in the state were reduced to carryout orders only for more than two months beginning in March as the state sought to contain the spread of the virus.
In-person dining operations have since been allowed to resume, but only at a limited capacity.
Tables must be spaced at least 6 feet apart and capacity is not to exceed 50%, as per state guidelines.
Some smaller establishments, like New Way Lunch on South Street, haven't bothered to open their doors due to the restrictions. The restaurant is still operating its Warrensburg and Queensbury locations.
Other restaurants have been relying on outdoor dining to boost business, but with colder weather setting in, many owners are worried about what the future may hold.
There's been a push in recent weeks to expand indoor dining to 75% capacity, but it remains unclear whether the state has any plans to revise its guidelines.
Chad Arnold is a reporter for The Post-Star covering the city of Glens Falls and the town and village of Lake George. Follow him on Twitter @ChadGArnold.
Get local news delivered to your inbox!
Subscribe to our Daily Headlines newsletter.