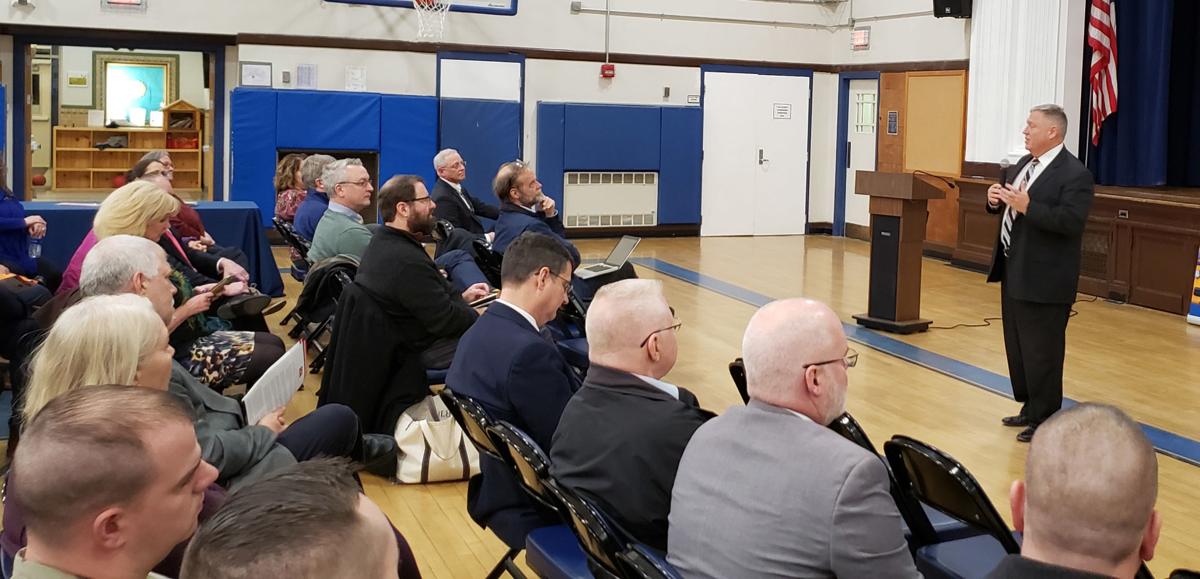 WARRENSBURG — Rural schools face declining enrollment, a lack of opportunity for graduates and little clout in Albany to address their issues, according to David Little, executive director of the Rural Schools Association.
Little said one issue is that a lot of people have moved out of the upstate region in the last decade. New York City has gained residents. Long Island and the state's largest cities have stayed stable. But upstate has lost people.
"We had this Grapes of Wrath exodus," he said at a rural school issues forum held on Tuesday at Warrensburg Elementary School.
Little said Gov. Andrew Cuomo has attributed the population loss to people leaving for a sunnier climate, but not everyone is leaving for warmer weather.
People are leaving because of a lack of jobs in rural areas, according to Little. That is harming the communities and leading to societal problems, including increases in alcohol and drug abuse, rising teen pregnancy and an increase in transients. Students have more needs than ever before. There is a lot of anxiety and societal pressures.
Lawmakers in Albany fail to recognize the crisis in rural schools, because they see high graduation rates in rural areas of the state, according to Little.
"Our crisis is the two years after we graduate all those kids, they haven't done anything. They're back from community college. They're back from a four-year college," he said.
Little said 75% of students who graduate from rural school districts never complete even a two-year degree program. They have to take remedial classes to learn skills they did not acquire in high school — despite earning a diploma. Eventually, they get frustrated with having to take classes that do not count to a degree and wash out of college, leaving them saddled with debt and no marketable skills.
Little said that is why rural broadband is as important because it will link students to the rest of the world and help improve their level of education.
Existing companies have done a horrible job. Sprint and T-Mobile are merging and are committed to rural broadband. However, little said the state has sued to block the merger because they believe it will decrease competition among wireless carriers.
"How many generations of kids have to lose because you want to address competition that doesn't exist?" he said.
Former Warrensburg Board of Education member Elaine Cowin said she worried about the brain drain.
"Our graduates seem to leave and never come back," she said.
New York state loses about a quarter-million college educated students every year, according to Little.
"In other states, they eventually come home. In New York state, they don't come (home), because there's no employment in your home community to come back to," he said.
The economic development strategy needs to be something more original than putting a casino in every county, according to Little.
Little said it is a two-sided coin — whether to educate children so they have the most opportunities available to them or to you focus on retaining them here and rebuilding the community.
Funding education
Another issue is how the state funds education. Little said the funding formula is politically driven.
"It's 76 pages of the most godforsaken gobbledygook you've seen in your life," he said.
Little said the state has never really implemented the funding formula that was created as the result of a lawsuit that said schools were underfunded and students were being deprived of a basic education.
However, Little said if the formula were implemented, it would hurt rural schools because it awards aid on a per-pupil basis.
"We lose in a big way. Statistically, we've lost about a quarter of our kids," he said.
Little said he does not believe the money is the issue as the average amount spent to educate a child in New York is twice the national average. The state spends $70 billion — $10 billion more than the federal government and more than some country's gross domestic product. It is the most heavily taxed and heavily indebted state in the nation to pay for education.
However, he said the issue is that school districts in other states get two-thirds of their funding from the state and one-third from local taxpayers. The state provides funding for the basic level of education and communities can supplement with additional programs.
In New York, that is reversed with one-third coming from the state and the rest falls to the local taxpayers, according to Little.
Less clout
Because of the population loss, upstate has less clout in Albany. Some veteran Republican senators are retiring including Sen. Betty Little, R-Queensbury. They perhaps are frustrated being in the minority and not being able to direct policy.
Another issue is that with so many people who have left upstate, the legislative districts will probably get redrawn after the next census. So, rural districts will get even bigger and meaning that residents will have fewer people representing them.
"We've already have a lack of state leadership north of the Tappan Zee Bridge," he said.
The governor, comptroller, attorney general and leader of both chambers are from New York City.
Mandates, health insurance
Another complaint was increasing state mandates imposed on school districts.
"New York state simply doesn't relieve them," Little said. "They give you a little more money and they give you more to do."
There is never any relief because each one of the mandates came from a piece of legislation that had somebody's name attached to it and nobody wants to let go of anything.
Another concern of the school officials in the audience is the cost of health insurance for small districts. The Affordable Care Act changed the definition of what constitutes a small group for health insurance from between 1 and 50 employees to between 51 and 100 employees.
These small groups are not allowed to participate in an experience-rated plan, which takes into account the health of the members, but are required to go to a community-rated plan. The Legislature has postponed it from going into effect, but school officials are looking for a permanent fix.
"This will hit us at about $310,000 a year as an increase in our health insurance if we're pulled out of that small group health consortium," said Indian Lake Superintendent David Snide.
This was the eighth and final forum the Rural Schools Association held around the state. The organization is taking comments for review by a statewide task force of experts. They will be included in a policy platform to be presented to national and state leaders.