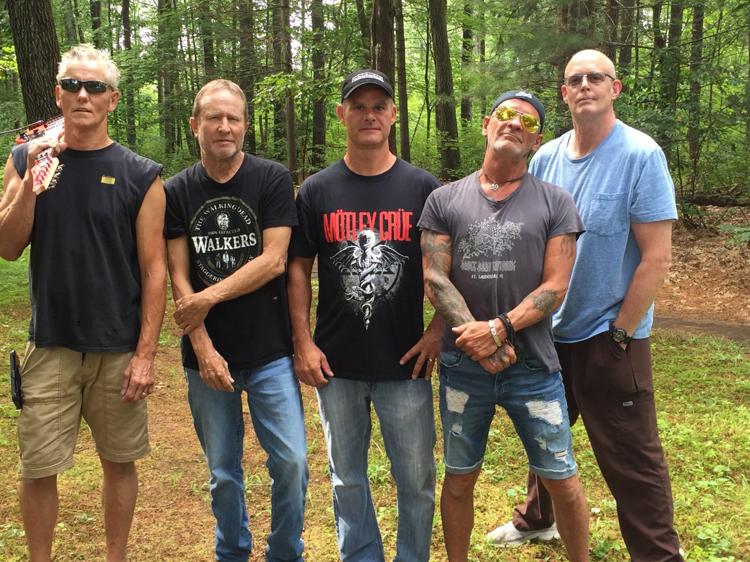 The idea for a reunion concert was hatched in Dan Mellon's head after he stumbled across an old video of him and his Mischief bandmates belting out tunes in 1992 at the former Freddy's on Elm Street bar in Glens Falls, from the days of insanely teased hair and scarf-wrapped microphone stands.
"From then, he became obsessed with finding his old videos," Mellon's wife, Kim, said in a recent interview. "I found one in the shed, and then I found another one. … He's kinda driving me crazy at this point."
But it wasn't until he posted the video on Facebook that the thoughts of a reunion intensified in his head.
"I put it up on a Saturday and by Monday it had 2,000 views," he said. "At the end of the week it had 4,000 views.
"I started thinking, we really should just get everyone together and make an event out of it."
Now that the Aug. 23 show at the Strand Theatre is booked, Mellon's Facebook page is plastered with video footage and photos of the band playing long-closed hot spots like La Cabana, Lake Theater and Freddy's.
There's even must-watch footage from the 1990 Fort Edward prom.
"People started saying, 'What does this mean? Are you going to do a reunion?'" Kim said of Dan's initial Facebook post. "Then he talked to everybody and decided a reunion is a really good idea, and Jonathan Newell at the Strand Theatre in Hudson Falls agreed."
Mellon, 54, started teasing a reunion on Facebook, and then members of the band went on bandmate Shawn Kelly's radio morning radio show on WNYQ-FM 101.7 and announced it.
"I would say that's the Strand's big summer gig," Newell said recently. "There is a lot of excitement already and tickets are about half sold. When I talk to people about it, they are excited to get back a part of their youth for a night."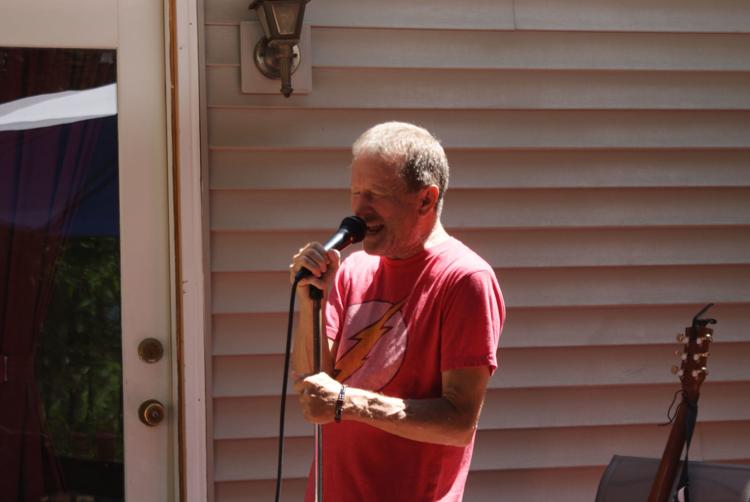 The back of his mind
Kim Mellon said he won't come right out and say it, but she's sure her husband's host of serious health problems caused by a degenerative heart condition played a role in his decision to plan a Mischief reunion event this summer.
Mellon's uncle, Daniel Mellon, whom he was named after, died running on the track during gym class at Glens Falls High School as a 16-year-old with a then-undiagnosed heart condition.
The condition, which causes the walls of the heart to harden and stop properly pumping blood to the rest of the body, is hereditary, and his uncle's younger namesake is also afflicted.
At 30, the Mischief frontman — who in the late '80s and early '90s looked like a cross between Julian Lennon and Def Leppard's Joe Elliott, and who can still belt out hair-band classics despite a failing body and decreased hair — was told he needed a heart transplant.
The transplant happened in 2010.
In 2016, that new heart needed triple-bypass surgery, which is almost unheard of.
The intense drugs he was on to keep his new heart beating in its new body then caused his kidneys to fail. Now he's waiting for a kidney transplant and has been forced to be on dialysis for six years, including these days having to hook himself up to a machine at home for 12 hours a day.
When chasing his other passion, softball, the 54-year-old Mellon must do manual dialysis in-between tournament games.
But softball and music, Kim said, are what keep him going.
"When he woke up after the bypass, he wiggled his hand like he wanted to write, because he couldn't talk," Kim said. "The first thing he wrote was, 'I love you.' The second thing was 'tournament.'"
"It's part of me. It's more than what I do, it's who I am," Mellon said when asked about the role of music in his life. "I'd rather play four hours of music than really anything else, except softball."
But despite being on dialysis for so long, Mellon still isn't on a kidney transplant list because doctors tell him he isn't healthy enough to receive one, having suffered several bouts of pneumonia and infections related to the dialysis.
He's also too thin, doctors say, but he's told he'll be on the top of the list when he's deemed healthy enough.
He recently had heart and blood tests done that showed he's within levels doctors want to get him on the list, and he said he's working to put weight on. He called the doctors with the recent results hoping his name will soon be added to that list, but he has yet to hear good news.
"I was supposed to hear back from somebody but haven't yet," he said during a July 8 interview. "So, I'm just waiting."
Kim Mellon is living the waiting game too.
She's psyched about the reunion concert and Dan's desire and ability to still play softball with his 28-year-old son, Bret. But she stresses about his health and the seemingly endless hunt for a kidney.
"It's not easy. The good days are really good but the bad days can be really bad," she said.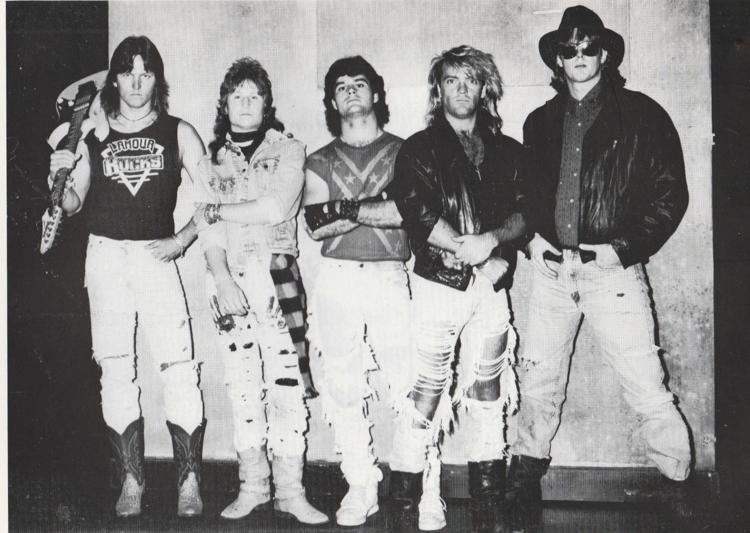 The band
Assembled in 1986, when Poison, Bon Jovi and Motley Crue ruled the airwaves, Mischief was comprised of Mellon, guitarist Chris McMahon, bassist Bob Barker, drummer Rich Cantz and guitarist Bruce Hunke.
When Cantz left for college, Todd Meade became the drummer.
Barker was next to leave, and he was replaced with Cantz's brother, Joe.
Then McMahon left the band, which paved the way for now local radio personality Shawn Kelly to step in on guitar.
It was this formation of the band, Mellon said, that most people associate with when the name Mischief comes up.
"Once he joined, I felt we really had all the pieces," he said of Kelly. "He was legitimately one of the best guitar players I've ever seen, and nobody looked, acted, played and behaved like a rock star more than Shawn Kelly. His band broke up right at the time we needed a guitar player, and we wanted him."
That lineup of Mischief was busy, gigging five to seven nights a week from Lake George to Albany, and they always brought a crowd.
Granville native Ann Peternell, who at 18 was using a fake ID to get into bars to see the band and hear Mellon's voice, said last week that she just learned she has the night off and was jumping online to get tickets for the Strand reunion show.
"I was there every weekend, wherever they were. I was a groupie," she said with a laugh while admitting she had a crush on Mellon — and his great voice. "I had a pillow and quilt in my car and would sleep in it after shows so I wouldn't have to drive home after drinking."
Peternell talked about loving the band's infectious energy, and about her friendship with Mellon, which rekindled when she called him at the hospital after reading about his heart surgery.
"I think music is what keeps him going," she said. "And softball."
For Mellon, life in Mischief came to an end in 1993, primarily because he had a young son at home but also because members of the band were partying really hard at that time and he felt it was starting to disintegrate. The rest of the band carried on for another year or so, and then disbanded.
After a decade or so, however, Mellon started gigging as Mischief again with Joe Cantz and various talented musicians including Micah Scoville, Mike Karcher, Mark Waldinger, Keith Fuss, Chip Carta, Chris Toma and Rob DeSantis.
A version of the band packed JP Brunos on South Street just this past spring, making Mellon realize there was still a desire to see Mischief in action.
At the Strand Theatre, Mischief fans will get a chance to see almost all of the members of the band, from the first lineup from 1986 to the one that played Brunos just this year — and the sons of Kelly and Mellon will also partake on a song with their dads.
Mellon envisioned a chronological journey of the band, but Barker couldn't get out of work in time to lead off the show, so it'll start with himself, Karcher, Scoville and Rich and Joe Cantz.
Lineup two will be a free-for-all on stage, with several members from the various lineups on stage trading licks.
Then, with Barker's arrival, it'll be the original five, capped off by the glory days band with Kelly.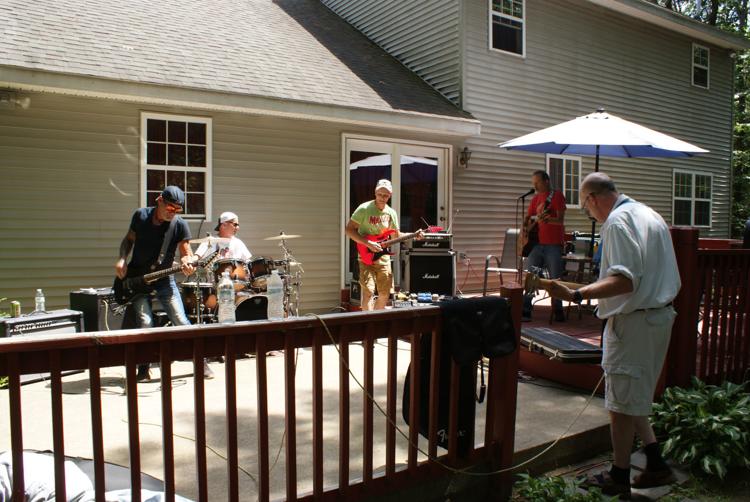 Shedding 26 years and shredding
On July 11, on Meade's back porch in Gansevoort, that glory days lineup plugged in for the first time since 1993 and rocked the neighborhood.
Long gone was the flowing hair, and a little rust was evident. Cantz, a nurse at St. Peter's Hospital in Albany, said he hadn't played the bass in seven years and his 8-year old son Joey, who came with him, had never heard him play.
Hunke, 58, now a contractor, had a little trouble remembering solos he hadn't played in decades, and Mellon sat in a chair out of the sun to sing some of the tunes.
But on Mischief's classic covers, like Poison's "Talk Dirty to Me," the magic was clearly still there. Kelly, 58, was bouncing around like he was performing on a 70,000-seat stadium stage, at times shimmying up to a smiling Hunke, like they did decades ago at Sandy's and Freddy's and the Lake Theater.
Meade was pounding the drum set with boyish enthusiasm while Cantz, 51, flawlessly hammered on his bass strings, often making self-deprecating comments but leaving his bandmates in awe.
"It was like finding a long-lost friend," Cantz said a few days later, reflecting on the practice. "I didn't want to stop playing that day."
And Mellon, despite his weakened body, had plenty of strength in his voice, and directed the practice session, just like he used to.
In between songs, Mellon would critique the playing. Kelly, clearly the comic of the group, would break into a fake British accent. Cantz was marveling at how well his $100 new bass was playing and Hunke proudly told how his wife recently surprised him with a new pink Ibanez guitar, like the signature one he shredded decades earlier but lost track of.
Despite strife among a couple members from years ago that made reuniting highly unlikely, it almost felt like a family reunion. There was a little nervous yet excited tension before the first chords of "Blister in the Sun" were struck, but in seconds it was game on.
"We're psyched! We get to do what we did 30 years ago," said the 48-year-old Meade, the youngest of the group, minutes before they started.
And when a live-music-loving reporter told Hunke he was curious what they were going to sound like, he smiled and said, "I'm curious too."
A few days later, Hunke, who had never been in a band prior to Mischief and joined after answering Mellon's ad he found in a laundromat in 1986, said the practice felt "really, really bizarre, but in a way, it's like we never stopped."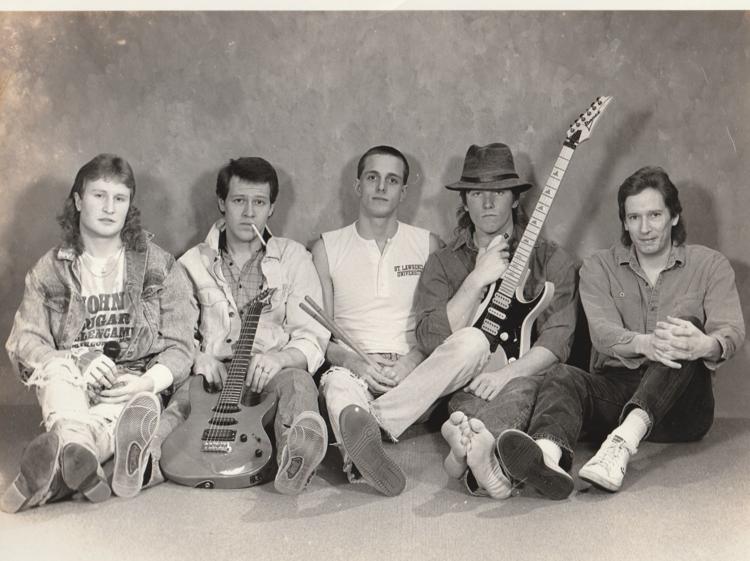 For Dan
Some members of the band played a benefit concert at the former Connie's Roadhouse in South Glens Falls when Mellon had his heart transplant. They know his health isn't great, though it isn't openly discussed in his presence.
So, when he reached out about a reunion concert, all quickly said they were on board, in part because it clearly meant a lot to Mellon but also because they wanted to play.
"I'd do anything for him," Kelly said a day after that first practice. "I just want to create a great memory for him."
Meade, a few days later, said the band was excited to play together again, but given Mellon's health issues, he said there was an even bigger urgency to say yes.
"It's been one battle after another for him and he goes through hell every single day," said the St. Gobain Performance Plastics worker. "It was important to get out with Dan while he still can. Tomorrow is never promised."
Cantz said he thought it was great for Mellon to get them all back together again, "spiritually and emotionally."
But Kim Mellon was correct that her husband wouldn't connect his health to the reunion when asked.
"I don't really think I've thought about it like that," he said initially.
After a brief pause, though, he said: "But if I don't get a kidney, dialysis only goes so far and there's probably not a lot of time left.
"I'm going to keep thinking I'm going to get one, but if I don't, I will have done this (show) and won't have any regrets."
Get local news delivered to your inbox!
Subscribe to our Daily Headlines newsletter.