Dennis Murphy never smoked a day in his life, but he has cancer of the tongue, throat and neck.
"I earned it," he said. "I earned my cancer."
Murphy was a detective with the New York City Police Department and worked in the main morgue on 30th Street and First Avenue in Manhattan, sorting and identifying the remains of fellow police officers and firefighters killed in the Sept. 11, 2001 terrorist attacks.
Most aftermath responders didn't use respirators. They breathed whatever floated in the air, dust filled with invisible chemicals and materials that cause cancer, sometimes incubating for years before cropping up during doctors' appointments and haunting people like ghosts.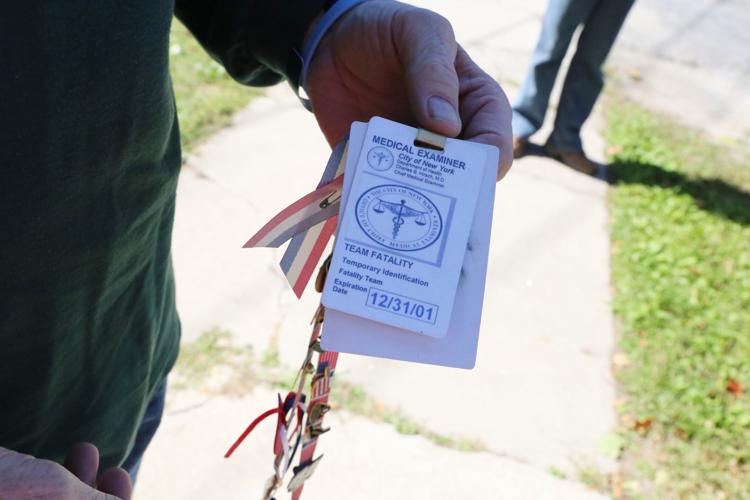 Murphy wasn't diagnosed with his cancer until last year.
"The doctors have told me I'm not curable — 'We can maintain you,' " Murphy said. "I'm not terminal, but basically what helps a lot, the doctors say, is my attitude."
Since his diagnosis, Murphy has become a volunteer with a clinic that is part of the World Trade Center Health Program.
The federally funded program started out screening and monitoring first responders and survivors for various health conditions. In 2011, former President Barack Obama signed the James Zadroga 9/11 Health and Compensation Act, allowing the program to provide medical and mental health services to those present on that horrible day. Some medical conditions that were likely caused by conditions during the 9/11 attacks, and cleanup thereafter, are treated and covered by the program.
Murphy has been part of the program since 2004, and in April 2017, doctors found his cancer.
He has been retired from the police force for about a decade and now lives in the Lake George area. He travels to the Queens World Trade Center Clinical Center of Excellence, part of Northwell Health, for his treatments, and during free time will make phone calls to people who haven't had their medical screenings in a while.
He also makes calls to people who have not yet registered but could be eligible for the program. He has helped more than 100 people get registered, he said.
Lauri Boni, administrative director of the Queens World Trade Center Health Program, said the first responders of 9/11 are often people who don't think about going to the doctor's office to be monitored for a potential illness.
Boni pointed to "World Trade Center Cough," a confirmed respiratory condition caused by dust exposure during 9/11. She said some people have lived with the cough for so long they don't notice it anymore.
"I think if you look at the demographics of the responder population, they're a robust, working-class population, who has not in their history been very dependent on health care services," she said. "They don't necessarily understand the ideas of prevention and treatment. They've been very healthy."
That's why Murphy thinks telling his story is important, because even after being a part of the medical monitoring program nearly from its beginning, 16 years later his cancer manifested.
As of June 2018, just under 72,000 first responders have enrolled in the program, along with about 16,600 survivors, according to the program's website. About 32 percent of responders enrolled are between the ages of 45 and 54. The second greatest percentage of responders are between the ages of 55 and 64, at 26 percent of those enrolled. Most are men, at 71 percent.
After that horrific day when nearly 3,000 people lost their lives, after the grueling and gruesome days cleaning up the rubble and finding the bodies and body parts of loved ones, many first responders moved. Many, including Murphy, migrated north, starting new lives.
Murphy thinks that migration could be another reason why some people aren't signed up for the health program.
"There's a huge influx of downstate people, especially retirees, up to the area, and they might not be taking advantage of the World Trade Center Health Program, and they may not even be aware of it," he said.
Police and firefighters are usually the first people thought of as "first responders," but Boni and Murphy said construction workers, sanitation workers, news reporters, Department of Transportation staff — anyone who was exposed to the dust while working in the city at that time — is covered under the health program. There's an application process to prove that an individual is eligible, and Boni said the longer people wait to sign up, the harder it can be to fill out the application.
"It's important for people to realize, it's just better to get in here," she said.
"It's challenging," she continued, referring to her work and how the program continues to evolve.
Medical conditions that can be treated and covered must be tied back to 9/11. Conditions that are covered are updated as more patients come in. Cancer, for example, wasn't covered until 2012, Boni said.
"It's starting up a new health care plan that's federally administered. That's a challenge. That's not an easy go," she said. "... But it's compelling. It's difficult work. It's difficult to do because you're inventing what you're doing, as you're providing services, but I think the most important thing that we all feel working in these clinics, is we're doing some good."
Murphy's cancer has spread over the year, into his liver and bones.
Tuesday, he was approved for a new trial treatment, which he hopes will staunch the spread and control what he has now.
As he works on healing himself, he works on helping others.
"The program is basically, it's kept me alive for the last 17 months," he said. "... My main mission since getting diagnosed is getting the word out to others, the importance of medical monitoring. I can't say that, I can't say that enough."
Get local news delivered to your inbox!
Subscribe to our Daily Headlines newsletter.