Over the past several months, in between chemotherapy appointments, Dennis Murphy would call senators and congressional representatives and drive to Washington and knock on their doors, calling for them to pass the compensation fund bill for victims of Sept. 11, 2001.
On Monday, when President Donald Trump signed the bill ensuring the extension of the fund through 2092, Murphy was there.
"It was an honor to be up there, and it was an honor to also be there as a representative for those that could not be there that have either passed away, or who are sick, fighting their cancers," Murphy said.
A retired New York City Police detective investigator, Murphy now calls the Lake George area home. Many retired Sept. 11 first responders moved upstate, and Murphy has been an advocate to get them part of the World Trade Center Health Program.
He is also part of the FealGood Foundation, an advocacy organization for first responders started by John Feal, who was a construction worker in 2001 during the demolition work at Ground Zero. The organization was instrumental in getting the compensation fund extension passed, and many of them were at the White House when Trump signed the bill.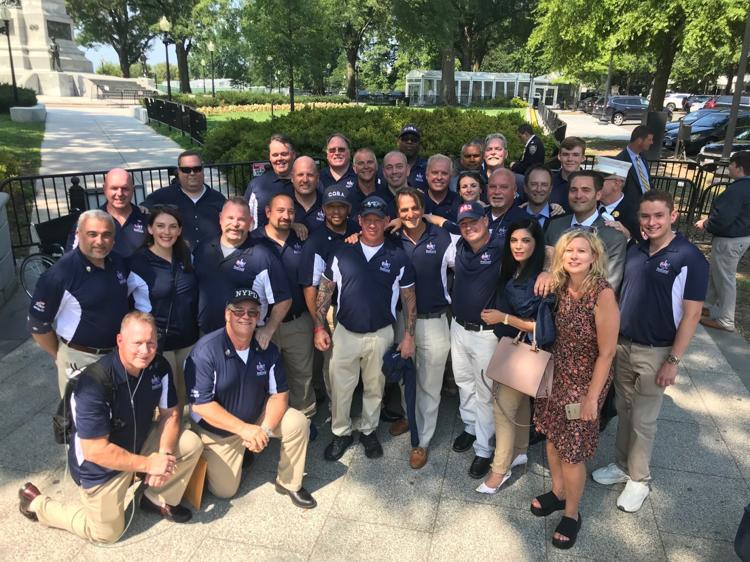 It was another successful hurdle among many for Murphy and his colleagues. He thinks of the passed bill more for his fellow first responders, who don't have a pension, life insurance or other benefits to fall back on.
"Me personally, I don't want the money," Murphy said. "I want my health."
Murphy has cancer of the tongue, throat and neck. It has been tied back to his work at the main morgue on 30th Street and First Avenue in Manhattan, where he helped sort and identify the remains of the police officers and firefighters killed in the 2001 terrorist attacks.
In an interview in September, Murphy said most aftermath responders didn't have respirators.
Cancers are cropping up, in some instances, nearly two decades later. Murphy wasn't diagnosed until 2017.
On Friday, he told The Post-Star, "I'm still here, good days, bad days."
His cancer has metastasized, moving to his bones and liver. His chemotherapy had increased to once a week, then to five and six days a week. His quality of life had deteriorated from the side effects, so he's back to biweekly treatments, which are administered at the Queens World Trade Center Clinical Center of Excellence in Queens.
He's scheduled for a CT scan in the next couple of weeks to see how the treatments have worked.
Despite the bad days, Murphy and his wife have taken the good days to work and work hard.
They were there when Luis Alvarez testified before Congress alongside comedian Jon Stewart to have the compensation fund extended. Alvarez, who was a former New York City Police detective and responder to Ground Zero, died in June from cancer at the age of 53.
"Had Lou not had the strength that day, I was backup quarterback," Murphy said. "I'm glad I didn't have to read his story because he was compelling. He did a phenomenal job."
On Sunday night, they drove down to Washington. Murphy was one of about 60 first responders at the White House for the bill signing.
He was interviewed for NBC Nightly News with Lester Holt and WCBS NewsRadio 880 through stages of the bill passing.
Murphy hopes the victims' compensation fund will help, understanding the fear of instability and the unknown when a loved one has passed.
"This is going to help a lot of people," Murphy said. "It means a lot to a lot of people."
Get local news delivered to your inbox!
Subscribe to our Daily Headlines newsletter.