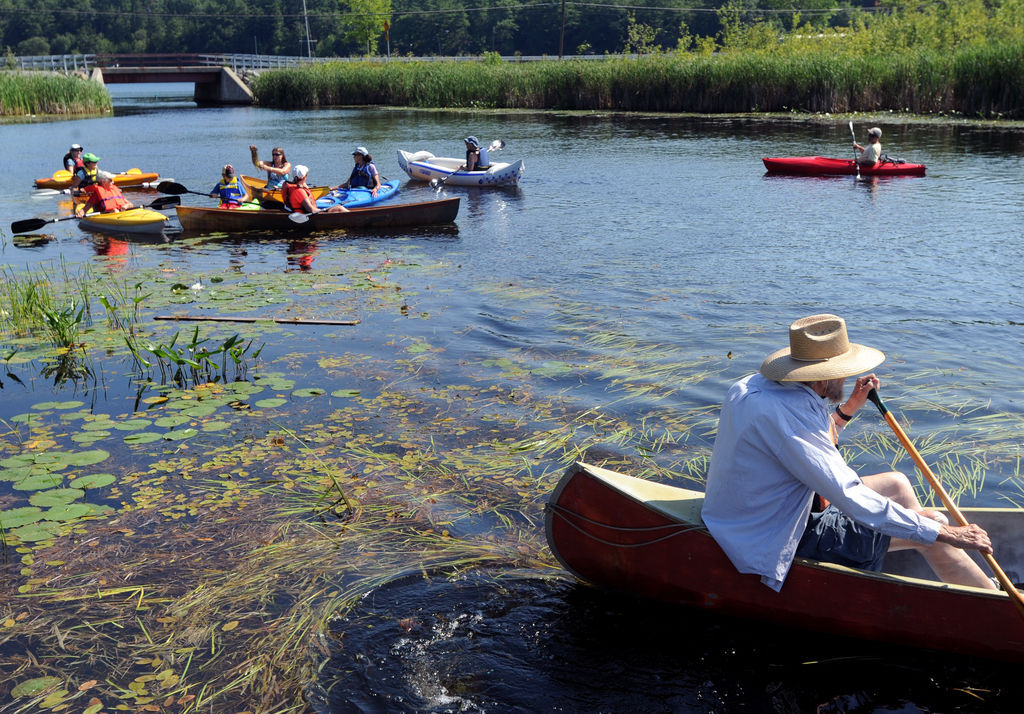 New York's Department of Environmental Conservation can be doing more to prevent the spread of invasive species, according to a report released Friday.
The report, issued by the state Comptroller's Office, acknowledged the department has taken action in recent years to stop the spread of invasive species, but it found additional steps are needed.
Preventing the spread of invasive species has been one of Gov. Andrew Cuomo's top priorities in recent years, particularly in the Adirondack region where invasives threaten thousands of acres of wilderness.
In Lake George, species like Eurasian milfoil steal resources from native plants. Eliminating them is key to preserving water quality and maintain the lake's overall health.
Between April 1, 2017 and Aug. 22, 2019, auditors examined a number of DEC protocols, including boat inspections and the issuing of environmental-work permits, and found the agency has been coming up short.
Some permits, auditors found, were issued with no plan for mitigating the spread of invasive species, and visual boat inspections weren't always performed.
DEC largely agreed with the findings, saying better enforcement is needed to ensure boat inspectors are doing their jobs, and steps should be taken to ensure the permitting process doesn't spread invasive species.
"We generally agree with the recommendation and will work to further strengthen internal controls associated with the monitoring of boat stewards, subject to DEC oversight, to ensure they are performing their assigned duties," the agency said.
Boat inspections
In recent years, DEC has established a system where boats are inspected when entering and exiting the water across public boat launches throughout the state.
But auditors found only 194 of the state's 837 public boat launches had an inspector present during the 2019 boating season. DEC said it contracts for inspectors at 158 sites, while the remaining 36 sites have inspectors paid for by private groups.
The other 643 boat launches are supposed to have signs to alert the public to the dangers of invasive species.
Of the 194 boat launch sites with inspectors, 42 are considered "high-risk areas" for invasive species. Auditors visited 30 of those sites and found inspectors at just 11.
In some cases, auditors witnessed inspectors failing to inspect boats, and noted some inspectors did not make records of an inspection being performed.
"In some instances, the location of the steward's inspection station did not allow a clear view of watercraft launching or exiting, likely limiting the steward's ability to identify boats for inspection," the report found.
Auditors visited 100 of the 643 boat launches that were supposed to display signs alerting boaters to invasive species.
No such signs were found at 45 of the sites, and the signs were not properly displayed at eight others, auditors found.
Permitting issues
Auditors also examined a small sample of the 2,314 environmental-work permits issued by DEC across the state for various projects, including logging, dredging and shoreline repair.
The permits are issued by the department's 10 regional offices. Auditors examined 150 permits from three of those offices.
A total of 146, or 97%, involved projects that could potentially spread invasive species. Of those permits, 123 did not include any conditions to prevent the spread of invasives.
The remaining 23 did have conditions on stopping the spread of invasive species, but auditors found no guidance in place to ensure those conditions were fulfilled.
"In some cases, regional staff did not monitor any provision of the permits," the report reads.
Auditors recommend DEC adopt clear polices to fight the spread of invasive species.
"Clear policies, procedures, and guidance would enhance consistency among regions for mitigation of the spread of invasive species and provide a standard the department could use in its oversight function," the report reads.