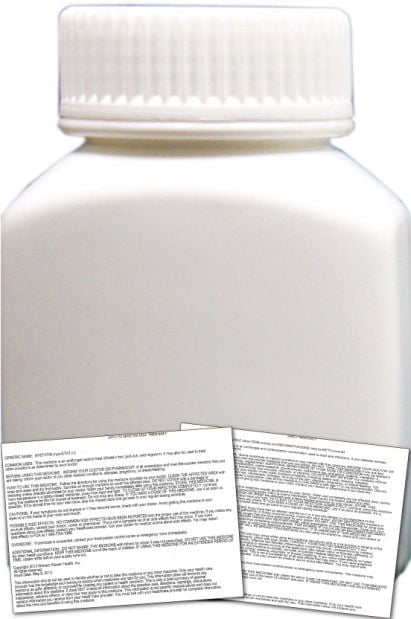 GLENS FALLS -- Finch Paper believes a proposed law aimed at safeguarding the nation's prescription drug delivery system is flawed.
Finch, which manufacturers premium printing paper, is taking issue with a clause added to the Safeguarding America's Pharmaceuticals Act of 2013, which was overwhelmingly passed Monday afternoon in a voice vote by the U.S. House of Representatives.
That vote came shortly after Finch Paper reached out to U.S. Reps. Chris Gibson and Bill Owens, asking them to oppose the bill.
The paper manufacturer said a provision in the proposed law would hurt its business and make it tougher for some people to get important information about their prescription drugs.
The provision would allow drug manufacturers to provide drug information — other than the information contained on the box or container — electronically, rather than including printed instructions with each prescription.
"There are a number of problems with this bill, and we hope our congressional representatives will take prompt action to correct them," said Finch Paper President and CEO Deba Mukherjee, in a prepared statement. "By eliminating the use of paper for these vital health care communications, the bill will take away a key source of business for the printing paper industry.
"What's more, the bill will force senior citizens and everyone else to seek out vital information about their prescriptions online, even if they are not comfortable using the Internet or have poor or no Internet service."
The provision in question also requires printed instructions be provided to a patient upon request and at no additional cost. The overall act spells out steps to be taken by drug manufacturers and sellers throughout the delivery system to weed out fraud and unsafe drugs.
Finch Paper did not indicate how much business it or other paper manufacturers stand to lose if all drug makers opt to provide the necessary information online.
Owens, who missed the voice vote in the House because he was traveling to Washington, said he would have voted against the bill, which still has several steps to take on its way to being enacted.
The companion legislation in the Senate does not appear to contain the language Finch is targeting, Owens said, so if the Senate passes its version of the act, the two versions would have to be reconciled in conference before final approval.
Owens said Tuesday he's hopeful the language can be eliminated in the process.
"Should the Senate move to take up this legislation, I will do what I can to communicate our local concerns in the Senate and inform New York's senators of my opposition to certain provisions in the bill," he said Monday. "In the meantime, I will introduce a statement into the Congressional Record to help convey to my colleagues the concerns shared about this legislation by some in the local community."
Owens said he believes the provision to allow drug information to be posted online rather than in printed
form with prescriptions was likely aimed at reducing fraud, since the overall legislation appears to target crimes that include substituting generic, fake or unsafe drugs for legitimate drugs by repackaging them.
"That's clearly part of the concern," Owens said. "I believe they are looking at counterfeit drugs — drugs that are not doing the job that they were intended to do or ... drugs that don't contain necessary ingredients. There have been a couple of examples of that that have occurred over the last couple of years."
But if the bill restricts access to critical information about the drug, Owens said that would be a bigger concern for him.
"If there were an amendment that would allow us to strike that provision and then vote for the rest of the bill, I would do that, but there isn't that possibility today," Owens said before Monday's vote.
Gibson's office did not return calls Tuesday for comment on the legislation.
Finch Paper employs about 650 people at its Glens Falls plant.