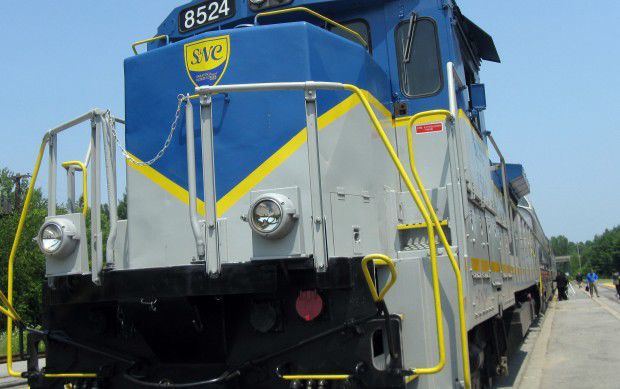 Saratoga & North Creek Railway is again proposing storage of hundreds of train cars on its line north of North Creek, two years after a plan to put empty oil tank cars on state forest preserve lands sparked controversy.
The railroad's manager, Justin Gonyo, told Warren County supervisors that the company plans to bring in "several hundred" train cars, which had not been used for transportation of hazardous materials, for indefinite storage on the Tahawus stretch of the rail line, which runs from just north of North Creek through North River, Minerva and Newcomb.
He would not elaborate on the number of cars or time period involved, or say exactly where on the line they would be put.
"We have the capacity and this is revenue for us," Gonyo said. "This is very good news for SNC."
The cars are coming from a variety of locations, as owners look to store them when they are not in use, Gonyo said. They were en route to the region this week and would arrive in Warren County next week, Gonyo said.
The cars would be put north of the stretch of rail line used by Revolution Rail Co. for rail bike trips, so it would not affect that new company's operations.
You have free articles remaining.
The oil car proposal in August 2015 generated significant opposition among Adirondack and environmental groups, which had concerns about the potentially hazardous element and the legality of putting them on a line that had been unused for decades in the state forest preserve. Saratoga North Creek then wanted to put empty tankers in Corinth, but that idea died amid backlash as well.
The county receives a portion of the rail company's revenue from freight traffic, but does not for storage. So it will get some money from each car that is brought across the tracks, but not for what the company is paid to hold them.
Gonyo said the cars could be placed on sidings so that the rail line to and from Tahawus, needed to remove additional stone from the former NL Industries mines there, will remain open.
Numerous county supervisors had questions about the proposal, such as length of the cars' stay and their number, but Warren County Attorney Brian Reichenbach told supervisors the county had limited options in the situation.
Saratoga North Creek leases the rail line from Saratoga Springs to North Creek from the town of Corinth and Warren County, but owns the section to the north outright.
"The railroad is their own land," Reichenbach said.
Saratoga-North Creek has run tourist trains on the line for more than five years, but has had difficulty finding freight customers. It had purchased the Tahawus line believing that there would be interest in the stone, but efforts to find markets and arrange shipment of it has been difficult.
That has resulted in financial problems, with a landlord recently locking the company out of a storage building because of unpaid rent. The company is also behind on its revenue payments to Warren County.