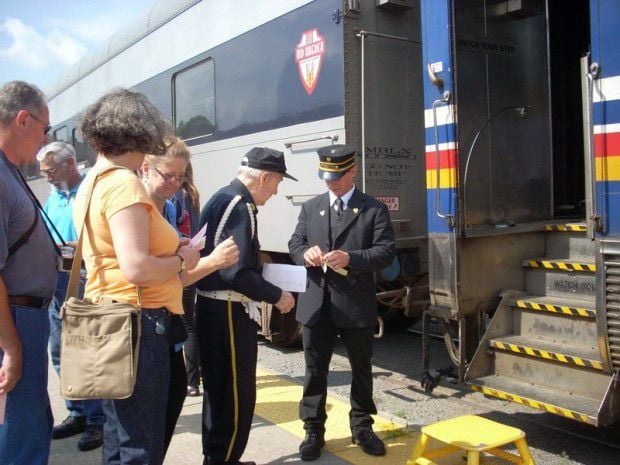 QUEENSBURY — Warren County leaders and representatives of the company that wants to run trains on its rail line held their first negotiating session Thursday, and no deal was reached.
Executives from Las Vegas-based United Rail Inc. met with county and town of Corinth leaders for their first sit-down session. Representatives of both sides said Friday they felt good about the prospects for a deal afterward.
County Administrator Ryan Moore, part of the negotiating team, said the session was productive, and he was optimistic a deal could be reached.
But he said the sides still have some hurdles to get over. And that seems to lessen the likelihood of the fall tourist train runs that United Rail hopes to get going.
"We're still a ways out from potentially getting to a deal," Moore told Warren County supervisors on Friday.
One of the issues is that United Rail is interested in a "lease to own" deal for the rail line but Warren County supervisors haven't agreed to sell it, he said.
"If you sell it, you get rid of the red ink and the liability, but you lose control of it," Moore said.
Glens Falls 3rd Ward Supervisor Claudia Braymer, an attorney who is on the county negotiating team, said United Rail's proposal is so far "lacking in critical details" as to the services that would be offered and details about the finances that would be needed to live up to a potential contract.
"We need a lot more information to come to a clear decision as to what is best for Warren County," Braymer said.
The negotiating team will make recommendations to the county Board of Supervisors and Corinth Town Board as they consider a formal agreement.
Jon "Jack" Kelley, the Saratoga County economic leader who is working with United Rail's team, said the meeting was productive.
"We feel very positive," he said. "Most importantly, we agreed to meet again."
He said it was too early in the process to say whether the goal of fall trains could be met, but added, "Every day that goes by takes us out another day further."
United Rail's team spent more than two days meeting with leaders up and down the rail line, from the Saratoga County Tourism & Convention Bureau to North Creek business leaders and current and former Johnsburg, Newcomb and Minerva supervisors.
He said many were optimistic and hopeful for a return of a viable railroad that brought visitors to town.
United Rail is the last of four companies that proposed buying and/or leasing the county rail line in the wake of the demise of Saratoga & North Creek Railway last year.
SNCR was a subsidiary of Iowa Pacific Holdings LLC, and left the region owing Warren County tens of thousands of dollars after a controversy over rail car storage on a northern rail line Iowa Pacific owns north of Warren County's stretch of rails.
United Rail is in negotiations to buy that line, between North Creek and the Tahawus stone mines, as well.
Get local news delivered to your inbox!
Subscribe to our Daily Headlines newsletter.