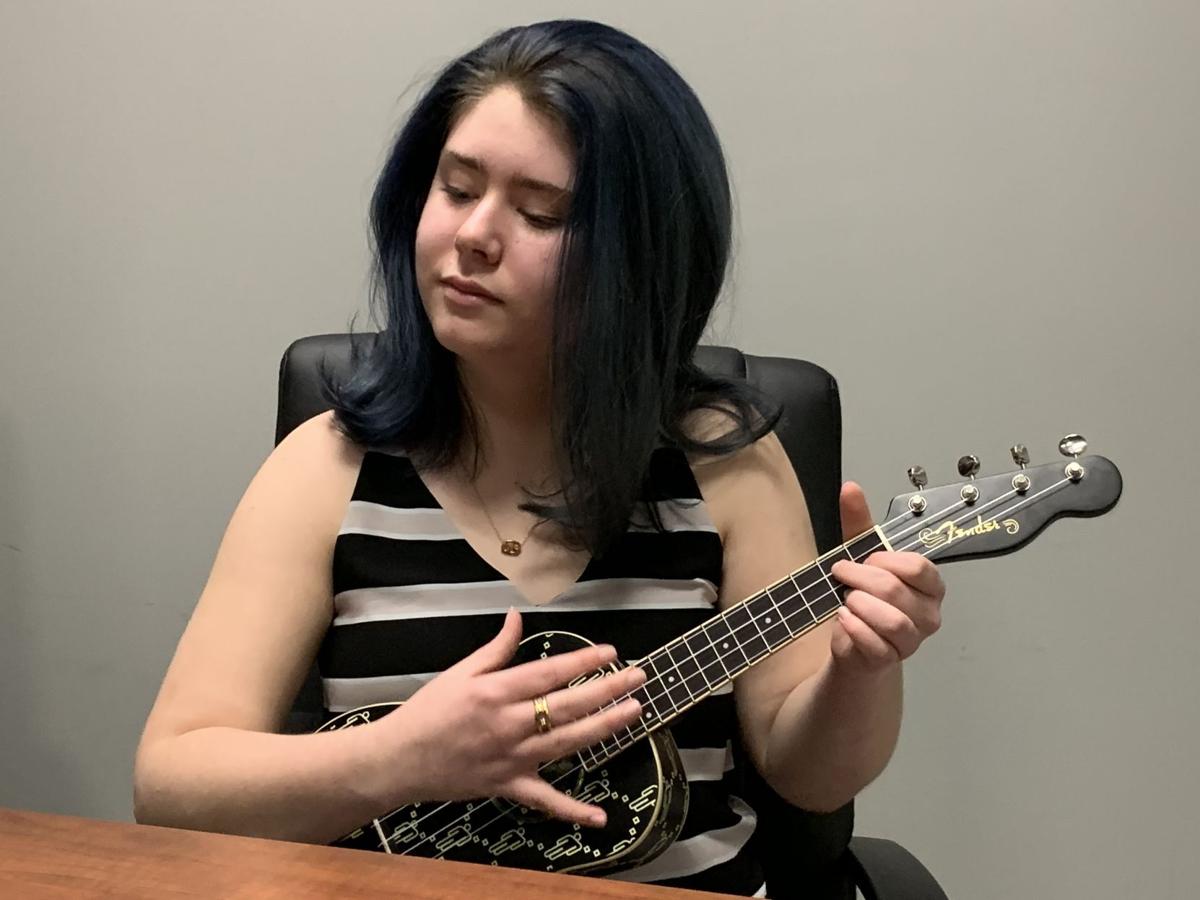 QUEENSBURY — Veronica Dennis strummed her yellow and black ukulele and closed her eyes.
Her blue-streaked hair bounced around her shoulders as she belted out a passionate and solemn song called "I Will Fight."
"It's really just saying that me and my friends can be whoever we wanted," Veronica said. "'I Will Fight' is saying no matter what you think of me or who you think I'm going to be, I'm going to be who I want to be."
Veronica, also known by her stage name RoseGold, has released her debut EP, appropriately titled "Blue Haired Girl." The album contains eight original songs — including "I Will Fight" — all written by the 14-year-old Queensbury ninth grader.
Veronica collaborated with producer, musician and songwriter OGKush The Alien, also known as Stephen Metivier, in September of 2020. His music production company is Goode Carma Music.
Metivier saw a video of Veronica on Facebook performing "I Will Fight" and was blown away by her talent.
"RoseGold has a unique jazz-type, old-soul vibe voice, classically trained with a unique sound that I dig because it's so original," Metivier said.
He equates her to artists Billie Eilish, Jewel and Lorde.
"Her sound is still developing, given her age," Metivier said, "but based on my experience I believe her raw talent is only going to allow her to get better and better."
Apple Music describes RoseGold's music as indie rock, but Veronica said she doesn't necessarily have a genre yet.
"I'm doing all these different kinds of music," she said, "but I'd like to say that I kind of steer toward pop."
Veronica has been singing since she could talk and started composing her own music in sixth grade.
"She's always had a talent for composing music, which I always thought was pretty rare," said her mother, Heather Ballek, a local real estate agent.
Releasing this album was the first step in pursuing what she hopes will be a career in music. Her songs are now available in 70 countries on more than 130 streaming sites, including Pandora, Spotify and Apple Music.
Reality — and excitement — set in when she asked her Google Home speaker to play one of her songs.
"When we discovered that, that was really fun," Ballek said.
Veronica wrote "every single word" on the album, inspired by her own personal experiences and her friends' lives.
"I kind of almost put my feet in their shoes," she said, "and I kind of just write the songs to tell them that everything's going to be OK, and I hope that you understand that I'm here for you."
Metivier said RoseGold's music is real and raw, a sign of the times in terms of how teenagers are feeling about the pandemic.
"It's a look into how our kids think," Metivier said. "It's so creative and unique. I am thrilled to be a part of RoseGold's journey."
"Her sound is still developing, given her age ... but based on my experience I believe her raw talent is only going to allow her to get better and better." — Stephen Metivier, producer, musician and songwriter