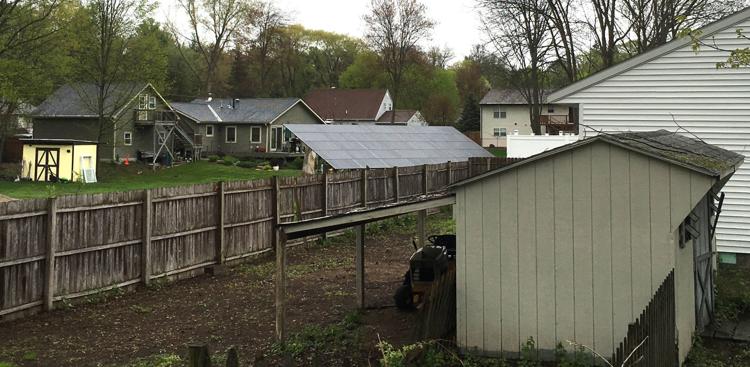 QUEENSBURY — No more walls of solar panels will be allowed in small neighborhoods in town.
After Apex Solar constructed a 16-foot wall on Haviland Avenue, neighbors complained and officials learned they had no laws on the books that regulated the practice. Apex Solar had helped develop the rules and never suggested the town consider restrictions on ground-based solar. So the town had rules only for rooftop solar.
That left the Haviland Avenue neighbors with a wall of panels that directed the sun's glare into their windows and blocked views.
In less than seven months, the Town Board has drafted a law that would drastically limit the practice.
No ground-mounted solar would be allowed on properties smaller than 1 acre under the new law.
Panels would be limited to 12 feet in height, and the total surface area can't be larger than the area of the ground covered by the largest building on the property. In other words, the panels can't be larger than the owner's house. Patios, decks and porches don't count in the calculation of the house's surface area.
The draft law also adds regulations for solar thermal systems, which are rare right now but could become popular, Town Board member Catherine Atherden said. All regulations for ground-mounted solar panels would also apply to solar thermal systems.
Among the rules in the draft:
Ground-mounted solar will be allowed in all zoning districts.
All solar panels must be at least 75 feet from the property line.
No ground-mounted systems can be placed in the front yard.
The systems must be screened with landscaping, fencing or other items to "harmonize" with the character of the area, but the rules don't require screening that would block the panels from absorbing sunlight. In other words, tall trees would not be required.
However, the systems must be located in such a way as to minimize the effects on neighbors, including shade that falls on other properties or glare.
If a buffer area is required on the property, ground-mounted solar cannot be placed there.
The law would not affect the large panel on Haviland Avenue, since it was constructed before any rules were in place.
The law will be reviewed by the Town Board, which will hold a public hearing prior to a final vote.
Get local news delivered to your inbox!
Subscribe to our Daily Headlines newsletter.