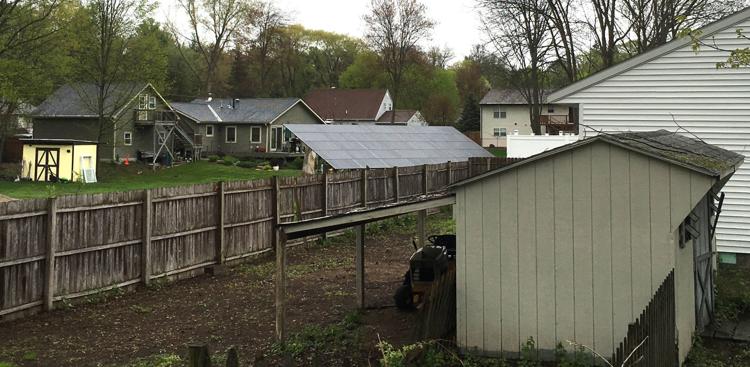 QUEENSBURY — The Town Board is powerless to remove a 16-foot-tall reflective wall erected 3 feet from a homeowner's property line, but the board plans to make sure no one else can do the same thing.
Board members have been looking into an issue on Haviland Avenue, in which a ground-mounted solar panel has been dazzling neighbors' eyes, literally.
One neighbor now has to close his curtains from 1 to 6 p.m. because of the glare from the solar panel. Another neighbor's view out his windows is now a 50-foot-wide black wall and the sky above it.
The panel was erected in a tight neighborhood, in which houses were already very close to each other. Adding a solar panel to the mix has ignited a feud.
Board members aren't happy. They don't think it's an appropriate place for such a large structure. But there is nothing they can do, they learned.
"We didn't see this coming," said board member Tony Metivier.
The panel was approved as a "structure" because the town has no regulations on ground-mounted solar installations, Supervisor John Strough said.
Metivier said the board simply didn't realize that could happen when it created regulations for roof-mounted solar.
"But you can put a shed on your property line," he said. "If you deem this a structure ... you could get a permit."
Now board members want to ensure it never happens again. They are considering requiring a 50-foot setback for ground-mounted solar, so that panels can't be placed in tight residential neighborhoods.
"That will prohibit your quarter-acre, half-acre and probably even your one-acre" parcel from having ground-mounted solar, Strough said.
Resident John Hoy asked whether the new rule would get rid of the solar panel next to his property.
The answer is no, Strough said. When it was built, it was legal.
"The deal is, we didn't have any laws restricting it," he said. "There probably is nothing we can do."
Hoy has found his own solution, though. He planted a tree on his property line, which is also legal.
"In 10 years, it'll cover his solar panel real good," he said.
Board members said they would like to discuss the issue with Brent McDevitt. He is a town Zoning Board member and a sales representative for Apex Solar (Corrected), which installed the solar panel.
They also said they plan to move quickly to stop Apex from doing it again.
"This is just the beginning. They're making money on this," said board member Catherine Atherden, who has been a champion of solar.
Metivier added that Apex made a big mistake in agreeing to put a solar panel at the edge of a customer's property.
"This is why we have laws, because stuff happens," he said.
Board member Jennifer Switzer agreed. "Unfortunately, Mr. Hoy is going to have to live with this, so let's learn from his experience," she said.
Board members did not discuss why their building department approved the solar panel permit, nor did they discuss whether the panel was actually built closer to Hoy's property line than described in the application.
Hoy said the panel is 3 feet from his property line. Indeed, the angled panel appears to be right next to his fence. But the town may measure from the footings, which are in the middle of the panel. The permit application says the panel would be installed 20 feet from the property line.
Hoy also said his neighbor, Steve Joiner, described the solar panel as a money-making lease to Apex. But McDevitt said Apex isn't leasing the panel from Joiner.
"Steve Joiner bought the system," he said. "We do not work in the leasing environment."
As for the project, he said Joiner wanted enough solar power to have a "zero" bill from National Grid. But his roof didn't have enough room for the number of solar panels that would be needed. It would only generate 60 percent of the energy needed.
"The roof was not large enough," he said.
So they added a ground-mount panel.
"We got him to the 100%," he said.
As an experienced solar installer, he said many municipalities have setback requirements for ground-mounted systems.
"Ten or 20 feet is common," he said.
But despite being part of a push to encourage solar in town, and being a member of the Zoning Board, he didn't suggest the rule to Queensbury.
That didn't mean he took advantage of the town's lack of rules, he added.
"I don't believe we overstepped," he said. "We didn't push the envelope at all. We operated entirely within the confines of the town code, or the lack thereof, in Queensbury at the time."
He added that a 50-foot setback is too much.
"We're talking about what I would describe as an over-correction," he said.
When asked if he regretted building the solar project that may lead to a 50-foot setback, he said no.
"We are proud of that system," he said. "That panel is doing very, very well."
If the Town Board adds a 50-foot setback, McDevitt will be in the awkward position of being on the board to which Apex would appeal if it wanted relief from the setback. He would have to recuse himself in that case.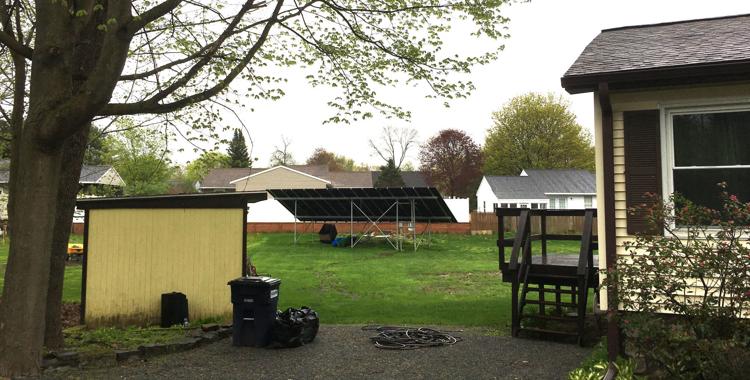 Get local news delivered to your inbox!
Subscribe to our Daily Headlines newsletter.