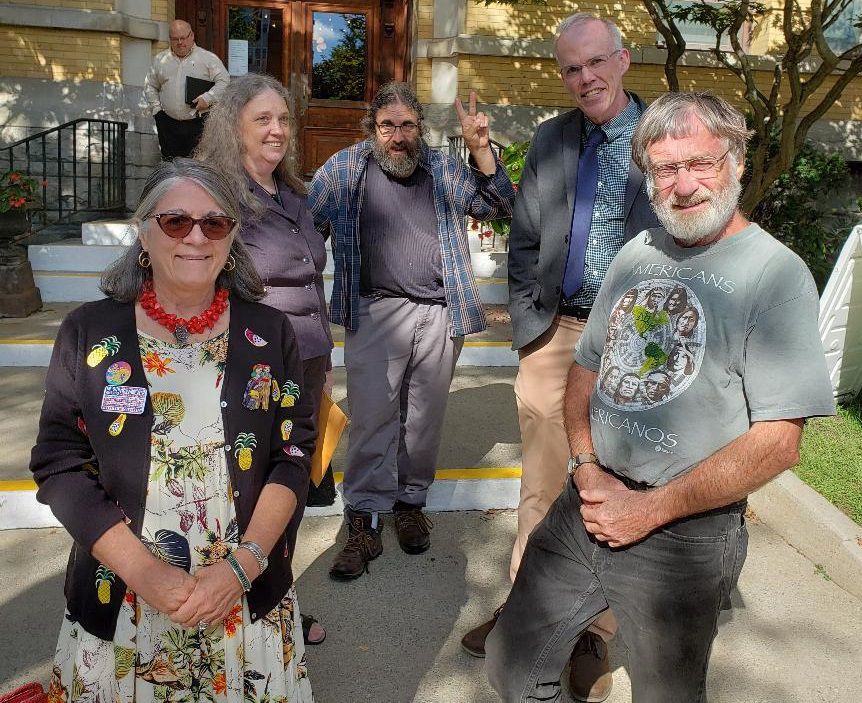 GLENS FALLS — The attorney for the six people arrested last month for refusing to leave the Glens Falls office of U.S. Rep. Elise Stefanik is seeking to have the charge against them reduced from a misdemeanor to a violation.
Jeffrey Halpern, Paul Hancock, Linda LeTendre, Peter Looker, Bill McKibben and Eileen Reynolds were arrested Aug. 8 following a protest that called for the closure of migrant detention camps at the U.S.-Mexico border.
They went into the office of Stefanik, R-Schuylerville, seeking to speak with the congresswoman either by phone or Skype. The group refused to leave the office and were arrested and charged with misdemeanor third-degree criminal trespass.
Albany attorney Kathy Manley sent a letter dated Aug. 22 to Glens Falls City Court Judge Gary Hobbs seeking to reduce the misdemeanor charge to a noncriminal violation.
Manley is arguing her clients should not have been charged with a misdemeanor third-degree criminal trespass because the statute requires that the building in question must be "fenced or otherwise enclosed in a manner designed to exclude intruders," her motion said.
Manley cited cases in which third-degree criminal trespass charges were dismissed because they did not meet this threshold.
"There do not appear to be any published cases where third-degree criminal trespass charges have been upheld in a situation where, as alleged in the instant case, the defendants entered a location where the public generally was allowed during business hours and then refused to leave after the building was closed."
Hobbs and the Warren County District Attorney's Office needed more time to review the request, and the matter was rescheduled to Sept. 26 at 9 a.m.
Manley said the prosecution has until Sept. 19 to decide whether to oppose the motion.
Absent from court was Glens Falls resident Hancock, who is out of town at a wedding, and Reynolds, of Voorheesville, who was sick.
The protesters talked afterward about their experience and reasons for getting arrested.
McKibben lives in Vermont and is an environmental writer and author of "The End of Nature."
He said he is concerned about the impact of climate change on the refugee crisis.
"A lot of people show up at the southern border (because they) can't farm anything because it's gotten too hot, too dry," he said.
He and others wanted answers about the migrant crisis, but the congresswoman's aide said Stefanik was not available to talk. Then they were asked to leave.
"Her staff said her office was closed as of 3 in the afternoon," he said.
When they refused, the police were called. The protesters said the police treated them very respectfully.
McKibben chronicled his experience in a piece for The New Yorker magazine.
Looker, a resident of Glenville, said the group wanted answers from Stefanik about what they can do about the climate crisis so there are not more refugees.
Halpern, of Galway, said the conditions these children are living in at the detention camps are horrible.
LeTendre, who lives in Saratoga Springs, said she has been arrested about 30 times for civil disobedience. She wanted to get answers from Stefanik about the crisis at the border and why the government is taking migrant children away from their parents and putting them in detention centers.
"The time to stand up is now," she said.
Get local news delivered to your inbox!
Subscribe to our Daily Headlines newsletter.