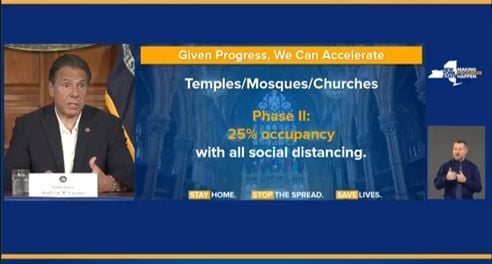 Local residents who participated in recent protests speaking out against the death of George Floyd are eligible for a COVID-19 test, Warren County officials announced on Saturday.
Warren County Health Services and Hudson Headwaters Health Network are encouraging residents who participated in these recent local events speaking out against racism and police brutality to get tested for COVID-19.
People can contact their physician or urgent care center to schedule an appointment at the Glens Falls Hospital/Warren County Health Services testing site at Warren County Municipal Center. The testing site is open to residents of Warren, Washington, Saratoga, Hamilton and Essex counties.
Hudson Headwaters Health network is also offering testing at two sites in Warren County. People who would like to make an appointment at the West Mountain Health Services site in Queensbury should call 518-824-8610. Call 518-623-2844 to arrange an appointment at the Warrensburg Health Center.
Warren County Health Services Director Ginelle Jones said in a news release that it can take up to 14 days from the date of viral exposure to develop COVID-19 symptoms.
Jones said people attending protests should wear masks and maintain social distancing.
Warren County announced the initiative on a day when there were no new COVID-19 cases to report. The total remains at 244 cases, with 117 involving residents in nursing homes, 12 in assisted living and 115 in the community.
One patient was in critical condition as of Saturday. The number of deaths remained unchanged at 33. A total of 27 lived in a nursing home before they contracted coronavirus, four in assisted living and two lived at home.
In Washington County, the number of cases remained at 208 and number of recoveries stayed the same at 185.
Saratoga County had one more death, a 62-year-old male from Saratoga Springs, bringing the total to 17. The number of COVID-19 cases increased by two to 502. Four people are hospitalized.
Essex County had 53 cases and one person still ill as of Friday.
Statewide, the number of deaths dropped to 35 — 26 in hospitals and 9 in nursing homes.
"We'd like to see nobody die in the state of New York ever, but this is really good news. Compared to where we were, this is a big sigh of relief," said Gov. Andrew Cuomo at his daily coronavirus briefing.
Religious institutions can open at 25% capacity
The continued good health data prompted Cuomo to accelerate the reopening schedule. Cuomo on Saturday announced that religious institutions can reopen at 25% capacity, effective immediately.
Also, Cuomo signed a law banning price gouging on N95 masks and other personal protective equipment. The price increased from 70 cents per mask before the pandemic to $7 during the pandemic, according to Cuomo.
Cuomo also reacted to the news that criminal charges were brought against the two Buffalo police officers that are accused of shoving a 75-year-old man to the ground. He said he believes that charges are warranted based upon what he saw on the video.
"If you have something different than what I saw, then tell me because I know what I saw, and what I saw was terrible," he said.
The suspension of the two officers involved in the incident prompted all 57 members of the emergency response team to resign in protest from the detail.
Cuomo said law enforcement officers want to weed out their bad officers.
"A bad police officer is the enemy of every good police officer," he said.
Cuomo also called for the Legislature to pass the "Say Their Name" agenda, which would allow certain disciplinary records of officers to be released; ban chokeholds by law enforcement officers; make false race-based 911 reports a crime and designate the attorney general as an independent prosecutor in investigations of the deaths of unarmed civilians caused by police officers
"This is national moment for change and New York is going to lead the way on this change," he said.
Get local news delivered to your inbox!
Subscribe to our Daily Headlines newsletter.