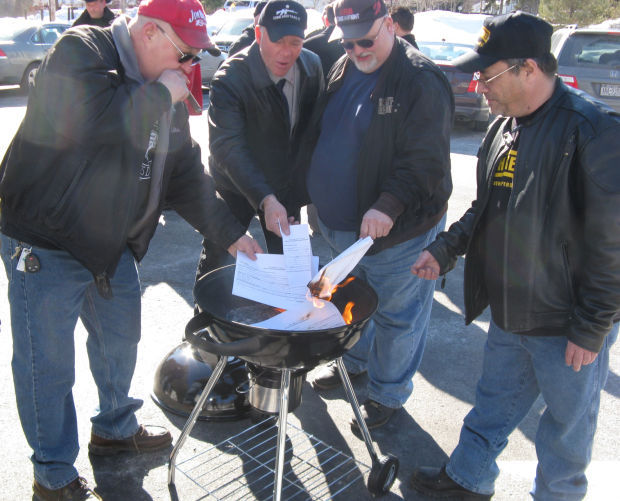 SARATOGA SPRINGS — Nearly a thousand gun registration forms were turned into ashes Sunday.
The forms are used for people to register with New York State Police firearms that meet the state's definition of military-style assault weapons. The deadline is April 15. Gun rights advocates gathered at the Saratoga-Wilton Elks Lodge 161 to burn the papers in a symbolic protest.
E.J. Stokes, leader of the Warren County chapter of New York Revolution, said he was participating because he believes in the U.S. Constitution.
"Once the Second (Amendment) falls, the rest will go with it. It's an unconstitutional law, done in the middle of the night with no input from the public," he said.
The event was organized by the NY2A Grassroots Coalition. NY2A co-founder Jake Palmateer said the goal is for people not to register their assault weapon as an act of civil disobedience.
"We are opposed to registration because the evidence is clear that registration leads to confiscation," he said.
He and others hope that so few people will fill out the forms, that the registry portion of the SAFE Act "collapses under its own weight."
He estimates that less than 3,000 New York assault weapons have been registered and he says Sate Police estimated that there are several hundred thousand. The gun industry believes the number may be high as 1.2 million, according to Palmateer.
He added that similar gun control legislation in Canada proved to be unworkable.
The second purpose of the event was to kick off advocacy efforts for the 2014 election. NY2A will be vetting Assembly and Senate candidates for their stance on gun rights.
"Make sure we are putting people in who are pro-civil rights. Ultimately, this is a civil rights issue," he said.
The SAFE Act infringes on due process rights, the right to privacy and the right to equal protection under the law, according to Palmateer.
About 230 people attended a forum to discuss the issue before the burning. Similar forums held across the state have been well attended, Palmateer said. Gun groups will be holding a big rally April 1 at the state Capitol.
Kevin Sisson, a Carlisle councilman in Schoharie County, said he and others are defending the Constitution.
"We are not extremists," he said. "We are simply free men who love our country."