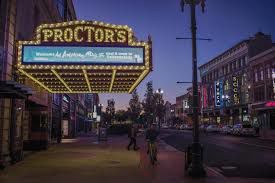 Proctors furloughed 80% of its employees Tuesday, citing the possibility of not being able to reopen for two months or more.
But the theater urged patrons to hold on to their tickets for postponed performances and to subscribe to the 2020-21 seasons at Proctors and theREP.
"We need to ensure we have full houses as soon as we reopen our doors," said CEO Philip Morris. "That support will accelerate our recovery."
The decision was made after the Centers for Disease Control and Prevention said Sunday that gatherings of 50 people or more should be postponed or canceled for eight weeks. That means it could be mid-May or later before Proctors venues reopen for performances and classes.
The closures came just as Proctors was extending into new ventures – and thus had limited capital for a sudden loss of all revenue.
Proctors Collaborative just opened Universal Preservation Hall in Saratoga Springs on Feb. 29, and is planning to open a new Albany home for theREP in July.
"In the context of what looked like a bright and prosperous future, the virus impacted us at a most vulnerable time," Morris told employees. "You should all be proud of your efforts to that end. Now we have to try to keep it afloat enough with a very few to be able to make a comeback whenever we can."
The box office will be available by phone on weekdays during the closure. Proctors will also run a fundraiser campaign soon, but not immediately.
"We understand that our donor base has to take stock of their own financial situation in the coming days before we reach out," Morris said.
Concerned about COVID-19?
Sign up now to get the most recent coronavirus headlines and other important local and national news sent to your email inbox daily.