QUEENSBURY — A 20-year-old Glens Falls man faces rape and criminal sexual act charges for allegedly having sex with a 14-year-old girl while he was free on his own recognizance on an arson charge.
Anthony J. M. Hart was arrested Tuesday after an investigation by the Warren County Sheriff's Office and Glens Falls Police Department, according to the Sheriff's Office.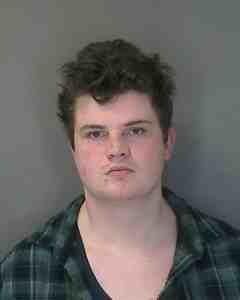 The girl was too young to legally consent to sexual contact, and there were no allegations that Hart physically forced her to have sex.
Hart was accused of raping the girl on Dec. 30, and the incident was reported to police on Jan. 3, police said.
He had been released from Warren County Jail weeks earlier, days after his Nov. 7 arrest on a fourth-degree arson charge for allegedly setting fire to a vacant home on Route 9 in Queensbury.
In that case, he was accused of torching a home next to the former Leo's Lobster restaurant near the Lake George town line.
Hart was staying in a cabin at the King Hendrick Motel across the highway at the time, where he had been placed by the Warren County Department of Social Services when seeking temporary assistance after coming to the area from Schenectady.
He became a suspect by asking a lot of questions at the fire scene that night and later admitted to police that he started the fire by igniting leaves that were next to the home.
He was initially sent to Warren County Jail the day of his arrest, for lack of $1,000 cash bail or $2,000 bail bond. He was brought back to Queensbury Town Court on Nov. 12 and released on his own recognizance, as it was determined the arson charge he faces will no longer be eligible for bail come Jan. 1.
Hart was charged Tuesday with second-degree rape and second-degree criminal sexual act, both felonies, arraigned and sent to Warren County Jail for lack of bail.
He is due back in Queensbury Town Court on Jan. 21.
He faces up to 14 years in state prison on the sex charges, and 4 years on the arson charge.
Fourth-degree arson is among dozens of charges for which judges can no longer set bail under most circumstances, because of controversial law changes made by the state Legislature last spring.
Don Lehman covers police and court matters, Warren County government and the outdoors. He can be reached at 518-742-3224 or dlehman@poststar.com
Get local news delivered to your inbox!
Subscribe to our Daily Headlines newsletter.