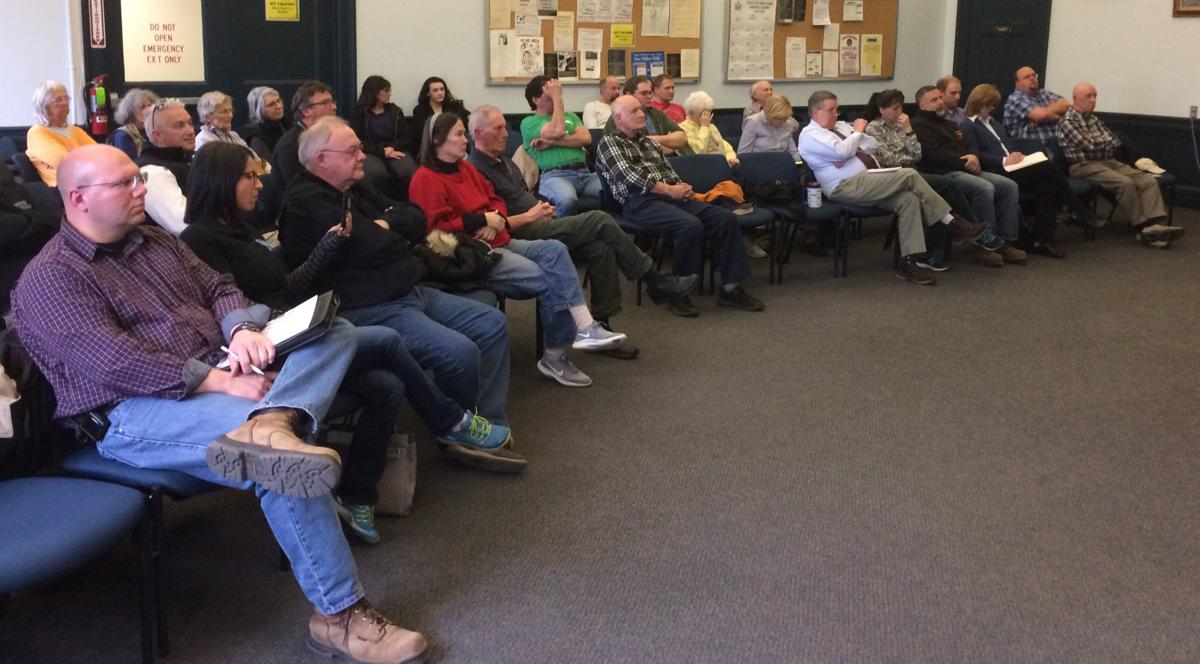 GLENS FALLS — Concerns by neighborhood residents that the Warren-Washington Association for Mental Health's proposal to construct a 29-unit apartment building for the homeless on Cooper Street is not a good use of industrial land in the city were shared publicly by one member of the Glens Falls Planning Board.
Neighbors to the site, including Ward 1 Supervisor Jack Diamond and his challenger in this fall's election, Nancy Underwood, have said an industrial use would be better suited to this 2.5-acre parcel. An industry would pay full taxes, they argued, and they believe this area of the city is overburdened with social service agencies.
Planning Board member Ronald Greene said the city already has a lot of tax-exempt property, while it has to pay for police officers, firefighters and people to plow roads.
"Twenty-four percent of the city is nonprofit," he said to applause from the roughly 40 people in attendance at Tuesday's meeting. "I have a real concern as a taxpayer in the city on this project going forward. Somebody has got to stop the bleeding."
Association officials have offered to make a payment-in-lieu-of-taxes of the $5,000 the property pays now in property taxes. Greene said taxes in the city are going higher and higher, however.
"I wish I could get a PILOT agreement. They don't offer (them) to the residents," he said. "Why can't nonprofits pay their full share of taxes?"
Greene said he is sure there is a need for the project.
John Farrell, director of facilities for the association, said the agency plays by the rules set down by the federal and state government.
"I can only speak to the merits of this project and what we're doing," he said.
Comments on facade, drainage
Greene's comments came toward the end of the board's review of a preliminary sketch for the project at 47-50 Cooper St. The board did not take public comment, as it was just a discussion. Board Chairman Dan Bruno said people would have a chance to comment when the project returns to the board for formal review.
No other member talked about the merits of the project. Among some of the suggestions given by the board were to use more brick on the exterior and to improve drainage at the site.
Daniel Brown, the board's architectural consultant, suggested the architect break up the façade a little bit with more "jots" that bump out so it is not just one long wall.
He also wanted two smaller gable roofs on each side, rather than one large gable roof, and he did not like the use of cultured stone, which does not match up with the nearby residences.
"I'm not sure we should introduce a new and different material in this neighborhood," he said.
Residents have expressed concern about flooded basements from stormwater. Brown said city officials say stormwater problems are getting worse, and he wants to know about the type of soils at the site.
You have free articles remaining.
"Otherwise, we run the risk of overtaxing the city system on Cooper Street," he said.
Project engineer Tom Jarrett said the soils are pretty good on the site. He is still designing the drainage system, but he plans to install smaller landscaped rain gardens throughout the site to collect stormwater.
Architect Owen Nitzel said he would work on revised designs, incorporating more brick.
The board also wanted a more secure fence on the part of the property that abuts the bike path.
Board member Kathleen Doyle asked if the center would be staffed at all times, and Farrell said it would be.
"We're there to support them when they're ready to get some help," he said. "Coping skills are generally an issue for these folks."
Service providers will visit the residents in their apartments, he said.
Doyle said that is an important distinction to make.
"This is a residence. This is not a treatment center. Individuals there are independent people," she said.
Tenants will have individual leases based upon their ability to pay and amounting to about 30 percent of their income.
Fourteen units will be set aside for people dealing with mental illnesses who have had difficulty staying in housing. Four would be set aside for survivors of domestic violence, six for the chronic homeless, and four would be family units. One unit would be set aside as a transitional unit for short-term stays.
Residents can be evicted, Farrell said.
Farrell said he would not expect police officers to be responding frequently to the complex, based on the agency's experience with the 18-unit housing complex in Hudson Falls it has run for the last 10 years.
The applicants plan to ask for a waiver from required parking, since they do not need as many spaces. The plan calls for building 34 spaces now and 12 more in the future — three short of what is required.
The applicants also would like to seek a variance to pull the building closer to the Cooper Street side and away from the neighborhood, according to Jarrett.
"If you're looking for us to fit into those site plan restrictions, we could do so," he said.
The project is being funded by a $5.8 million grant from the state Homeless Housing and Assistance Program and a $3.4 million grant from the Empire State Supportive Housing Initiative.
The project will return to the Planning Board for a formal review as soon as next month.