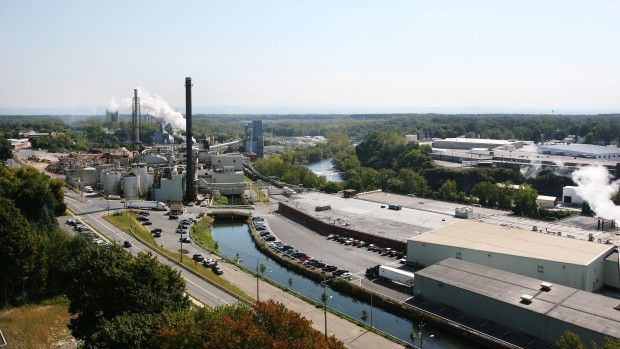 GLENS FALLS — The state Department of Environmental Conservation is investigating a broken pipe at Finch Paper that leaked about 2 million gallons of paper waste into the Hudson River late last month.
That's the equivalent of about three Olympic-sized swimming pools. The DEC said the wastewater was not sewage, but partially treated "industrial wastewater associated with the paper mill operations."
DEC said, "there are no drinking water intakes in the immediate vicinity of the spill."
Alexander Rotolo, chief financial officer for Finch Paper, said about 11 p.m. on Friday, Sept. 27, an underground pipe at the wastewater treatment facility failed.
"Our team immediately responded and began shutting down all manufacturing operations, promptly notified the appropriate state and federal agencies and worked diligently until the flow was stopped," Rotolo said in an email to The Post-Star. "The cause of the break has not been determined."
The DEC said its spill response team responded about 1 a.m. on Sept. 28.
Staff from the DEC's Division of Water later inspected the facility. The line has been repaired, and there were no visible impacts remaining in the area.
DEC said the investigation into the break is ongoing, and no violations or enforcement actions have been made so far.
Get local news delivered to your inbox!
Subscribe to our Daily Headlines newsletter.