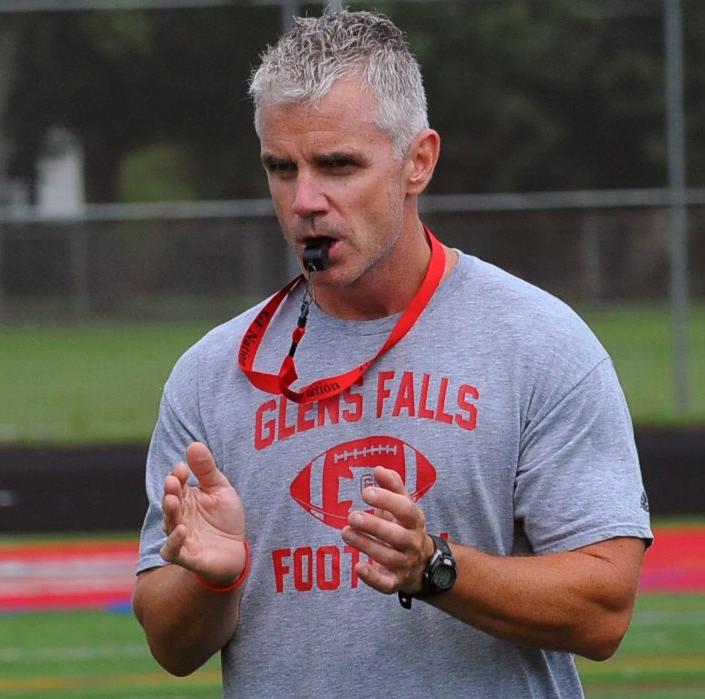 Physical education, by its very name, implies a physical presence.
With schools across the region closed until at least April 20 because of the coronavirus pandemic, that is a hurdle physical education teachers are trying different ways to overcome.
How does one teach a physical activity-based class in a world suddenly gone virtual?
"It's kind of a unique situation, but these are unique times," said Chip Corlew, the director of athletics, health and physical education at Glens Falls High School. "Thank God we have the Internet to keep up with the lessons."
Fortunately, at most schools in the area, students have their own Google Chromebooks — personal laptops that give them access to the Internet, Google Classroom and other learning platforms, as well as Google Docs for lesson materials.
"From talking to other teachers, a bunch of schools are doing the same thing," said Richard Whitaker, a phys ed teacher at Corinth High School. "We're contacting (students) through Google Classroom and helping kids do an activity log — just for high school PE, trying to keep everybody staying physically active through this time."
"There's different ways to keep kids active and engaged," Corlew said. "We want to make sure kids have something they can do that fits into the curriculum."
At Glens Falls, physical education teachers can use an app called PLT4M — pronounced Platform — that is described on its website as an educational fitness platform for high schools.
"It's a workout system kids can access on their mobile devices and Chromebooks," said Pat Lilac, a high school phys ed teacher at Glens Falls. "The company designed it so kids can access all types of workouts, using their body weight to get the resistance. There are demonstration videos, charts for progress."
Lilac said Glens Falls students were able to take their Chromebooks home after the school closure was announced.
"The timing was a blessing — we were able to jump on this thing," Lilac said of the PLT4M app. "Fortunately they were able to give us something to do without missing a beat.
"The weather hasn't been that great, but the kids can do these workouts right in their living room," Lilac said, adding that many of the exercises are plyometrics — stretching and jumping exercises to increase muscle power. "It takes different muscle groups and you do a workout with them."
Blake White, an elementary phys ed teacher at Lake George, said the school can use live video to connect with students, with programs like Google Classroom, Flipgrid and Zoom. Teachers of special subjects — like phys ed, music and STEM — are able to do a live presentation once a week.
"When we did our live presentation last week," White said, "we set up an obstacle course and we challenged the kids to come up with their own obstacle course, videotape themselves running through it and send it back to us.
"A lot of them were very creative — some of them did an obstacle course on their bikes or on rollerblades with a hockey stick, and shooting a goal at the end," he added.
White said the phys ed teachers have also given their students fun activities to do at home to stay fit every day.
"We had them think of an exercise for each letter of the alphabet or invent a new exercise, or go outside and time themselves running around the house three times," he said. "We just did our fitness unit, so we have them do their own fitness stations. Some students are going hiking with their families and videotaping that.
"It's just to keep them active and in school mode," White added. "The objective may change, but it's good to know they're engaged and active."
Many schools are having students keep activity logs so they can keep track of their fitness routines.
"We give them a minimum time that's recommended," Whitaker said. "It can be weightlifting at home or raking the lawn, anything that keeps them moving and doing an activity."
Whitaker said all Corinth students have their own Chromebook, so teachers are able to monitor their students' progress using Google Classroom.
"Nothing is easy right now, but the nice thing for us is we have the advantage of already being familiar with it," he said.
At Fort Ann, phys ed teacher Jason Humiston said the PE department had not used Google Classroom for online lesson plans until it became a necessity.
"We're having them do 30 minutes of something structured and 30 minutes of something unstructured — trying to have them get 60 minutes of exercise a day," Humiston said. "We can post a demonstration video that the kids can see. Kids can reply back to us — it's been going pretty good. It's been a learning curve for us."
Follow Pete Tobey on Twitter @PTobeyPSVarsity.
Get local news delivered to your inbox!
Subscribe to our Daily Headlines newsletter.