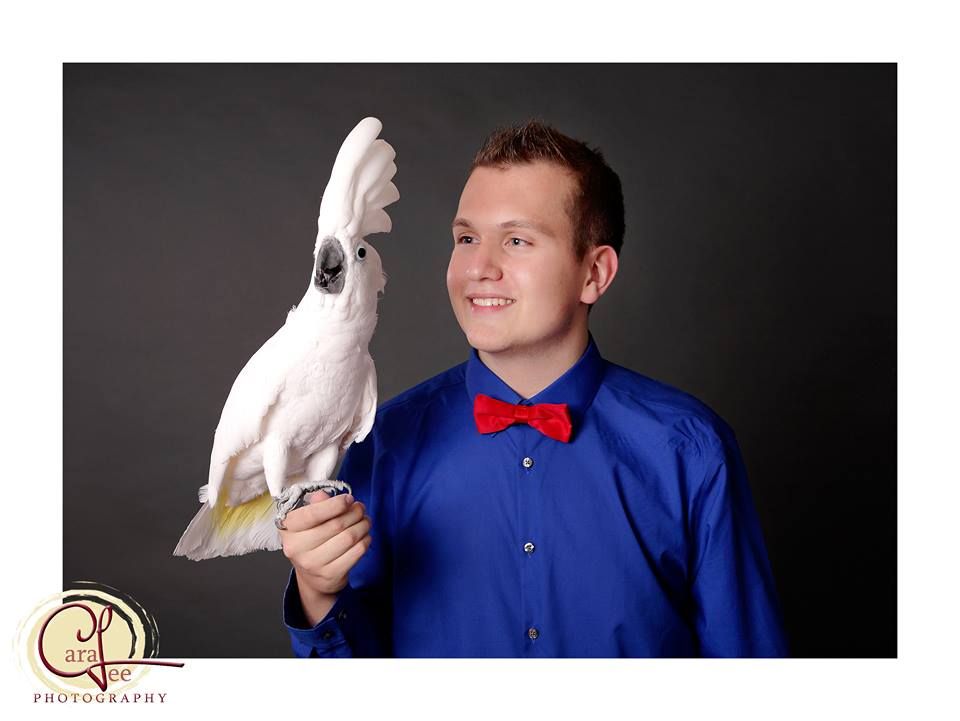 Birds are part of the family in the house of Glens Falls High School senior Ben Brodeur.
His family has 22 birds, including parakeets and macaws, which they rehabilitate and offer for adoption.
"I like how they're just so intelligent and it's never a dull moment," he said during a phone interview with birds chattering in the background.
"They're just like little kids all the time. They're singing and talking."
When it was time to submit his senior yearbook picture, Brodeur used a photo of himself with his umbrella cockatoo named Boo.
"Parrots are a big part of my life and I wanted to be remembered that way," he said.
School officials have said no, however, citing a policy that no animals can be used in student photos. Brodeur said school officials told him that allowing animals would make the portraits look less classy and could escalate into something worse, such as students using gang symbols or making obscene gestures in their portraits.
"I think that's kind of a far stretch," he said.
Brodeur, 17, has started petitions to try to change school officials' minds. More than 150 people have signed either a written petition or an online one through his Facebook page.
The Brodeur family has been rescuing and fostering birds through a local organization for several years.
"People would contact us wanting to re-home their birds," Brodeur said. "It kind of grew and grew. It became a big part of the family."
Brodeur, 17, said school officials told him he should buy an advertisement in the back of the yearbook, where candid pictures are allowed.
"What if someone can't afford that?" he asked.
Brodeur, who is considering becoming a veterinarian or veterinary technician, said Boo is special to him because he was his first umbrella cockatoo.
"He is just a big sweetheart. He'll cuddle," he said.
Brodeur said the senior yearbook pictures are a way for students to show their individuality.
Superintendent Paul Jenkins said a letter is sent home in June to parents of next year's seniors outlining the requirements for yearbook portraits.
"It specifically says no props, no pets," he said.
School officials want to keep the portraits formal and consistent. The policy also prohibits hats, T-shirts and casual clothing. It says men should wear at least a collared shirt and women a dress or appropriate blouse. It says the photo must be taken by a professional photographer and high school administrators will make the final decision on choice of portrait.
Jenkins said there is an area in the back of the yearbook, where families can purchase an advertisement, starting at $25 for a quarter of a page, to put informal photos and personal notes. He did this for his own son who graduated in June and included photos of him with his football gear and as a small child along with a note of congratulations.
"If there was no option for parents, I would say there may be a valid point," he said.
As for the cost, Jenkins said two studios are offering one eight-pose sitting at no charge.
The issue has come up at other schools. Schenectady High School senior Draven Rodriguez wanted his senior portrait to be of him holding his cat with a laser background. School officials initially refused.
After the story went viral, a compromise was reached so that the photo of Rodriguez and his cat will appear on the principal's page in the yearbook alongside a photo of the school principal and her dog, according to The Post-Star's news-gathering partner, NewsChannel 13.