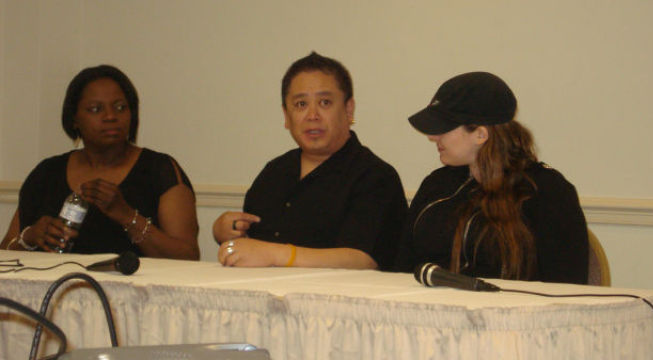 LAKE GEORGE — An audience member had just asked a panel of three paranormal investigators who have appeared on different spinoffs of the SyFy series "Ghost Hunters" to expound on why some human spirits haven't moved on.
"I like to think that they have unfinished business," said Joe Chin, who was on the "Ghost Hunters International" team.
Another investigator, Rosalyn Bown, who appeared on "Ghost Hunters Academy," added "If your loved one passes, and you as a living person don't let them go, you can actually cause them to stay stuck...You have to mourn and release."
As she spoke several groans, soft, yet clearly audible, seemed to come from the right corner of the room.
"Was somebody, like groaning?" said Chin, who was seated next to Jane Riley from "Ghost Hunters Academy."
The room full of paranormal investigators and enthusiasts agreed they heard it. If the sounds came from someone in the audience, they didn't admit it.
"If there's someone trying to get our attention, its working," Bown said.
The panel was part of a para-world celebrity-packed weekend, "Preserving the Haunt," Para History Con 2 at the Fort William Henry, which hosts its own ghost tours and was the subject of a "Ghost Hunters" investigation that aired in 2010.
Upstate New York Historical Preservation and Paranormal Event Group Glory Haunt Hounds hosted the conference, which is in its second year. Glory Haunt Hounds founder John Tobin said about 300 people attended from all over the U.S., and even some from Ireland, said Lauren Sheridan, also of Glory Haunt Hounds. About 60 vendors lined the conference center with a variety of specialties.
"This was at least 2 1/2 times the amount of people and foot traffic as last year," Tobin said. "This was much more successful. Last year set the tone for it that created a buzz and carried over into this year. There was so much more interest."
A long list of celebrities included Steve DiSchiavi and Amy Allan from Travel Channel's "The Dead Files," and Ben Hansen from SyFy's "Paranormal Files Fact or Faked."
"Everyone is so personable and friendly," Sheridan said.
The weekend started with a celebrity hosted VIP party that was triple the size of last year, Sheridan said, and continued with several talks Saturday and a celebrity-hosted ghost hunt at Fort William Henry that quickly sold out.
Capital Region-based Glory Haunt Hounds focuses on public historical locations that have a reputation for paranormal activity. The group offers public investigations, events and fundraisers to "Preserve history one location at a time," according to the group's website.
"Most of our events are focused on historical preservation and raising money for locations in need. We try to do what we can to give back to those locations," Tobin said.
The Fort William Henry site was used as a fort during the French and Indian War. The fort that stands on the site is a replica, but visitors and employees have reported seeing apparitions and hearing spirits. Chin, Bown and Riley weren't involved in the past "Ghost Hunters" investigation, but they said forts are some of their favorite places to investigate, and they were excited to investigate Saturday night.
"It's the perfect combination to expect anything really. It's so massive, the history," Riley said.
"I just love history. You feel like you're going to have a better chance of getting evidence in a place where there's a lot of emotion. At a fort, beyond the emotion of battles, you've got soldiers away from their families. It's this whole combination, and of course the violence of the battles," Bown said.
The conference continues Sunday with a mini film festival from 11 a.m. to 6 p.m. open to the public at a cost of $10 at the door.