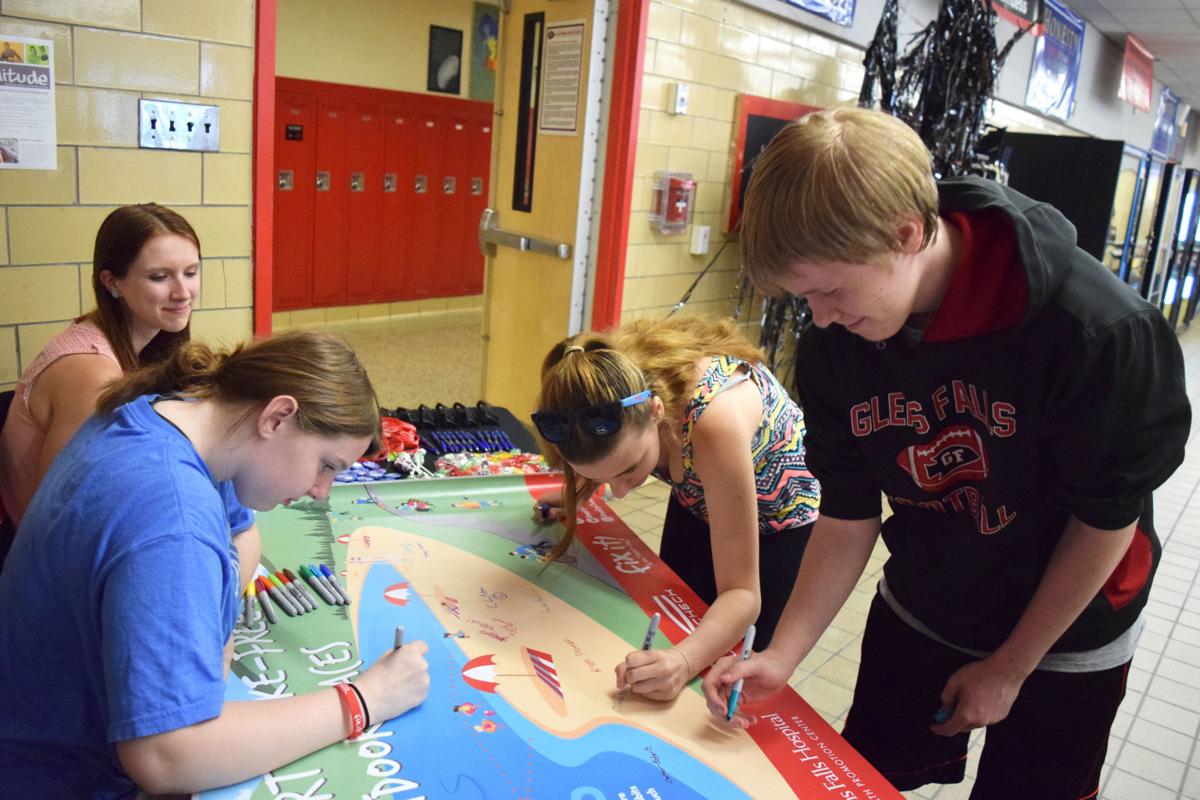 Students joined together Thursday at Glens Falls High School to sign a banner in support of World No Tobacco Day as the school hopes it teaches long-term habits for positive health.
Signatures covered the banner that sat on a table in the cafeteria. High school Principal Tammy Silvernell believes actions during these years for the students can make a habitual impact.
"We do have a segment of our students who live in households where (tobacco) is commonly used and things like that," she said. "So, at school we try and enforce what they're learning and that they should be taking care of themselves now and the habits they establish as young people should carry over."
Silvernell added that "no tobacco" is synonymous to "no nicotine." Some students believe there is a difference between vaping and tobacco, Silvernell said.
"We try to reinforce that nicotine is nicotine and a nicotine habit in vaping will probably lead you to tobacco use at some point," she said.
The signed banner will be hung up at a later point to show the student body's uniform support.
"By having it be a public display shows the widespread support in the student body that you might not really know is there without that visual representation," Silvernell said.
Other districts participated in celebrating World No Tobacco Day as well. In Schuylerville, students protested at Fort Hardy Park to bolster the healthy ideology.
Reality Check, which is coordinated through Glens Falls Hospital's Health Promotion Center, helped run the World No Tobacco Day banner signing.
— Andrew David Kuczkowski
An expert on the British royal family
Thomas Muscatello, a Bolton Landing native, is an expert on the royal family.
Now known as Thomas J. Mace-Archer-Mills, Esq., the 38-year-old provided commentary to Norway's TV 2 during the May 19 royal wedding, and to France's TF1 television.
According to a Wall Street Journal article published May 31, he relocated to the United Kingdom in 2012 and created the British Monarchist Society. Since, Mace-Archer-Mills has often appeared as a royal family commentator, with appearances on the BBC and NBC, according to his website.
Visitor numbers
Lake George Mayor Bob Blais and local police said visitor numbers seemed pretty solid around Lake George this summer, and statistics kept by the Lake George Chamber of Commerce and Convention & Visitors Bureau support that assessment.
Staff at the Visitor Center on Beach Road counted 1,285 people through the doors over the holiday weekend, which is a 6 percent increase over 2017's Memorial Day weekend number of 1,209. That includes counts from Friday through Monday, said Amanda Metzger, marketing director for the chamber and CVB.
Starting this weekend, the Visitor Center will be open seven days a week until the end of October.
Get local news delivered to your inbox!
Subscribe to our Daily Headlines newsletter.